Throughout this month we've been examining gear here on WLPR. Gear that's easy to use, won't hurt your wallet and will help you achieve more in Logic.
First we checked out 2 fantastic audio interfaces that sound great and as "plug and play" as they come.
Then we looked at 2 USB controllers that enjoy advanced integration with Logic Pro. Plus, each had some extra features that added to the fun 😉
We also examined how small changes can dramatically improve your mixes and songs. For example, how moving your studio monitors can provide massive gains for your mixing.
For this final week of WLPR's "month of gear," I'd love to share with you my top 10 essential plugins for Logic Pro users.
Now I've said it before, and I'll say it again – Logic Pro's plugin selection is awesome.
Us Logic users enjoy such a wealth of tools. From:
High quality and transparent digital EQs
6 tasty Compressor circuits that model some of the most coveted hardware Compressors around
Massive rearrangeable Multi-Effect plugins for subtle or even drastic sound-mangling
A slew of amps, pedals, and cabinets for guitar and bass processing
Attractive meters that cover everything from phase to loudness, spectral balance to levels
Plus tons of options for saturation, distortion, modulation, delay, reverb, filtering, and more.
And that doesn't even cover Logic's fantastic instrument selection! Which includes vintage keys, strings, synths, drum machines, drum kits, and much, much more.
When the Going Gets Tough
While Logic has a ton, it doesn't have everything (yet). And sometimes you might find yourself in what feels like a hopeless situation.
Back in April 2020, I wrote an article titled The Top 11 Plugins That Will Save You When Logic Pro Can't. And the article focused on only one thing:
Plugins that solved problems that Logic didn't already have a solution for.
Since then that article has become one of WLPR's most popular posts. And now almost a year later, I thought it would be fun to revisit that post.
What's changed in the last year? Did last year's 10.5 and 10.6 updates remove the need for some of my suggested plugins? Or have 3rd party developers come up with even better solutions to our toughest problems?
That's what today is all about. Plugins that supplement and complement Logic's immense tool kit.
*Heads up: there are some affiliate links in today's post. It's totally up to you if you'd like to use them to support WLPR. Regardless if you click the links, I stand by my top picks. Thanks!*
Let's get started:
While I'm sure many readers have no problem identifying the key of a song by ear, I'm not one of these awesome users.
Sure, it only takes a minute or two to plunk around on a keyboard to figure out the root note and scale of a song. But honestly that still takes way more time and energy than I'd like it to.
This is why I love Antares's Auto-Key. Throw it on a full mix, or on a track that carries the most relevant key info. Try bass, guitar, or keys. And in no time flat, Auto-Key will identify the key of a song. Easy peasy!
Not only that, but Auto-Key will also highlight all the notes in the scale on its graphical keyboard. Which is super helpful for a quick visual reference.
Key detection is a wonderful thing for pitch editing. I'll often use Auto-Key to identify the key of a song, and then set Flex Pitch's Scale Quantize to that key. Perfect for avoiding absent-minded pitch editing mistakes!
And speaking of pitch editing, for those of us who use Antares Auto-Tune, Auto-Key has a handy feature.
You can actually set all Auto-Tune plugins in your session to that perfect key with one click of your mouse. Once Auto-Key has identified the key of your song, press the "Send to Auto-Tune" button in Auto-Key. And you're done!
(Sidenote: While I can only speculate, I suspect Logic Pro will soon have its own Key and Chord Detection.
Apple's Music Memos app actually included these exact features. But Apple has announced its setting the sun on Music Memos on March 1st, 2021.
So I'm guessing key and chord detection will show up sooner or later in GarageBand and Logic Pro.)
Click here to learn more about Antares Auto-Key.
Cheaper Alternatives to Auto-Key:
What I love about Auto-Key is it's simple and straight to the point. After trying several other key detection plugins, nothing felt as effortless as Auto-Key.
But if $49 USD feels a bit much to you for simple key detection, there's also Hornet Plugin's SongKey mk3.
SongKey not only identifies the key of the song, but it will also identify the chords as well. And SongKey even tells you how "sure" it is of its readings by rating its findings with a percentage.
SongKey even has a dedicated Sample mode for figuring out the key of your samples.
For about $16 USD SongKey might be even better than Auto-Key. The only hangup with SongKey is that it is a bit CPU-intense. And it takes a bit longer to identify the correct key.
Click here to learn more about Hornet Plugin's SongKey mk3.
Clicks and pops from poor edits. Clipped audio from recording too loud. Background noise and hums from poor power supplies.
These noises can pose significant challenges when recording or mixing. And unfortunately Logic Pro has no audio restoration tools to speak of.
Izotope's RX bundle has long held the title as the "standard" for audio restoration. But between the cost and complexity of its more advanced bundles, RX can be overkill for most users.
But nowadays a scaled-down version known as RX Elements can be had for cheap. Like, really cheap. Though it retails at $129, you can often buy it on sale as low as $29 USD.
RX Elements includes the plugins that many users will need most often:
De-click for reducing the level of pops and clicks from bad edits. And can even help reduce nasty mouth noises.
De-clip for saving recorded or bounced audio that has clipped. Which removes nasty digital distortion, plus reintroduces dynamic range and fidelity.
De-hum for reducing the level of 50 or 60 cycle hums from shoddy power supplies.
Voice Denoise for reducing background noise, specifically for voice recordings.
Plus, RX Elements also comes with the standalone RX Editor.
While the plugins will be far easier and faster for most users, the RX Editor has one card up its sleeve. And that's Repair Assistant. 
Repair Assistant is a great solution for those not comfortable with audio restoration.
Not sure where to start? Load your audio into RX, and then press the Repair Assistant button. RX will then use AI to analyze your audio, and then recommend specific settings to clean up your audio. Crazy!
Last year I recommended a different solution from developer Acon Digital. Acon's Restoration Suite 2 also offers a fantastic bundle of plugins like RX Elements.
In fact, Acon's DeClick 2 even includes a simple slider for reducing plosives. And the DeNoise 2 plugin isn't voice-specific. You can use it for any track suffering from noise.
RX Elements barely edged out over Acon's Restoration Suite 2 in this list for 2 reasons:
Price (when on sale), and
Repair Assistant
But both are great solutions.
(Sidenote: have you checked out the Noise Reduction function in the Voice Memos app on iOS? It's actually fantastic! Hopefully Apple will port its noise reduction algorithm to Logic Pro).
Click here to learn more about Izotope's RX Elements.
Cheaper Alternatives to RX Element:
Wait a second. Didn't I just say RX Elements is about as cheap as it comes for audio restoration?
Indeed, if you catch RX Elements during one of Izotope's many sales, it is. However, at RX's regular retail price of $129 USD, Acon Digital's Restoration Suite 2 comes out ahead at $99.90 USD.
To be honest, I think Acon Digital's bundle is much more user-friendly. There's also little to no latency when auditioning Acon's different plugins.
And the Restoration Suite actually offers more tools for cleaning up your audio. From removing plosives to a more holistic denoiser.
So if RX Elements GUI looks overwhelming to you, I'd recommend Acon Digital instead.
Click here to learn more about Acon Digital's Restoration Suite 2.
Let me ask you – have you ever found yourself completely rattled by the following:
A sound in your Project was way too loud, but you didn't expect it to be when you pressed play?
Accidentally misroute one of your channel strips in your Project, followed by the terrifying roar of a feedback loop erupt from Logic?
Leave your monitors unmuted with a live microphone in the room? Again, with the feedback loop…
Mistakes happen. We all make them. And most mistakes are quite small and easy to overlook. Unfortunately these mistakes can cost someone their monitors (or their hearing!!).
While Nugen Audio's SigMod offers a lot, I use it for only one thing. And that's its Protect function.
Protect does exactly what it sounds like:
You place SigMod on your Stereo Output (or any other Outputs you have routed in Logic)
Load the Protect module within SigMod
Set Protect's threshold to your preferred level
And if any sound exceeds Protect's threshold, all sound is immediately cut.
This is huge. This is why SigMod now permanently lives on my Stereo Output. Protect protects you and your gear from sudden loud noises. Which gives you a safe chance to figure out what exactly went wrong.
While terrifying circumstances like the ones listed above are rare, it's always better to be safe than sorry. And at $49 USD, Nugen's SigMod is a very small price to pay to be safe.
Hopefully someday Logic will have its own Protect feature.
Click here to learn more about Nugen Audio's SigMod.
Cheaper Alternatives to SigMod:
As far as I can see, there are no cheaper alternatives for this type of safety features from loud noises.
There once was a free plugin from developer Cerebrus called Ice9. And Ice9 provided this exact protection. But it appears Cerebrus and Ice9 have long since disappeared.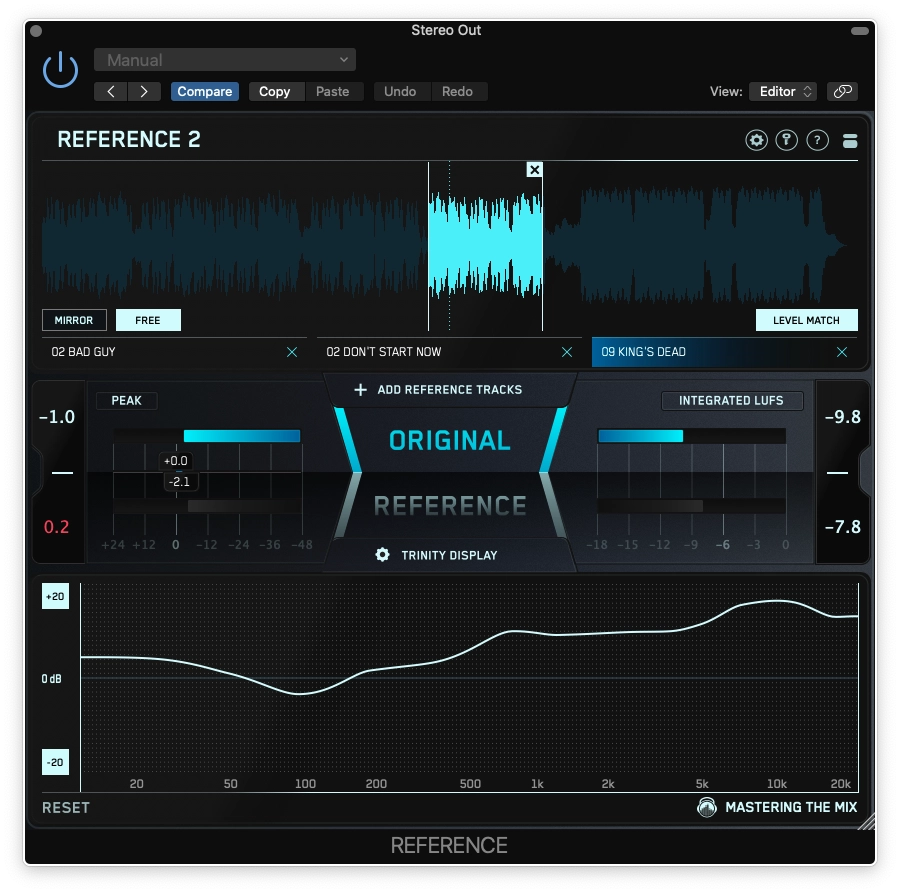 What can I say that wasn't already said about Mastering the Mix's Reference in last year's round-up?
Well for starters, Reference has seen some updates. It's now Reference 2, and is a huge improvement over Reference's previous version.
Reference 2 is all about comparing your current mix against other professional tracks. Which sounds like a miserable way to mix, doesn't it?
But in fact, reference mixing is beyond helpful. By comparing your mix efforts, you're actually tuning your ears towards a well-balanced mix. Which helps you make better mixing decisions.
I've been a huge fan of reference mixing for a long time. And I often recommend it.
Reference 2 makes reference mixing very simple to set up:
Select any tracks you own from your Apple Music library
Drag and drop them into Reference 2
From here Reference 2 does some wonderful things.
First, Reference 2 loads and matches your reference tracks loudness to your mix's loudness. Which makes comparing much easier. As your ears won't be fooled by differences in volume.
From there you can switch between your Original mix and the Reference with a single mouse click.
And if listening isn't enough, Reference's Trinity Display will show you how your mix differs from your references.
The Trinity Display is quite handy for understanding how your mix stacks up against the "competition:"
The Level Line shows you if your mix has more or less energy in a particular frequency area. For example, if your mix has much more low end, or not as much high end compared to the selected reference.
The Punch Dots show you if certain frequencies are more compressed or less compressed in your mix. If the punch dots go towards the center line your mix is more compressed. And if they go away from the level line they're less compressed.
The Stereo Width shows you how wide or narrow certain frequencies are in your mix vs your references.
Being able to compare level-matched references to your mix with the click of a button is well worth the cost. Toss in the in-depth Trinity Display analyzer, and I think MTM has a hit with Reference 2.
Click here to learn more about Mastering the Mix's Reference 2.
Cheaper Alternatives to Reference2:
Mastering the Mix's Reference 2 is actually the cheapest plugin around of its kind.
While there's Melda's MCompare and ADPTR Audio's Metric AB, they're both more expensive. And dare I say not as user-friendly.
For those of us who own Izotope's Ozone 9, there actually is a tab for adding Reference tracks. This includes loudness matching. And even identifies different sections of a song for easy loop points.
Melda's MAutoVolume is the 2nd of 3 plugins lifted from last year's list. (Though I still recommend every plugin from last year)
MAutoVolume is a wonderful plugin that "rides" the level of any track you place it on.
What do I mean by "ride?" Well, audio can be both loud and quiet. These differences in volume can sometimes be tricky to overcome.
Of course we have our trusty Compressor. And 99 times out of 100 compression is the solution we need.
But when it comes to something like vocals, it's important that the vocals sit on top of the mix at every moment.
Many engineers make sure their vocals stay on top by using Automation. You can do this too:
Set your vocal track to either Touch or Latch Automation Mode
Play the track
Carefully "ride" the vocal track by adjusting its fader in real-time
These adjustments are then "written" to the vocal track.
Set your vocal's Automation mode back to Read. And from then on the vocal track's fader will follow your adjustments every time you play the track.
However, vocal riding is tedious. It takes a while to nail that perfect pass. And if you're using a mouse instead of a fader, it can be that much harder to write.
This is why I rely on Melda's MAutoVolume to do the heavy-lifting for me. MAutoVolume "rides" volume like you would with Automation. But it's waaaay easier and faster to dial in.
And MAutoVolume isn't a Compressor. It doesn't reduce peaks with gain reduction. Instead, it turns down the loud bits and turns up the quiet bits. As if it were adjusting the fader itself.
I like to use MAutoVolume last in my vocal chain. So EQs, Compressors, DeEssers, and everything else comes first. MAutoVolume is like the final "shine" on a vocal mix.
But MAutoVolume isn't only for vocals. You can use it for any track that needs a bit of post-Compressor smoothing.
Click here to learn more about Melda's MAutoVolume.
Cheaper Alternatives to MAutoVolume:
If you're familiar with Waves Vocal Rider, then you know what MAutoVolume does. But IMHO MAutoVolume is waaaay better.
But if you're looking for a cheaper solution, Waves plugins are always on sale. They have both Vocal Rider and Bass Rider. I bet you can guess what each one is for 🙂
Click here to learn more about Waves's Vocal Rider.
Sonarworks SoundID Reference is the final plugin carried over from last year's list. But for good reason. Reference is a must-have for critical listening and mixing.
Don't confuse SoundID Reference by Sonarworks with Reference 2 from Mastering the Mix. As both do very, very different things.
In a nutshell, Sonarworks's SoundID Reference tunes headphones and speakers.
Why this matters is something we talked about in last week's video. Your monitors are directly affected by the room that they sit in.
In fact, you can even consider your room as "part" of your monitor's sound. Because you'll never be able to completely isolate your monitors from your room.
Of course you can do things to manage or change the sound of the room. Such as adding bass traps, acoustic panels, and diffusers. And these really should be your first line of defense.
But with every room comes challenges. And no room is "perfect."
That's where Sonarworks's SoundID Reference comes in. Reference is actually 2 pieces of software.
SoundID Reference Measure is the first piece. Armed with Sonarworks's XREF 20 microphone, Measure guides you through the process of measuring your monitors in your space.
Once the measurements are complete, Measure creates a custom curve for your monitors. This curve is then handed over to the 2nd piece – Sonarworks's SoundID Reference plugin.
You place the Reference plugin on your Stereo Output in Logic (before Nugen's SigMod). Which in turn tunes your playback system.
And the result is a flatter, more accurate picture of what your music actually sounds like!
I've gone through this measurement process many, many times. And it's astounding how well it works.
But for those who like to mix on headphones, it turns out headphones suffer from similar issues.
Thankfully your headphones don't interact with your room at all. But they often suffer from tonal imbalances as well.
So Sonarworks analyzed over 300 pairs of studio headphones available today. And they created profiles for each brand and type.
So instead of tuning your room, you can simply:
Load the Reference plugin onto your Stereo Output
Select your headphone's profile from Sonarworks's extensive list
Enjoy tuned headphones for a flatter, more accurate listening experience
SoundID Reference comes in 2 flavors:
The Headphone Edition is $99 USD, which includes:

Ready-to-use average profiles for 300+ headphone models

The Studio Edition is $299 USD, which includes:

SoundID Reference Measure – speaker measurement software
XREF 20 Measurement Microphone, which is individually calibrated
And includes the SoundID Reference Headphone Edition

The Multichannel Edition is $549 USD, which includes:

Brand new option for measuring and correcting multichannel speaker setups (this is perfect for those who want to get into Spatial Mixing!)
SoundID Reference Measure – speaker measurement software
XREF 20 Measurement Microphone, which is individually calibrated
And includes the SoundID Reference Headphone Edition
Click here to learn more about Sonarworks's SoundID Reference.
Cheaper Alternatives to Reference:
If Sonarworks Reference is a bit rich for you, IK Multimedia offers ARC 3. ARC 3 is another software system for tuning your monitors to your space. The app and measurement microphone bundle costs $149 USD.
Unfortunately ARC 3 doesn't provide any headphone tuning. And the measurement process of ARC 3 is a little less straight-forward.
Click here to learn more about IK Multimedia's ARC 3 system.
I love Logic's EQ selection.
The Channel and Linear EQs are trusty workhorses that have never failed me.
The Vintage EQ Collection ooze with analog vibe and workflow.
And it's amazing that such a sophisticated plugin like the Match EQ even comes with Logic. To buy a 3rd party Match EQ you'll spend as much as you did for Logic Pro itself!
The only EQ plugin that's missing for me in Logic Pro is a dynamic EQ.
Dynamic EQs are the perfect blend of EQ and compression.
Let's say you have a vocal track that's a bit too boomy around 100 Hz due to proximity effect.
While you could reduce 100 Hz with an EQ, vocals are dynamic instruments. And sometimes a vocal isn't boomy all the time. In fact, sometimes it's boomy, while other times it sounds thin.
This can happen. Maybe your vocalist was moving around a lot when they were in front of the mic. Or maybe you comped together different vocal performances from different days. And each performance had some major tonal differences.
So you decide to reduce 100 Hz with a typical EQ. The good news is the boomy parts are less boomy now.
The bad news is that the thin parts sound even thinner now because of the loss at 100 Hz.
Instead of a static 100 Hz cut, why not reduce at 100 Hz only at those moments that the vocals are boomy?
That's where dynamic EQ comes in. Because with a dynamic EQ you can set a band at 100 Hz. But instead of reducing 100 Hz all the time, the band will only reduce that frequency when the vocals exceed that band's threshold. Just like a Compressor.
Dynamic EQ is a lot like a multiband compressor.
But dynamic EQs are better. Because your dynamic EQ bands can be as pinpointed or as wide as you need them.
Plus – you can even sidechain with Fabfilter's Pro-Q 3. Meaning that you can set a band to boost or cut based on what a different instrument is doing.
Like reduce only the low end of the bass every time the kick hits. Instead of ducking the bass as a whole, you can keep some of that upper-mid presence of the bass in the mix. Yet the kick will have space to breathe.
Now there's more to the Fabfilter Pro-Q 3 than dynamic EQing. It really is a fantastic EQ. If there's "one EQ to rule them all," the Pro-Q 3 is it.
But if the Logic team at Apple gave us a dynamic EQ, I'd happily give up the Pro-Q 3 forever. Dynamic EQ is truly the reason why I use the Pro-Q 3.
Fabfilter is also my top pick for the following reasons:
Beautiful graphical interface
The CPU-hit is non-existent for such an extensive plugin
AutoGain function which ensures no matter how much you bend and stretch your EQ, your track's level remains exactly the same
Click here to learn more about Fabfilter's Pro-Q 3.
Cheaper Alternatives to Pro-Q 3:
In case $179 USD makes your eyes water, there are some thriftier options.
First, there's Tokyo Dawn Labs free Nova dynamic EQ. A great solution that costs nothing. While I find Nova a little clunky to use, it does work great.
Click here to learn more about Tokyo Dawn Lab's Nova.
Waves also have its F6 Dynamic EQ plugin. And since every day of the year is a Waves sale, at the time of writing this post the F6 was available for $35.99 USD.
Click here to learn more about Waves F6.
To be honest, I didn't expect to love Tonal Balance Control 2 as much as I do. At first glance I thought Izotope's plugin for mix balancing seemed kinda gimmicky.
But Tonal Balance Control is like your personal mix sherpa. It helps guide you to a well-balanced mix.
Tonal Balance Control does this by offering 12 different Target Curves based on musical genre. So the story goes, Izotope analyzed "thousands" of tracks to identify an "ideal" curve for different musical genres.
Tonal Balance Control then lays out these curves as 4 Target ranges based on frequency:
Low
Low Mid
High Mid
High
And each band offers you a blue "Target" to hit.
Your goal is to try and mix your music so that your mix falls within each of the blue Targets. By doing this, the plugin implies you have a well-balanced mix.
So you would:
Place Tonal Balance Control on your Stereo Output (before Sonarworks Reference and Nugen Audio's SigMod)
Select the genre that best matches the style of music you're mixing, or…
Load a batch of your own Reference tracks into Tonal Balance Control. And the plugin will create a custom set of Targets based on your references.
Tonal Balance Control's meter display will then show you where the energy in your mix falls for each band.
If you have too much energy in one area, the meter display lines will float above the blue targets. If you have too little energy, then the lines will float below the blue targets.
And obviously if your mix falls within the blue targets, you're mix is just right 😉
What I like about Tonal Balance Control is it offers you a range for each Target. The point isn't to hit the Target right in the middle.
As long as you fall within each Target range, you can decide what works best for your song. Feel like your song is better off a little light on the low end? Cool! That's up to you.
You can also solo each band to hear exactly what is going on in each band. So if you're heavy or light in a certain range, you can solo that band for a closer listen.
What's also super cool is the Crest Factor meter for the low end. The Crest Factor meter is basically the balance of the kick vs the bass.
Kick sounds tend to be more dynamic and transient. While bass sounds tend to sustain for longer durations of time.
So if you've ever struggled to balance your kick and bass sounds, the Crest Factor might help solve this problem.
For example, if your mix is hanging on the left side of the meter, this indicates that your mix is too dynamic.
AKA: the kick is too loud or the bass isn't loud enough.
And if your mix is hanging on the right side of the meter, this means your mix doesn't have enough dynamics.
AKA: the bass is too loud or the kick isn't loud enough.
The goal is to balance the low end so that your mix is always hovering in the middle section of the Crest Factor meter.
Tonal Balance Control truly is a genius plugin. This is why it's found a permanent home on my Stereo Output.
Click here to learn more about Izotope's Tonal Balance Control 2.
Cheaper Alternatives to Tonal Balance Control: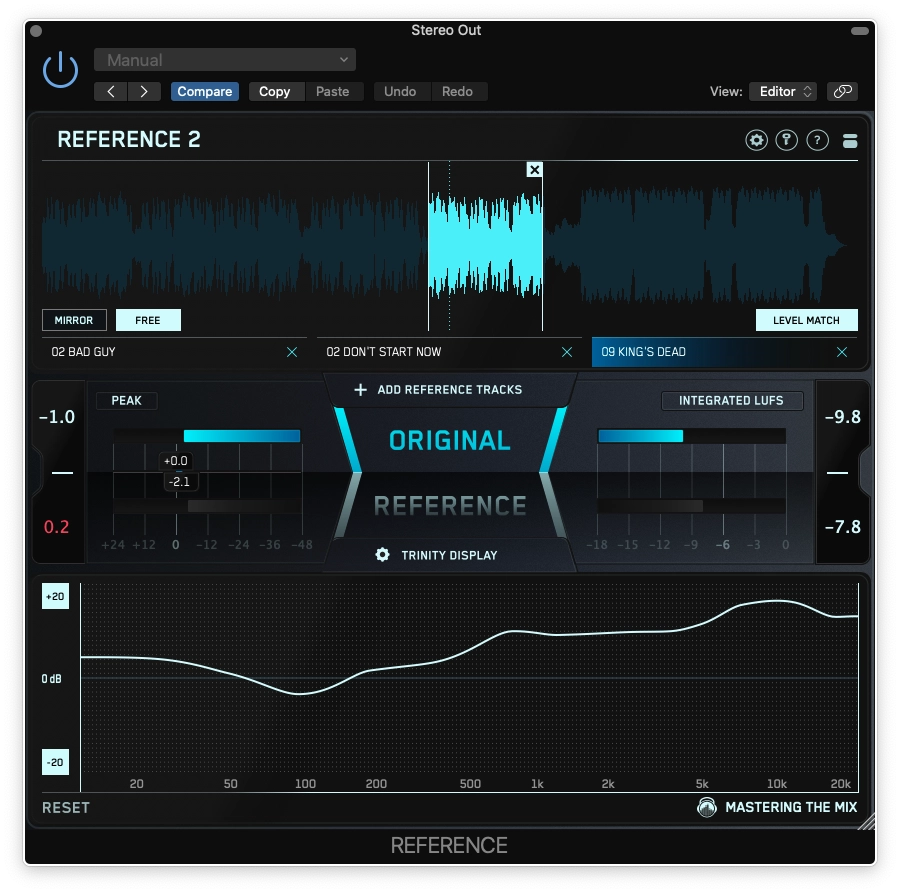 While I do consider Tonal Balance Control an essential plugin, I do have 2 criticisms for it.
First – holy cow the price! I must've purchased the plugin on sale or something. Because it floored me to see that it goes for $199 USD!! It just seems a bit steep for a metering plugin.
Second – I think Tonal Balance Control is almost perfect. But I wish it did what Mastering the Mix's Reference 2 did. Which offers single-click A/B listening of any reference tracks you load into the plugin.
I actually prefer the metering system of Tonal Balance Control over Reference 2. While I use Reference 2 to listen to my reference tracks.
So I'd say Mastering the Mix's Reference 2 is the best budget alternative to Tonal Balance Control.
Click here to learn more about Mastering the Mix's Reference 2.
Hot on the heels of Fabfilter's Pro-Q 3 is oeksound's amazing Soothe2.
If I found myself deserted on an island with only a Mac, Logic Pro, and one single plugin, Soothe2 would be my pick. Everything else is nice to have. Soothe2 is irreplaceable.
At face value Soothe2 is rather confusing. Is it an EQ? It sure looks like one. But it seems to move like a dynamic EQ, doesn't it?
Soothe2 is a deresonator. It reduces unruly resonances in your audio.
Of course a dynamic EQ or even a traditional EQ can tuck down resonances.
But resonances rarely stay put. More often than not, if a track is howling and whistling at one frequency, there's much more where that came from…
And you may find that as your guitar, vocalist, or bass moves from note to note, those nasty resonances follow.
Trying to manage resonances that walk around the spectrum with a traditional or even dynamic EQ is like pulling teeth. I can't think of anything more miserable than automating narrow bands of EQ over the course of a 4-minute song.
Then along came Soothe2 from oeksound. Oh, those beautiful, beautiful people at oeksound!
Out of the box Soothe2 immediately gets to work at removing resonances. And it's amazing how effortlessly it finds them.
But in case Soothe2 needs help focusing, that's where the "EQ" display comes in.
Move one of the bands to the area most problematic to your ears. And then boost the band to increase the level of resonance reduction. Or reduce the band for less reduction.
The high pass and low pass filters tell Soothe2 to ignore areas of the frequency spectrum. Which prevents Soothe2 from going overboard and deresonating everything.
And you can even solo each band so it's easier to find the frequencies you're trying to manage.
For me Soothe2 is the tool to reach for when EQ doesn't cut it. It's the "get out of jail free" card I've been pining for my whole audio career.
Click here to learn more about oeksound's Soothe2.
Cheaper Alternatives to Soothe2:
The closest plugin I can think that's similar and "cheaper" than Soothe2 is Izotope's Neutron 3 Standard.
I say "cheaper" because Neutron is technically more expensive than Soothe2. But Neutron offers dynamic EQ plus its Sculptor plugin. Which serves as a deresonator and sort of "auto-EQ."
It's kind of like getting Fabfilter's Pro-Q 3 and oeksound's Soothe 2 (plus a lot more) for less.
Soothe2 is $219 USD. While Neutron 3 Standard edition is $249 USD.
Though nothing is quite like Soothe2 🙂
Click here to learn more about Izotope's Neutron 3 Standard.
Several years ago I gave up on gating drum tracks. I said, "you know what? Gates sounds terrible on drums. I'm done!"
Noise Gates are most often used on drum tracks to reduce the level of bleed from the other drum elements.
For example, a snare recording can end up with a lot of bleed from the high hats if one's not careful.
Then try using an EQ to boost the upper mids of the snare to help it cut through the mix. Or compress the snare to add sustain and punch.
Suddenly those high hats can end up louder than the snare. Even though it's supposed to be the freaking snare track!
So just use a Noise Gate to cut the bleed from the high hats on that snare track, right? Set the threshold so only the snare opens up the gate. And pat yourself on the back for a good day's work.
But as it turns out, no! Sure, any and all bleed on the snare is now gone. But only in-between snare hits.
As soon as the snare opens the gate, an abrupt burst of high hat chatter brushes past the gate too.
In this case, the solution is worse than the original problem. Instead of reducing the perception of the hats, we've brought more attention to the hats.
I've tried many different drum gate and leveling solutions through the years. While some have been better than others, the Sonnox Oxford Drum Gate is amazing.
Sonnox's Drum Gate uses AI for its gating algorithms. And it is by far the most transparent gate I've ever used.
Remember that snare track trampled all over by the high hat bleed?  Under the Detection tab:
Select the Snare profile
Set the Open Threshold so only the snare exceeds the Gate's threshold
Done!
Sure, that sounds just like what I just described with a regular Noise Gate. But Drum Gate seems to be able to identify a snare from a tom hit. Even if both exceed the threshold!
And if you're working with a particularly savage bleed problem, you can fine-tune with the amazing Decay Envelope tab.
The Decay tab allows you to hone Drum Gate's focus on each drum based on frequency.  So all that high-end chatter from the hats? Cut them down to imperceptible levels with the Low Pass filter.
And it's not like a traditional Low Pass Filter. The filter won't kill all the upper-mids and highs of the snare. The Low Pass is clever in that it seems to only hone in on the offending bleed.
And if that wasn't awesome enough, Drum Gate also has a Leveler with two thresholds. Which allows you set both loud drum hits and quiet drums hits to specific levels.
Consistent, locked in drums are now only a few clicks away 🙂
Click here to learn more about Sonnox's Oxford Drum Gate.
Cheaper Alternatives to Drum Gate:
If there's one thing one can say about Sonnox's Drum Gate, it ain't cheap. Clocking roughly at $230 USD, I'd wager it's the most expensive gate plugin around.
If you're not in the business of mixing recorded drums day in and day out, I'd say skip Sonnox's Drum Gate. Instead, my next recommendation would be Melda's MDrumLeveler.
At $120 USD, MDrumLeveler is significantly cheaper. And can also:
Gate or reduce the level of bleed on drum tracks
Set the levels of individual drum hits to specific levels, plus
Set specific levels for drum hits at different velocities. Meaning you can set ghost notes to a specific level, and the main drum thwacks to another
Adjust the envelope of drum hits
While not as effortless as Sonnox's Drum Gate, MDrumLeveler is a wonderful tool for drum mixing.
Click here to learn more about Melda Production's MDrumLeveler.
Conclusion
There you have it! Another year, another batch of plugins that can really improve your creative life. This marks the end of "gear month" on WLPR.
What plugins do you use to bail you out of some tough spots? Leave a comment below.