Automation is the secret weapon to dynamic and emotional mixes.
It's like playing your mixes live. In a live show you might change vocal effects, or play harder, or hit the distortion pedal.
If all this movement occurs naturally, shouldn't it occur in your mixes as well?
And it absolutely can! Automation is your key to mixes that adapt dynamically over time.
All it takes is familiarizing yourself with Logic's intuitive and brilliant Automation system.
Automation – Where Mixes Come Alive
In a nutshell, Automation is your way of telling Logic you want things to change at certain moments. Those things could be:
Volume
Panning
Plugin Controls
It all starts with the letter 'A.' Open one of your Logic mixes, and hit Key Command A to view your mix's Automation:
Several new menus will appear in your Track Headers. By default Logic offers Volume as the first adjustable parameter:
Say you want the drums to get way louder at a certain spot. Simply use the Marquee Tool to select that spot on the Track Lane:
Click on the area you selected, and Logic will create 4 new Automation Points, or Nodes:
And drag the line between the Nodes up to add some volume to that spot:
But you can also adjust the nodes as well. You can adjust the level of a Node:
Or delete them altogether by double-clicking a Node:
Easy, right?
You're not only restricted to Volume either. If you click on the menu and travel down to Main, you've got several other options:
From there you can adjust:
Panning your track
Soloing your track
Muting your track
Want a track to drop out for a moment? Set your Automation to Mute, select that part, and adjust it to Mute:
And beyond that, you can also Automate just about anything else as well! This includes Plugin and Instrument parameters.
Try opening up a new Drummer track. And dig into the Automation menu:
Your EQ, Compressor, Sends and Drum Kit are all adjustable!
Can't you imagine the possibilities?
The 4 Modes of Writing Automation
Writing Automation can be incredibly fast using the Marquee Tool:
Select a section with the Marquee Tool,
Click within that selection,
Drag the nodes or line around
And I've found this method works great for me 99.9% of the time.
But sometimes you need a more hands on way of adjusting Automation. The classic scenario are Vocal Rides.
Vocal Rides are when you literally ride the vocals with the fader.
By riding the fader, you can write detailed and careful automation. Your vocals will sound more even. And you can actually make the most out of compression by riding them before the Compressor.
Logic recognizes this need, and provides 3 ways to write Automation. And you can access them in the field below your Output and Groups:
1. Touch Mode
Each mode allows you to write Automation as you listen to your track. To do this:
Hit Spacebar to start playback,
Grab your fader, pan pot, or plugin knob, and
Begin adjusting as the track plays
As you adjust a knob or fader, you'll see Automation being written onto your track.
What makes each mode unique is when and how it responds. Touch Mode begins writing Automation when you begin adjusting.
When you stop adjusting knobs, Touch Mode will return to wherever that knob first began.
So if you're Track's Fader was set to 0 dB before you touched it, once you let go of it, it will return to 0 dB.
This can be handy if you want Logic to revert back to the original setting afterwards.
2. Latch Mode
Latch Mode is like Touch Mode, except in one respect. And that's what happens once you stop writing Automation.
You know how Touch Mode returns your knob or fader to wherever it started when you stop writing Automation?
Latch Mode does the opposite. When you let go of that fader or knob, Latch Mode just leaves it there.
So if you slowly drag the fader down to -20 dB and let go, that fader stays at -20 dB.
This can be handy if you want to end your Automation at a specific level or setting.
3. Write Mode

Write Mode is the opposite of the last 2 modes. You see, Touch and Latch won't start writing until you begin adjusting parameters. But Write Mode starts writing Automation immediately.
Any time you start playback in Write Mode, Logic starts writing Automation. Whether you're doing anything or not!
It's not too often when you'll want to use Write Mode. 9 times out of 10 Touch and Latch are far more useful.
4. Read Mode
Read Mode is what you set your track to when you're done writing Automation. Instead of writing, Logic simply "reads" or plays back the Automation you've set.
It's always best to change your Automation Mode to Read when you've nailed that perfect ride of a fader or knob.
Track-Based vs Region-Based Automation
Not only can you write automation for just about anything in Logic. But you can also decide what style of Automation works best for you!
If you're working with loops or samples, you may find you want your Automation to repeat.
For example, say you have a shaker loop. And you want that shaker to pan from left to right super fast: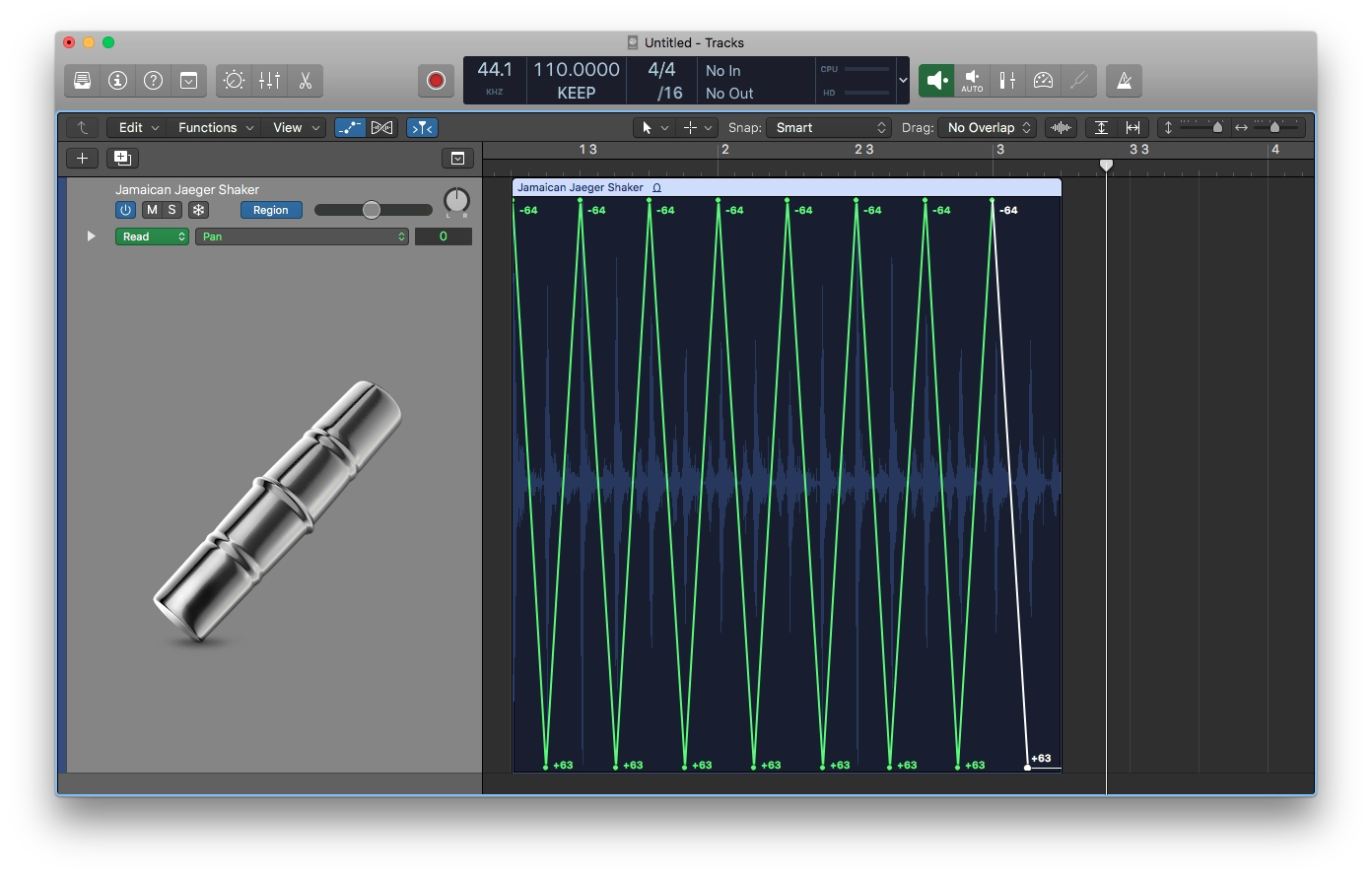 And you want to loop that shaker throughout the song. Are you going to want to write that panning Automation for the whole song?
Heck no! That'll take waaaay too long.
But if you set your Automation to Region-based Automation, do it once and you're done.
The Automation you write is Region-specific. So when you loop that Region, the Automation repeats:
But in the case of vocals, your Automation may not be Region specific at all. Instead your Automation rides span the length of the Vocal Track.
In that case, you'll want Track-based Automation.
To select between the two modes, you can use the handy menu in the Track Header: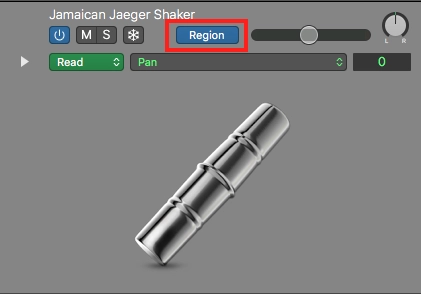 And what's best of all, you can Copy and Paste Regions in either mode, and all the Automation sticks along for the ride!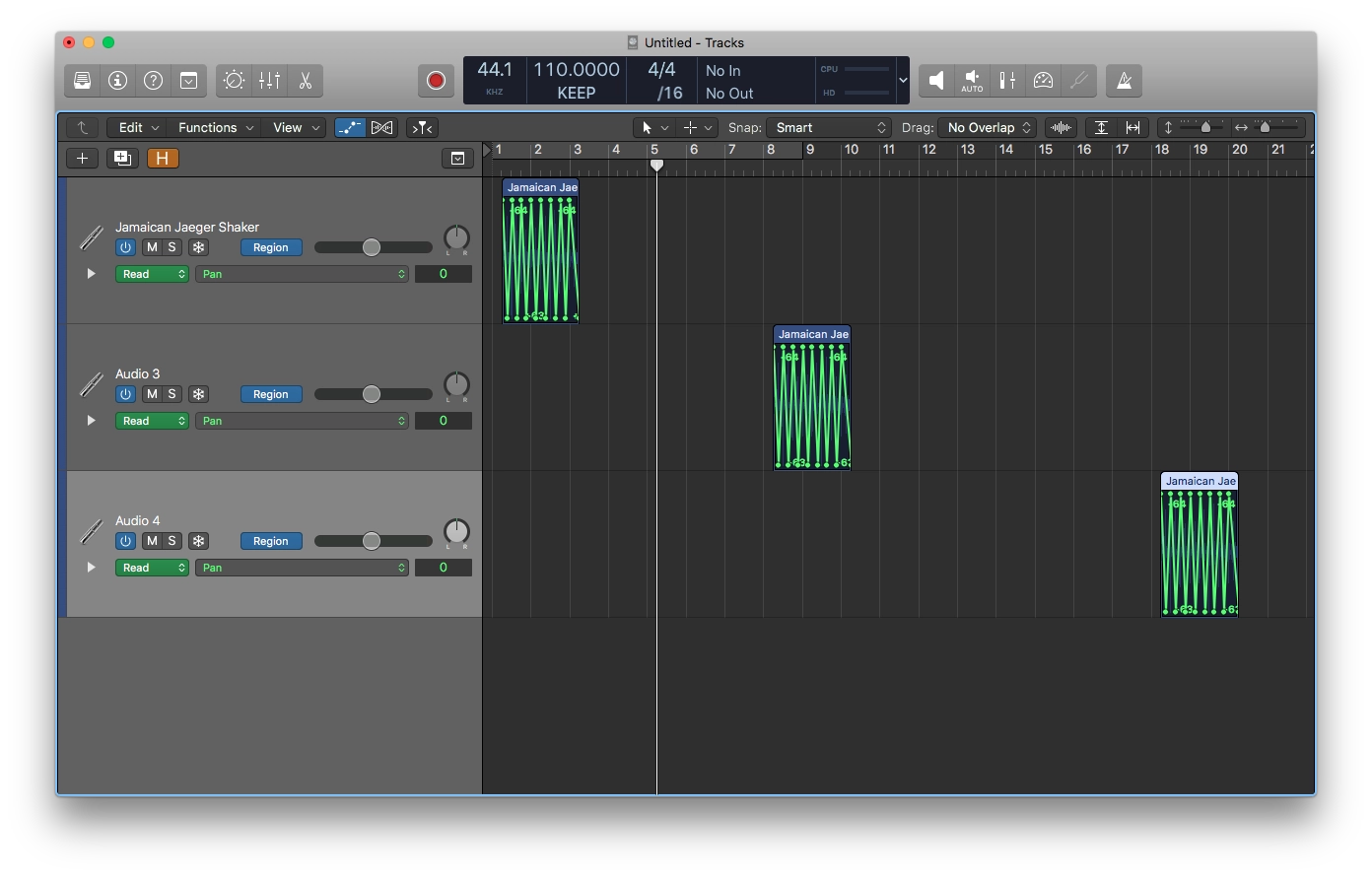 Adjusting Automation En Masse
After you've written Automation in painstaking detail, you may find you need to adjust all the nodes later.
Say you rode your vocals, and every whisper and shout is locked in.
But it turns out your vocals as a whole are too quiet in the mix. What the heck do you do?
You sure as heck don't want to go back and rewrite that Automation. I think we can agree that watching paint dry would be more enticing.
That's why Logic also provides a way to adjust all your Automation together:
With the Automation Trim, you can boost or reduce the level of your Automation across the whole track!
You don't have to select anything. You don't have to worry about missing nodes. Just click on the Trim, and drag away.
Conclusion
Automation is your secret weapon to dynamic mixes that move.
By telling Logic to adapt your plugins and faders, you increase the emotional impact and story your mixes tell.
So go ahead – give your mixes the secret of movement 🙂