Us Logic users are in a unique basket over here in music production land. Unlike Pro Tools, Studio One, or Ableton users, Logic isn't owned and maintained by a company whose primary focus is audio.
That's kind of a weird spot to be in, isn't it?
Avid, the parent company of Pro Tools, does more than just audio. It's a media technology company. But I think it's safe to say that Avid is best known for its pro audio tools.
Not only does Avid own Pro Tools, but they also create all sorts of devices and software to complement Pro Tools. From control surfaces to interfaces, they're invested in the pro audio world.
PreSonus has done the same for Studio One. When one chooses Studio One as their primary DAW, they're not just buying a piece of software. They're introduced to an entire ecosystem of integrated devices and software that play well with Studio One.
And I think it's fair to be a little bit envious of other DAW users for that.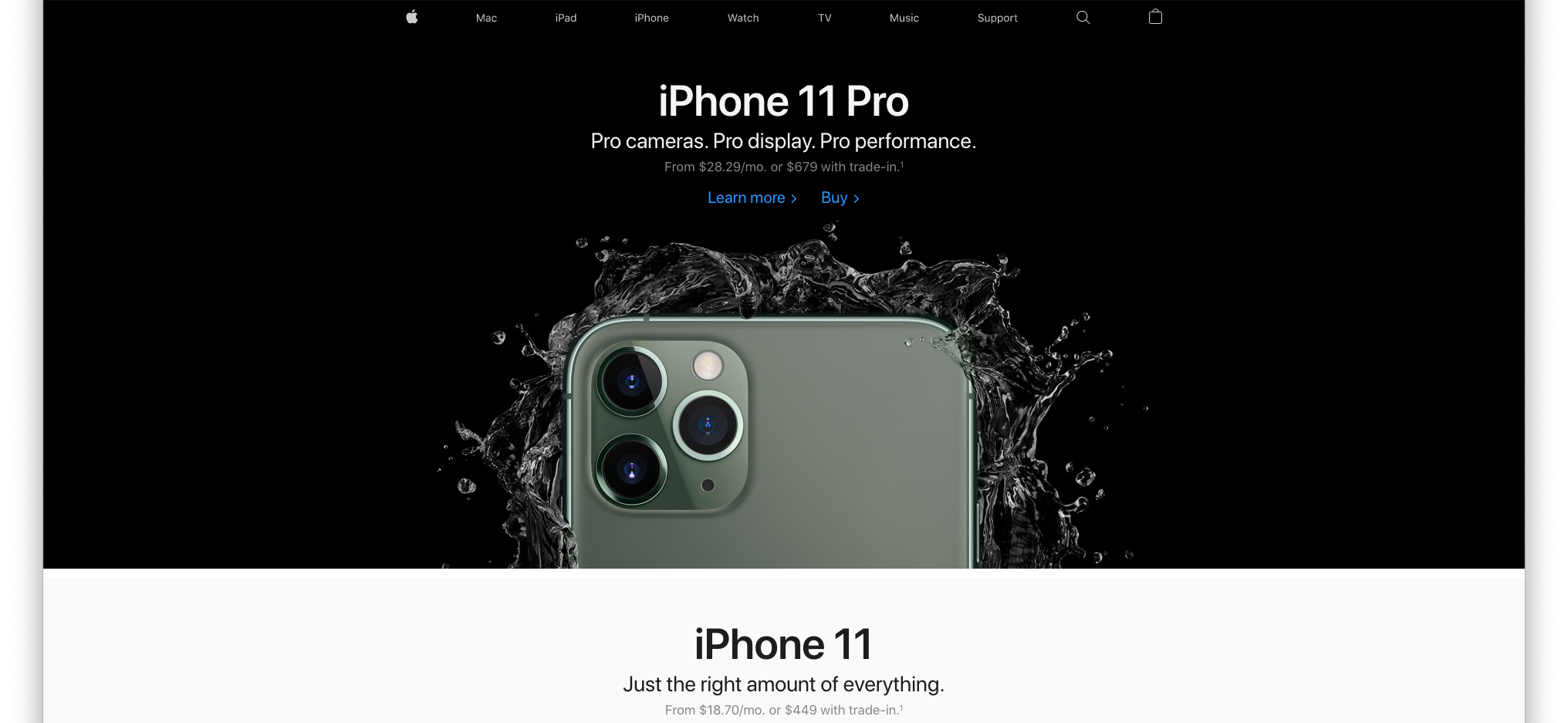 Apple's core focus isn't pro media apps.
No, Apple's bread and butter is computers, phones, tablets, watches and more. Devices that have reshaped our culture, experiences, and entire way of life.
So while Logic comes with far more for far less than other DAWs, it can be a little lonely over here on planet Logic. Almost like we're on an island onto ourselves.
Of course, I would be remiss not to mention Apple does deliver a tightly integrated experience for Logic users as well.
Namely Logic Remote. An app that turns our iPhones and iPads into a Control Surface specific to Logic Pro X. A control surface of more depth than any MIDI controller could hope to achieve.
But nonetheless, we still need microphones, controllers and audio interfaces. Writing a song entirely in Logic using only your Mac's keyboard is, of course, possible.
But more often than not we need other equipment to make music.
The Big Question
So for the last year I've been wondering –
What audio devices seamlessly integrate with Logic Pro X?
What interfaces? What controllers? What are the very best tools for Logic users to use with their DAW of choice?
I think this is an important question to answer. Most "best of" articles offer not much more than a huge list of every available piece of gear. I don't want any old option for Logic. I want gear that integrates tightly with Logic.
But I'm not made of money. Buying and testing every device around is just not a possibility for me.
So I reached out to some companies about reviewing their interfaces.
Their response?
Crickets.
Okay. No biggie. I then decided to reach out to a prominent online retailer about sponsoring a series of posts. Here was their response:
Hi Chris,

Thanks for asking and for your consideration.
Since Apple only sells Logic Pro direct and does not have a vendor channel with us, we don't sell or represent their DAW, unfortunately.  
I will still forward your message along to the appropriate party here, but wanted to be candid that I think it is unlikely we'll get traction here on this one.
Now I wasn't expecting companies to throw themselves at WLPR the moment I sent them an email.
It's striking to me though how much us Logic users are truly on an island. So much so, that an online retailer whose primary purpose is to sell musical gear won't work with a website dedicated to Logic!
Maybe I'm missing something here… but wouldn't they like to sell gear to Logic users just as much as any other DAW user?
And if you look on the Apple App Store any given day, Logic Pro X is consistently the #1 most purchased app.
Hmm…fascinating! Seems to me like there's a bunch of money on the table waiting for some savvy audio company.
The Contestants
But I refused to let this deter me. Taking advantage of the gracious return window of said retailer, I purchased and returned 3 audio interfaces to compare.
Now you might say, "3? That hardly represents even a fraction of the interfaces available!"
And I would agree with you. But testing every interface available would take forever. Instead, I decided to focus on comparing interfaces Logic users would most likely buy.
What is "most likely" though? Well, I based my assumptions on the devices I tend to see crop up again and again. Devices so popular they're hard to ignore.
The 3 audio interfaces I chose (you can click each interface listed to jump ahead):
1. Focusrite Scarlett Solo (Generation 3)
Focusrite's Scarlett series has proven to be a resounding success for the company. While I have no data I can point to, there has to be a reason why the company has continued to improve on the design of the Scarlett since its release in 2011.
Now in its 3rd generation, Focusrite's boasts the Scarlett as "the most popular USB audio interface series in the world."
2. Universal Audio Apollo Twin X
There's no arguing that Universal Audio has taken the audio world by storm with their line of Apollos. The folks who have thrown their names behind Universal Audio reads like a "who's who" of the music industry.
Are the Apollos really that great? And if they are, are they the best option for Logic users? I wanted to find out.
To be honest, I'm not sure if Apogee's Element line is a top seller. But take a trip down any forum online, you'll quickly learn of Apogee's reputation for quality.
What I do know is Apogee is about the only company that makes use of Logic's Audio Device Controls. And I wanted to know what that might look like.
Let's dig in:
1. Focusrite Scarlett Solo (generation 3)
The Solo is the most basic version of the Scarlett series. There's not much to it:
1 – XLR microphone input
1 – instrument line input
2 – Balanced Stereo Monitor Output
1 – Headphone Output
Everything you need for simple recording applications is right here on the box:
USB-powered
56 dB of gain on both inputs
Phantom power for condenser microphones
A slick Direct Monitor button if latency is a problem
Switchable Air button to add a brighter flavor to recordings
The Solo is clearly designed for simple audio applications. Singer-songwriter, vocal recordings, podcasting – anything that doesn't need a ton of routing.
A couple of years ago I bought a Focusrite Clarett. And to be honest, I didn't care much for it. I sold the Clarett to buy my prized PreSonus Quantum.
With this in mind, I didn't actually expect to care much for the Scarlett either. But it turns out I actually loved using the Solo!
The Good:
Focusrite did it right with this thing. The moment you plug in the Solo Scarlett an app pops up on the Mac desktop. And that app guides you through the whole process of getting set up with your Scarlett.
The app takes you to the Focusrite website, where you create an account. And from there you download the necessary software.
Just about every interface has its own downloadable software mixer. The software mixer is a separate mixer app for your audio interface.
We use this separate mixer for Direct Monitoring.
Let's say you're using Logic's Software Mixer to hear yourself through your microphone. But you experience latency – or a delay – through your headphones.
You're going to need a way around this issue. That's where the separate mixer comes in. Turn off Software Monitoring in Logic, and turn on Direct Monitoring on the Scarlett.
I've always hated working with software mixers. It adds a level of complexity that can cause sessions to stall and sputter.
For example: don't hear anything through your microphone or headphones? Now you have to wander around 2 different mixers (Logic and interface) to try and find the problem.
Focusrite calls their software mixer Focusrite Control. And Focusrite Control looks a little different depending on which Scarlett you own.
The great thing is Direct Monitoring can be turned on or off by pressing the Direct Monitor button on the device. Which is way faster and more intuitive than fussing around with a second mixer.
It's clear that the Scarlett needs a separate mixer. But I love how Focusrite was able to get around it with its simple Direct Monitoring button.
Everything about the Solo is easy:
Easy setup
Easy recording and monitoring
Easy to travel with
Plus, Focusrite supports its users with the Focusrite Plugin Collective. A regularly updated collection of plugins from 3rd party companies that are free to their users.
My plugin selection included:
Softube's Time and Tone bundle
Focusrite's Red Plugin Suite
XLN Addictive Keys virtual instrument
Mastering the Mix's Ignite
And a special plugin created in collaboration with Sonible called Balancer. Balancer is an A.I. EQ plugin that can learn and adjust the tonality of your tracks based on sonic profiles. Those profiles can be:
Male or female vocals
Guitars
Drums
It's an interesting tool that can help speed up your workflow. You can learn more about Balancer here:
https://focusrite.com/en/news/focusrite-partners-sonible-create-balancer-plug
The Bad:
Honestly – not much! I couldn't help but fall in love with the simplicity and ease of use of the Scarlett Solo.
I think the Scarlett is an ideal interface for those who identify as beginners. Not because it's a subpar device. But because recording can already be daunting. Beginners need this kind of simplicity when starting out.
If we're splitting hairs, I did think the inputs and outputs lacked a tiny bit of dynamic range compared to my PreSonus Quantum.
But it makes sense. Seeing that the Quantum boasts slightly more dynamic range on both sides.
The Verdict:
The Scarlett Solo is slick. And I would highly recommend to anyone:
who identifies as a beginner, or
is looking for an easy, plug-and-play interface
Bells and whistles without the complexity!
Does the Scarlett integrate with Logic in any way? Not really. But because of its simplicity, the experience is about as good as it gets without integrating.
2. Universal Audio Apollo Twin X
The Apollo Twin X is the big boy of the bunch. A big reputation with pro status:
2 – XLR/line combi inputs (meaning you can plugin either a mic cable or TRS cable)
1 – instrument line input
2 – Balanced Stereo Monitor Output
2 – Balanced line outputs (if you want to route audio out of Logic into a separate set of monitors or outboard gear)
1 – Headphone Output
The Apollo Twin X boasts some pretty impressive numbers and functions. Besides managing input and monitoring levels, it's a great monitor controller:
Thunderbolt 3 connection
65 dB of gain for both inputs
Phantom power for condenser mics
-20 dB pad for managing very loud signals
Hi-pass filter set to 75 hz
Polarity invert for inputs
Talkback microphone to talk directly to talent
Mono button to sum monitor output to mono
Mute and Dim functions for Monitor output
The Apollo Twin X definitely has the producer or solo singer-songwriter in mind. Again, not for those who need a ton of routing.
But the Twin X can grow with you if needed. If you decide to later upgrade to the bigger Apollos, the Twin can operate as the central monitor controller for the whole system.
The Good:
To be honest, I walked into the Twin X expecting not to be impressed. When audio devices get to be as expensive as the Apollos can be, my skepticism goes on high alert.
Let's examine why people love Apollos.
Universal Audio (UA) has built a reputation for high-quality plugins that emulate analog gear. Plugin said to be so good and true to the hardware, that your Mac's processing power isn't enough to run them.
That's why Universal Audio manufactures Digital Signal Processing cards. These cards are required to run any of their plugins.
You can use the UA plugins in Logic. But you can't open or run the plugins in Logic without the separate DSP card.
The good thing is the Apollo comes with the DSP built-in. No separate card needed! Now all you need to decide is how much DSP you need.
This is important. How much DSP your Apollo has will determine how many UA plugins you can mix or record with.
And recording is where the Apollo shines. That's because it allows you to monitor and even record through UA's plugins.
This is exciting for a lot of users. Because UA's plugins are far too intense to monitor within Logic. The latency they add makes it impossible.
But UA gets around this issue with their software mixer – the Console. Open your favorite UA EQ, Compressor and reverb in the Console. Leave Logic's buffer set to 1024. Yet experience next to no latency.
And that's because those plugins aren't running inside Logic. They're running on the Apollo outside of Logic.
On top of that, UA has created a technology called Unison. Unison affects each of the inputs on the Apollo.
Different microphone inputs/preamps react and sound different. Different amp inputs react and sound different too. A Neve preamp is not the same as an API. And a Marshall amp is not the same as a Fender.
So UA developed a technology that adapts and changes the input response based on the emulation you use.
In a nutshell:
UA makes plugins
You need DSP cards to run the plugins
The Apollo lets you use those plugins while you record with near-zero latency
The Apollo doubles as an interface and DSP card
So the $1000 question: are the plugins really that good to justify the extra expense and DSP hassle?
Well…
To justify the expense and DSP? That question can go in a lot of different directions. And there are plenty of heated discussions on forums you can check out.
But are the plugins that good…?
In a word – Yes.
I didn't want to like them. I didn't want to give UA the satisfaction. But there's this intangible mojo with their plugins I don't hear elsewhere. They really are that good!
What I also liked about the Twin X is it's a slick-looking device. You can't help but feel like a pro when it's sitting on your desk. It's clear UA put a lot of focus on aesthetics with their devices.
I also didn't expect there to be any noticeable difference when it came to the Main Monitor Outputs. Companies – especially the pricier ones – like to boast how clear and transparent their outputs are.
So I wanted to find out – is there a difference? Is it that noticeable? I've always bought interfaces that were budget-friendly.
To compare, I plugged both the Twin X and my PreSonus Quantum into my PreSonus Monitor Station v2. I picked out several pro tracks to listen to. Styles ranging from rock to hip hop to pop.
Then I level-matched the two interfaces. Hit play, and switched back and forth between them.
And to my surprise, there was a difference. Not a huge, mind-boggling one, mind you. But there was a difference.
Both the Twin X (and Apogee Element) sounded:
wider
more evenly spread left to right
slightly less congested in the low-mids than my Quantum
more air and presence in the top end than my Quantum
Again, not a night-and-day difference. It required critical listening and precise level-matching. But I felt I could hear a difference.
The Bad:
Now for all the good listed above, I have a lot of hesitations when it comes to the Apollo Twin X.
I can't argue with the great plugins. And I can't argue with the quality of the inputs/outputs.
But I'm super hesitant these days of companies that try to lock me into buying their products forever. Some companies use paid update plans. Universal Audio uses DSP cards.
Remember – you can't use UA's plugins without the Apollo plugged into your Mac. This means if you invest in their software, you're forced to buy their hardware. Forever (or at least they hope forever).
And that makes me uncomfortable.
I recognize saying this as a Logic/Mac user sounds a little funny. To use Logic one must own a Mac!
But a Mac serves a whole heck of a lot more purposes than running a handful of audio plugins.
I also really don't care for the Console software mixer.
To be fair though, the Console is beautifully designed. It looks fantastic and operates like you'd imagine an analog console would. And that's what UA's customers are looking for. That analog life.
But juggling the Console alongside Logic is cumbersome. It's easy to forget details when you hit record. Managing a Logic mixer full of faders, plugins and send effects can already feel like a lot. Now we have to manage 2 mixers?
The other thing is UA clearly has a knack for marketing and branding.
"Is that bad or something?"  I hear you ask.
No! Not for UA anyways. They're killing the game.
But I've found that many beginners are choosing to invest in that UA lifestyle. And the UA ecosystem is definitely NOT one for beginners!
The complexity UA brings to the table is really one best suited for those who identify as advanced users.
The Verdict:
There are no 2 ways about it. The UA plugins are top-notch. And that's really the reason why anyone would want to buy an Apollo interface.
The Twin X looks great and is fun to use. Though not as small and easy to throw into a bag as the Scarlett Solo. But still pretty mobile.
I think the Twin X is best suited for those who identify as more advanced users. Users who are ready to leap into the world of pro audio. With all the rewards, complexities and strings that come attached with it.
Does the Twin X integrate with Logic? 
Not at all. The exact opposite actually. UA is bent on pulling you into their world. Not integrating into yours.
This brings us to our final interface…
3. Apogee Element 24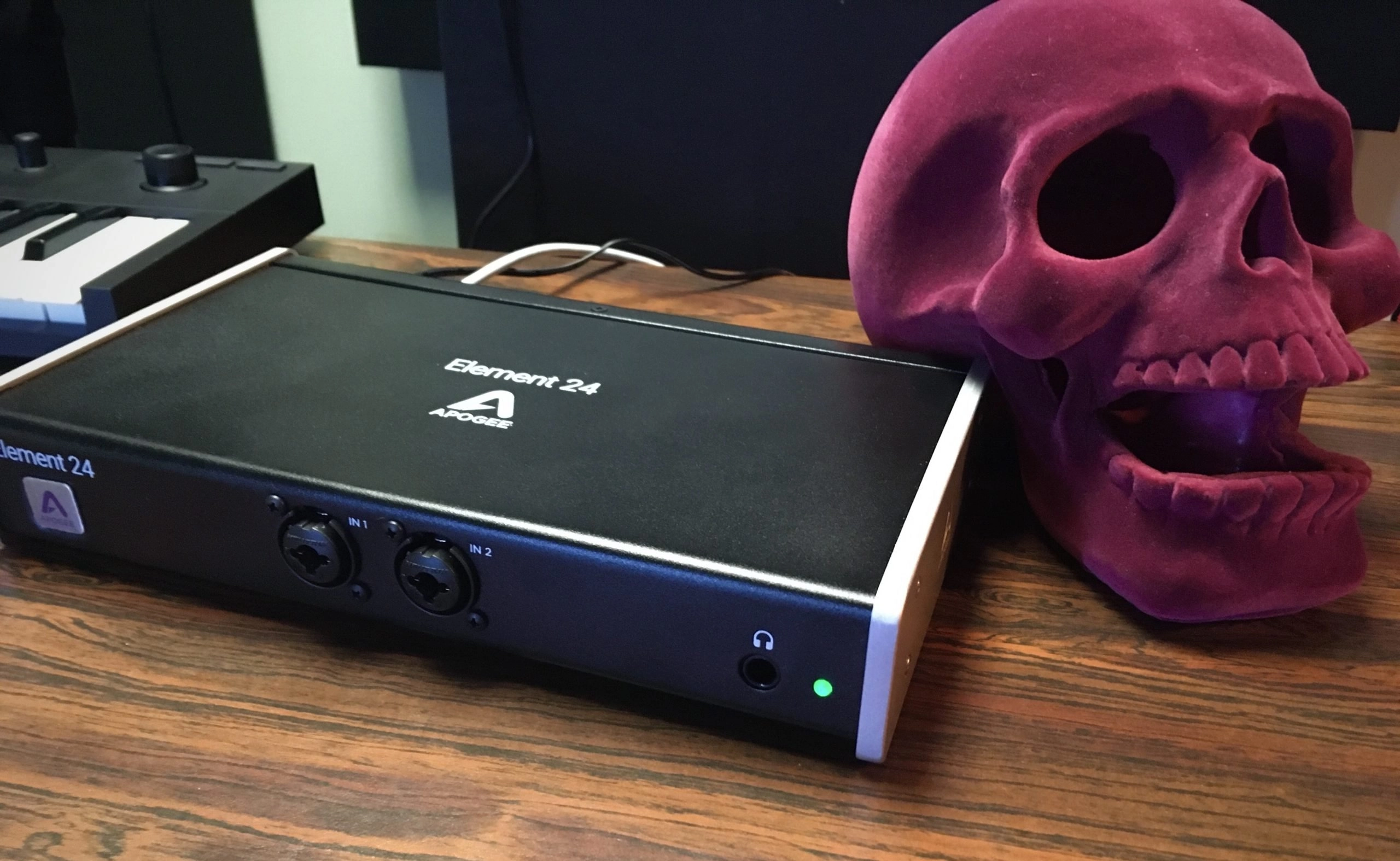 Apogee is no stranger to the audio business. They've been around the block, and have a sterling reputation for sonic quality.
The Element 24 is the most bare-bones looking interface I've ever used. It includes:
2 – XLR/line combi inputs (meaning you can plugin either a mic cable, instrument or TRS cable)
2 – Balanced Stereo Monitor Output
1 – Headphone Output
Now the box itself has absolutely no knobs to speak of. We'll dig into why that is. But just know you do have the following:
Thunderbolt connection
75 dB of gain for both inputs
Phantom power for condenser mics
Polarity invert for inputs
Talkback functionality to talk directly to talent
Mono function to sum monitor output to mono
Mute and Dim functions for Monitor output
The Element 24 is part of a line of Element interfaces. In the case of the 24 it's like the Scarlett and Twin X. A couple of inputs and outputs.
The Good:
If you're like me, the Element doesn't really inspire me when I look at it. And then you look at the price tag of $595 and you might think, "are you kidding me?"
I know I sure did! Even though Apogee is known for quality, I can't help but balk at the price. Especially for an interface that comes without any knobs or meters.
So it's safe to say I walked into trying each interface with a "healthy" level of skepticism.
To be completely honest, I tried out an Element 88 when it was on sale around the holidays. Checked it out, decided I knew what I needed to know, and then returned it.
After that I tried the Apollo Twin X.
But as time went on, I actually began to miss the Element. So I bought – and now love – the Element 24.
But why? What's so great about it?
First, the sound quality of the Apogee preamps and outputs are a cut above my Quantum. Again, not mind-bogglingly so. But enough that I decided I needed the upgrade.
Apogee is very proud of the quality of their converters. And rightfully so!
But I don't think the audio quality is their unique advantage over other companies. Instead, I think the tight integration Apogee interfaces have with Logic Pro X is what sets them apart.
The Element is a digitally controlled interface. There's no knobs or meters. Instead you control everything on the box with the Apogee Control mix software.
Just like Focusrite and Apollo, Apogee has its own software mixer. Apogee Control can get pretty complicated if you need it to. So I'll focus on the most important bits.
Each input's application is selectable from the Analog Level drop-down menu:
Plugging in a microphone? Set Analog Level to Mic
Plugging in a guitar? Set Analog Level to Instrument
Plugging in outboard gear? Set Analog Level to +4dBu or -10 dBV
For mic and instrument inputs you can turn the input level up using the Trim/Gain:
You can also turn on Phantom Power, Invert Polarity or Group the channels together:
The Monitor and Headphone levels are adjustable from the right-hand side of the Control App:
Okay? So we have the basics down. Here's the highlight reel:
Talkback Mic
The Apogee Control App allows us to choose a source as a Talkback Mic.
Have a singer in the other room and you need to talk to them? Now you could use one of the Element inputs as the Talkback Mic…
Or you can use your Mac's built-in mic.
This detail blew my mind! That's when I started to realize there was something different going on with the Element.
Why waste a mic input when we could use the built-in functions of our Macs? Definitely a classy touch.
Manage Output Volume Using Your Mac's Keyboard Volume Keys
Another brilliant use of Mac functionality. While you can turn the volume up or down using the Apogee Control App, that would be pretty lame, right?
So why not instead use the F10-F12 keys on your Mac keyboard? They're right where your hands are.
All you have to do is tell the App which output source you'd like to manage. Headphones or Main Output:
How clever is that?
Control the Element From Within Logic
Like I mentioned before, I despise software mixers. Why would anyone want to juggle 2 mixers?
Since the Element has no controls on the box, the App is necessary. But as a Logic user, we can ditch the App and control everything related to the Element within Logic.
Let me ask you – have you ever noticed these controls in your Logic Mixer and wonder, "what the heck are those even for?"
Those are the Audio Device Controls. They allow you to control any compatible audio devices.
Unfortunately, almost no interface manufacturers make use of those controls in Logic.
But Apogee does.
You can:
Select input type (mic, instrument, or otherwise)
Enable phantom power
Invert Polarity
Direct Monitoring Built Into Logic
The other piece of the Audio Device Controls is the option for Direct Monitoring.
So let's say you have a big Project with tons of tracks, plugins and routing. You then later decide you need to record some new vocal passes.
Now you're in a pinch. If you don't want latency you'll need to reduce Logic's Buffer Size. But reducing the Buffer Size could find you in a sea of System Overloads.
What's one to do?
With the Element, you can actually enable Direct Monitoring on a channel-by-channel basis:
Leave Software Monitoring enabled in Logic
Leave your Buffer Size set to 1024
Set your new vocal track's input to Analog 1 or 2 on the Element
Click the Direct button on your Vocal Channel Strip
Presto! Latency eliminated. Max buffer size for running your big Project. Direct Monitoring for latency-free recording.
My god it's such a beautiful thing!
Dual-Path and Apogee's FX Rack Plugins
Let's take our example above and expand on it. You don't want to record a dry vocal track. You'd like to use EQ and Compression for a tighter, more inspiring vocal sound.
Universal Audio would like you to believe they're the only company around that offers this type of monitoring style. But that's simply not true.
Apogee also has started developing its own line of plugins for this very purpose.
Now candidly UA has a much more robust catalog than Apogee. But Apogee is continuing to roll out plugins and now preamp emulations (preamp emulations only available on the new Desktop Symphony model).
And unlike the Apollos, you don't have to juggle the Apogee Control App to setup the Apogee plugins with the Element.
NOR are you required to own an Apogee interface to use their plugins.
Instead, Apogee plugins only require an iLok account. You can run the plugins off of your Mac no problem.
If you want to record a track while monitoring through the Apogee plugins, that's when you need an Apogee interface.
But you don't have to bounce between the Apogee Control app and Logic to take advantage of the Element's DSP. Instead you enable Channel Linking from the plugin window:
Open an instance of the Apogee Rack on your Vocal Channel Strip
Go down to the bottom of the plugin window to the Channel Link dropdown menu
Select your vocal mic's input (Analog 1 or 2)
Now the Apogee Rack plugin switches from running off of your Mac resources to running off of the DSP on the Element.
Meaning you can add EQ and compression with no discernible latency. All while using Direct Monitoring 🙂
The Bad:
I think you can agree that's a lot of firepower for such a plain-looking box.
The one thing that I think takes away from the Element is how plain-jane the box looks. It's not very inspiring compared to the Apollo or even the Scarlett. That certainly caused me to hesitate when I considered buying the Element.
The price tag of the Apogee interfaces, I feel, is a dissuading factor as well.
Sure, the Apollo is much more expensive. But UA nails it with the brand and looks. Beautiful looking devices, beautiful Console and plugins. High profile user-base. The Apollos ooze with style.
We shouldn't judge a book by its cover. But an attractive looking book is much more likely to be picked up.
The Verdict:
Like I mentioned earlier, I actually gave the Element 88 a hard pass. But soon after I missed the tight integration and sonic quality so much I bought another Element.
For me, the sonic quality of the outputs is very important to my day-to-day.
And to finally own an interface that truly integrates with not just Logic Pro X, but Mac systems in general? That's well worth the cost to me.
I think the Apogee Element series is for both beginners and experts alike. Both would enjoy the tight integration and sonic quality. And the Element can be as simple or complex as you need it.
Does the Element tightly integrate with Logic Pro X? A resounding yes!
Conclusion
My journey to find the best audio interface for Logic users is not necessarily a cut and dry one. Because one has to assess what they value in an interface.
I personally prioritize ease of use and integration over all else. While you may be more interested in sonic quality or a vast catalog of plugin emulations.
But my original question was:
"What audio devices seamlessly integrate with Logic Pro X?"
And that award goes to the Apogee Element.
I do hope this journey has been helpful or intriguing for you! My hope is to review more audio devices this year for WLPR.