Bouncing is an essential part of the Logic experience.
Taking a 50, 60, or 100 track mix and reducing it down to a single stereo file? That's no small feat!
And while users of other DAWs had to "print" their mixes in real-time, Logic users got to enjoy Offline Bouncing. Which is an incredibly fast way to produce a Stereo file fit for iTunes, CD or Spotify.
But on forums all over the internet a Logic myth lurks…
And it's the belief that Logic's Bounce doesn't sound as good as the Project you bounced it from:
Some folks are convinced that Bounce is bogus. So they try to find alternate ways to "print" their Logic mixes without Bouncing.
Today, I'd like to dispel this terrible Logic Myth.
The Case For Bouncing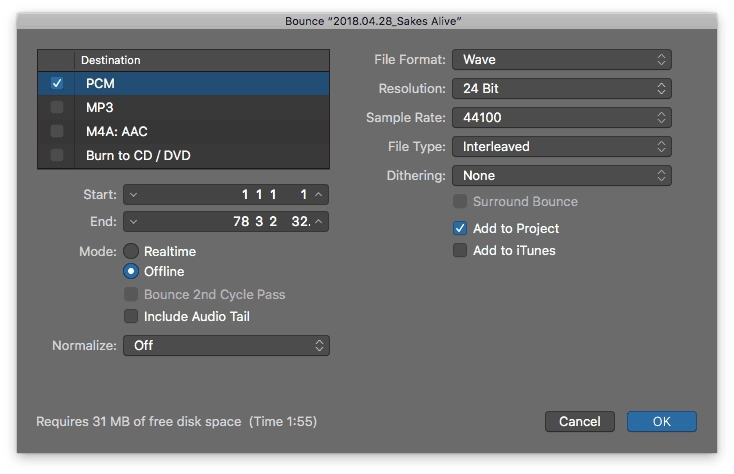 Bounce comes in a variety of flavors. But at its core, we use Bounce to reduce a multitrack mix down to a single stereo file.
At the end of the day your fans and listeners will hear your track on:
CD
Record
Tape
Spotify
iTunes
Radio
And many other playback mediums. We Bounce because none of these can manage your 100 track Logic Session.
Before Offline Bouncing existed, engineers of yore had to "print" their mixes. This meant they:
Routed their whole mix to a Stereo Track
Record-Enabled that Stereo Track
Hit Play, and
Waited for the mix to record to the Stereo Track
This was a terribly inefficient process. Because they had to wait for the track to play from beginning to end.
Imagine you've finished a mix. Everything is perfect, and you're ready to lay this puppy down.
So you route your mix, hit record, and start printing…
Quick question: ever wanted to claw your eyes out because of a System Overload?
Now imagine you hit a system overload each time you tried printing your track!
Because that's what would happen when the digital processing overloaded their CPU mid-print.
Thankfully, an alternative was developed:
Boo Yah – Offline Bounce
Offline Bounce is the silent, and much faster way of condensing your mix session to a stereo file.
Instead of playing the track through from top to tail, Logic renders it all down using math.
Logic "plays through" the track. But instead of recording the mix to a stereo track, Logic uses math to calculate its way to a final Stereo File.
Offline Bouncing is by far faster and more efficient. Plus, it saves your eyeballs from any System Overload carnage!
Of course, you could set Logic to Realtime Bounce:
And Logic will play through the track audibly as it bounces.
Either why you slice it, Logic has you covered.
The Bounce Conspiracy
But what about the quality of Bounce?
Because the conspiracy is how all that math sounds once it's been calculated. And some folks believe Bounce isn't as crisp as the original Project.
I feel for these folks. I really do. Because we all get anxious about our DAWs sometimes. And we all know the devil is in the details when it comes to mixing.
So to figure this out, we've got to conduct some tests.
The Null Test
The Null Test is a very easy test. And it earns its name for the simple result it's after.
If you:
Bounce your mix
Import your mix back into the project
Place the Gain plugin on the Bounce
Invert the Phase on both Left and Right Channels, and
Playback the mix and Bounce at the same time
Will the mix and Bounce cancel each other out?
And the answer is – they should!
Our goal is to prove that your Bounce is an identical copy to the mix in your Logic Project. That all the fidelity and magic has been faithfully Bounced down.
So you invert the Left and Right channels on the Bounce. By inverting the Bounce, its phase should be 100% opposite of your original mix.
And when 2 signals are 100% identical, but opposite, you should hear:
Nothing.
Not a single sound should emit from your speakers whatsoever.
Go ahead – try it!
So folks did. And many heard the cancellation. And all was right in the world.
But some did not. And that's where the rest of our story takes place.
The Radical Behaviors That Trick Us
Logic's Bounce feature is 100% accurate and true to the mix you've slaved over.
The problem lies in plugins and virtual instruments that don't produce the same exact processing each and every time. And we call these processors:
Nonlinear.
Nonlinear processors are designed to produce ever so slight random behaviors over time.
Huh?
Imagine you're recording a vocalist. No matter how many times you record that person, you'll never get exactly the same performance twice.
I mean, there's pitch. And there's timing. And the singer moves as she sings. And there's room acoustics…
There are thousands of variables that can occur from take-to-take.
Non-linear processors aim to mimic or model random behavior.
The Culprits
In fact, you don't have to go any further than Logic's Drummer!
Load up an instance of Drummer, and set the genre to Rock:
Now open another instance of Drummer, and set this second Drummer track also to Rock:
Let's now open the Gain plugin on either Drummer track, and invert both the Left and Right channels:
Ready? Hit Spacebar and listen away…
Hear anything?
There's a good chance you do, and it's pretty noticeable too. That's because Logic's Drummer is a non-linear processor.
The generous Logic team gave us the gift of a Drummer. And Drummer comes with all the nuance and variation of a human drummer.
So much so, that the same Drummer, playing the same part, can't null each other out!
Not convinced? Try Bouncing each Drummer Region in place:
And nulling one of the two new Audio Regions:
The result remains the same.
More Non-Linear Shenanigans
Our Drummer test explains why a Bounce might not null with your Logic Project.
Drummer is designed to perform slightly different every time you hit Play.
So almost by design Bounce is destined to "fail" the null test. How can a Bounce null against an always random processor?
Here are some other processors that rig the Null Test:
Alchemy
Randomized Reverbs like Chromaverb's 80s Nonlinear preset
Analog modeling plugins like Slate Digital's Virtual Tape Machine
Randomized Effects like Soundtoys' Microshift
If you Bounce these nonlinear processors in place, Logic's final Bounce will null just fine.
But until then, these processors are playing tricks on you.
Conclusion
Logic's offline Bounce feature is a fast and efficient system for producing Stereo mixes. In fact, it's top notch!
To make sure we don't lose any sort of quality with Bouncing, we us the Null Test. By importing a Bounce into our Logic Project and inverting the phase, the mix should cancel out.
However, nonlinear processors like Drummer or analog modeling can dupe a null test.
Developers work hard to make processors like these. But until you Bounce these tracks in Place, your Logic Bounce may come across as broken.
So go forth, Bounce freely, and know that Logic still has your back.