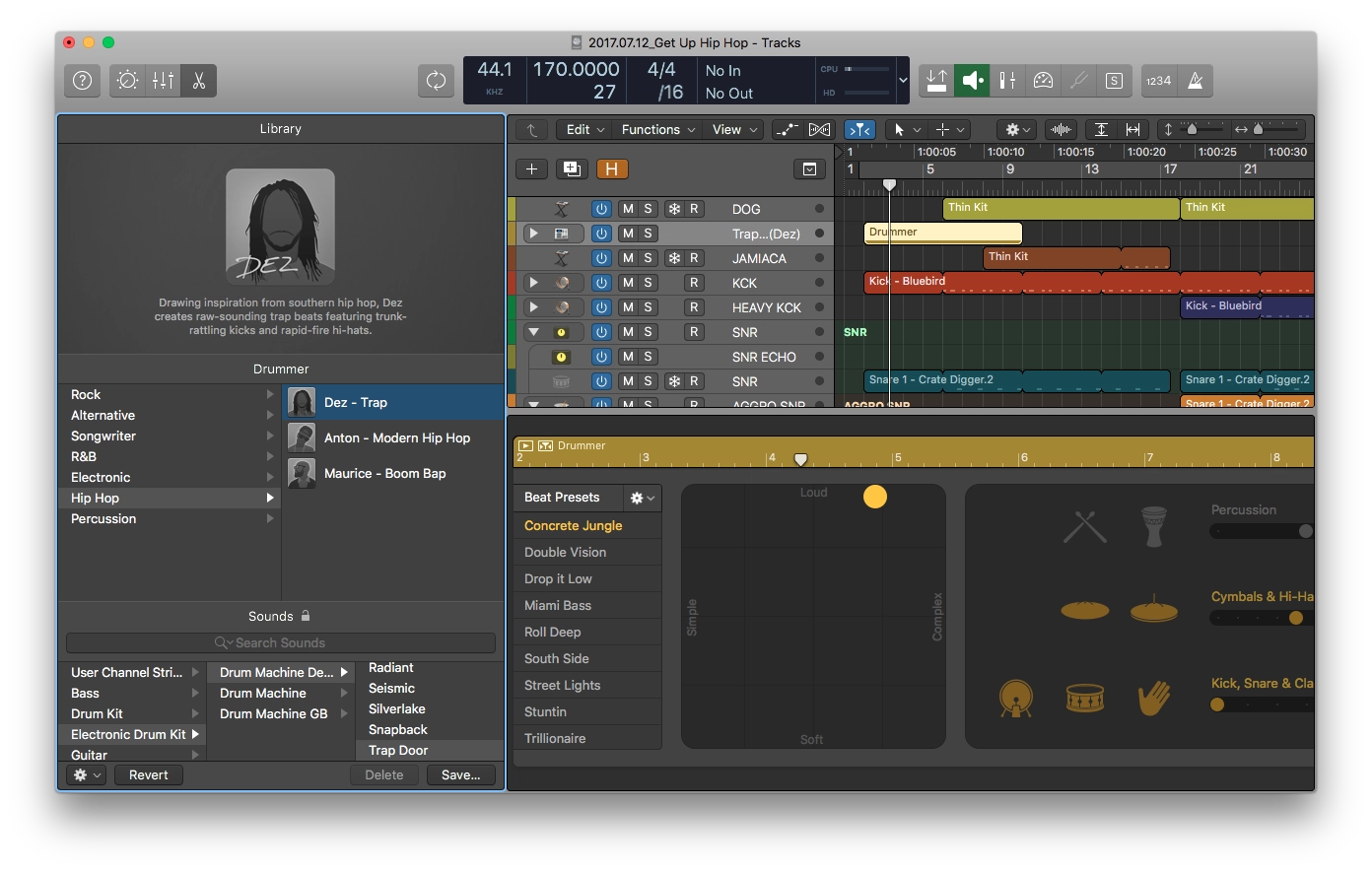 Logic's Drummer is an innovation that should go down in history for audio production. When people 10 years from now look back, the list of groundbreaking moments should say:
Digital Recording
Melodyne
Drummer
Drummer has changed my life forever. And I for one, am grateful to the Apple team for this brilliant addition.
I remember a time many moons ago having to program drums one beat at a time.
It was a dark time. An age when programming drums took hours. Placing hits brick by brick along the Piano Roll…
And no matter the amount of work I put in, those drums would sound fake as hell…
But now we live in an enlightened age. And Drummer sits at the epicenter.
AI With A Kick
Drummer is your AI buddy sitting behind the kit. A genre-agnostic chameleon that let's you steer the ship.
You get to pick:
The style
The performance
How loud, quiet, simple or complex
And so much more.
Drummer's parts quickly adapts to your settings. Without you ever having to bust out the Pencil Tool.
And Drummer will even follow what you play.
If you haven't begun to use Drummer yet, it's gonna rock your world.
The Magic's in the System
Loading up Drummer is easy. Use Key Command Option – Command – N to bring up the New Track dialog. Pick Drummer, and your preferred Genre:
What will load up is a very different looking audio region:
This region is exclusively a Drummer region. Additionally, Drummer comes with its own set of controls:
From here, the world is your drum set. Everything you could possibly need to write songs is available to you.
Looking for fast and easy? Load Drummer up just like an Apple Loop, and just run with the presets. Click the yellow + that floats next to a Drummer region to add a new region.
Or you can have Drummer become one with your song using the Drummer Editor.
Soft or Loud? Simple or Complex?
Much of Drummer's vibe lies in this XY Pad. The XY pad let's you sort out how loud and complex you want Drummer to perform.
The beauty is in its simplicity. Grab the yellow ball and drag it to different spots on the pad.
As you drag the ball around, the Drummer region changes. You can audition each change and find the dynamic and vibe that fits best with your song.
Once you find the right feel, you can take your vision further by adjusting the individual drums of the kit.
Would You Like Snare With That?
Adjusting drums is just about as simple as the XY Pad. All you need to ask yourself is:
What drums do I want for this part?
Do you want a kick, snare, high hat section? Or perhaps a loud, crashy section? Or maybe this is a guitar only part, but a lone kick would really help add tension?
Once you know the drums you're after, go ahead and click each drum icon in the diagram.
All you need to know is:
Drums in Yellow = Enabled
Drums in Grey = Disabled
Looking for a touch of tambourine or shaker for a section? Add some right above the kit by clicking and highlighting as well.
Decorating With Patterns
Next focus your attention over to the sliders next to the drums. These handy switches let you pick between different drumming patterns for your song.
It's really as easy as dragging each slider from left to right to hear different variations.
For example listening to Anders with a kick, snare and tom arrangement is too much fun.
As I slide the Toms slider around, the toms get busier and more pulsing. And the snare and kick accents even adapt to the tom changes as well.
With the Snare and Kick slider specifically, you can even adjust for half time or double time:

Far Left = Half Time
Far Right = Double Time
If any of that sounds like music to your ears, the part that makes my heart sing is…
'Follow'
Sure, all these fancy doo-dads are cool. But what makes Drummer an AI?
It's the fact that Drummer can actually follow your performances.
Allow me to explain:
You've written a killer key part. It has accents, and pushes and pulls in all the right places.
An Apple Loop is cool. But it would really be a disservice to the intention of your performance.
So instead, load up an instance of Drummer. Down by the Kick and Snare Slider enable Follow:
Right above Follow is now an accessible menu. Click that menu, and choose from the list of tracks in your session for Drummer to listen to:

Eureka!
Drummer morphs its performance to that awesome key part.
And this works in any situation:
Layering Drummer beats over your own software instrument beats,
Following guitar or bass tracks,
Following just about anything else
Drummers the world round may be out of a job…
Getting Fancy
The rest of Drummer's controls deal in nuances.
To the right of the drum sliders are two knobs to dialing in the amount of Fills and Swing you'd like in Drummer's performances:
Fills = How Travis Barker your Drummer gets
Swing = How loose your Drummer gets with the tempo
And if you click on Details in the right hand corner, you have even more control.
For more Rock, Alternative, Songwriter and R&B style drums: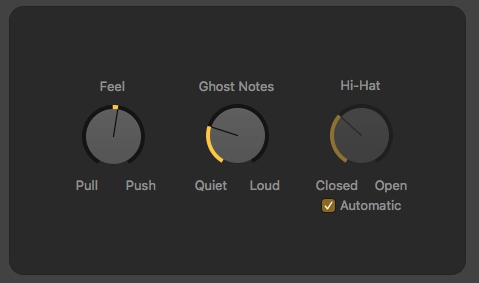 Feel: is your chosen amount Drummer Pushes or Pulls against the tempo,
Ghost Notes: is how loud or quiet those little touches are in the performance,
Hi-Hat: is the degree of how Closed or Open the Hi-Hat is performed. And you can even let Drummer decide by checking Automatic
And for more Electronic, Hip Hop and Percussion style drums:
You're able to set how much Complexity, Humanity and Variation each drum component has.
Can't you see the possibilities? And it's all so easy!
But What If Drummer Isn't Giving Me the Beat I Want?
Of course, Drummer is an algorithm. And no matter how intelligent it may be, it isn't always gonna crank out the perfect beat.
That's why Logic gives you a way to break out of a Drummer region.
Say you've dialed a beat the best you can. And you even have it Following your performances. But for some reason Drummer isn't grasping the idea.
All you need to do is convert your Drummer region to a MIDI region.
Right – Click or Control – Click your Drummer region, go down to Convert, and select Convert to MIDI Region:
Automagically, your Drummer track reverts to a Piano Roll style MIDI region:
Now you're free to double-click that MIDI region and fine-tune the beat you're looking for:
Aren't all those velocities pretty 😉
Wanna switch back to a Drummer region? Go right back to the same menu and this time select Convert to Drummer Region.
Switching Drummers and Kits
Our last stop on the Drummer train is to the Library.
As of Logic Pro 10.3.2, you can view all Drummers and Kits within the menu by using Key Command Y:
The Library is wonderfully organized for easy Drummer selection.
At the top we have the current Drummer or Kit selected in the Library.
Directly beneath to the left shows you the Genres you can choose from. And to the right are the Drummers within that genre.
And directly below that are the Drum Kits available in Logic.
The Library system is fantastic. Because you can actually pick different drummers to play different drum kits.
Try it! Try picking an Electronic Drummer like Magnus and pairing him with a kit like the Four on the Floor.
But that's not all…
In fact, you can even choose a totally different instrument in the bottom section that's not a drum kit.
Maybe Anders would sound great on Vintage Mellotron…?
Conclusion
Bottom line – Logic's Drummer is a gift for songwriting and producing.
The ability to write and produce drums with a few flicks of the wrist is mind-boggling. What once took years of skills and carpal tunnel are yours in seconds.
Enjoy! And make sure to credit Logan on your next album 😉