Drum editing has become par for the course in modern audio production.
As listeners, we're used to the sound of a drummer who's locked in. It's not so much we expect it. But when a drummer isn't tight, it just doesn't feel right.
The great news is Logic delivers a brilliant system for editing drums! And that system is Flex Time.
But there seems to be a lot of confusion about how to achieve quality results with Flex.
Doing Your Flex Homework
There are folks who genuinely want to use Flex to fix their tracks. But they can't seem to sort out how to get the result they're looking for.
Then there's a group of people who insist Flex isn't accurate, doesn't sound good, or just isn't up to the task.
That's B.S.
The confusion and myths about Flex doesn't mean it's broken. The problem is not knowing the steps necessary to be successful with Flex.
So today I want to share my step-by-step workflow to successfully edit drums using Flex Time.
There's a tiny bit of set-up you'll need to do to have your drums Flex-ready.
But once you get used to the workflow, you can blaze through Flex edits with quality results.
1. The Science of Editing
Whenever you edit a multimic instrument, you have to edit all the tracks in the same way.
In this case I'll assume you have a drum recording with several drum tracks:
Overheads
Kick
Snare
Toms
All these tracks are interwoven. When the drummer hits the snare, all the microphones catch some semblance of that hit.
If you move a snare hit on only the snare track, you'll disrupt the delicate phase relationship of your kit.
The result? Bad phase relationships. Which means your kit will sound like it's going through a phaser pedal.
That's why it's important to make sure you commit Flex edits at the same point on all the drum regions. And when you move a hit, that hit needs to be moved identically across all the drum tracks.
And we do this with Groups.
2. The Mechanics of Grouping
Grouping gives you an easy way to tie tracks together. Want to easily edit 7 or 10 tracks at the same time?
Groups are the way to go.
To do this, navigate to the Mixer, and select all your Drum tracks:
There should be a field on your Drum Mixer Strips for selecting Groups. Select the next available Group: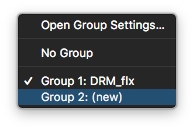 When you select a new Group, Logic will open the Group dialog in the Inspector. Give your Group a convenient name such as Drums.
From here it's important to enable two Group Settings in particular:
Editing (Selection)
Quantize-Locked (Audio)
Editing (Selection)
When enabled, Editing (Selection) ensures any selection you make is applied to the whole group. So if you decide to chop a section out from the overheads, that same cut will occur for all other the drum tracks.
Quantize-Locked (Audio)
In this case, Quantize-Locked (Audio) ensures your Flex edits are exactly the same across the kit.
By enabling both of these settings, you can commit Flex edits with confidence.
Once you've nailed those, there's just one more step for locked in Grouping:
Q-References
Q-References are essentially your guide tracks for Flex. You get to tell Logic which drum tracks are the most important ones in the Group.
Since most drummers play the kick and snare the most, I always choose the Kick and Snare as my guides.
But don't worry – Flex will analyze all your drum tracks. And Logic will cross-reference them with your guide tracks. This means you won't have way more Flex markers than you need.
Before we go ahead and enable Flex, let's fine-tune our transients a touch.
3. The Transient Touch
For this step, you'll want to turn your Group off. To do this, use key command Shift – G.
Double-click on your Kick track, and navigate to the File Editor. Then go up to Audio File in the Audio File Editor menu, open the menu and select Detect Transients near the bottom:
Logic will now analyze your Kick track for any and all kick transients.
The goal here is to finesse any mistakes that might pop up in the transient analysis. This can save you some grief later.
When you have an inconsistent drummer, Logic might make mistakes in its analysis. Logic might detect the wrong transients. Or it might not detect the right ones!
So it's our job to double-check that the analysis is accurate. If you find something that looks wrong, you can double-click a transient marker to remove it:
Or if you need to add a marker to a missed hit, pull up the Pencil tool in the Tool menu with key command T:
And add a transient marker: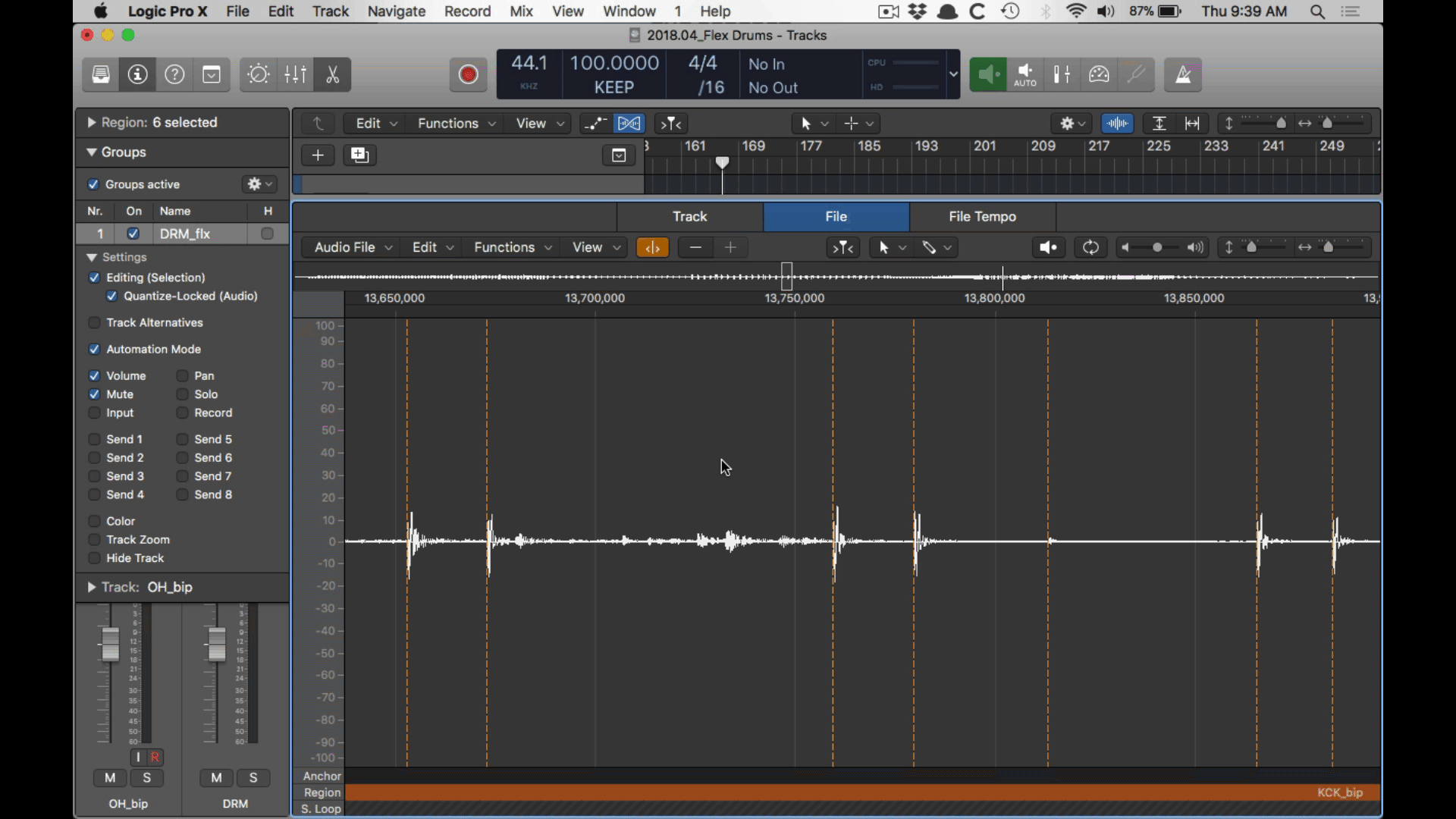 It takes a little bit of time, but double-checking Logic's analysis of your kick and snare can save you time later.
Flex Markers at Zero Crossings
There is one goof Logic tends to make when placing transient markers. And that's placing markers in the middle of a transient instead of before the transient.
This can be a big problem when it comes to kick drums.
Because when you edit a whole song worth of kick hits and then bounce, you could very well end up with pops and clicks everywhere.
To remedy this, I'll take this opportunity to finesse the transient markers for all my kick hits.
All you have to do is make sure Snap Edits to Zero Crossing is enabled. To do that, go to Edit in the Audio File Editor menu:
Now go to each kick hit and click once on each transient marker.
Logic will move each transient marker to the closest Zero Crossing before the kick hit. It takes a bit of time, but will save you a ton of frustration.
4. Flex!
Phew! Now that you've taken the steps above, re-enable your Group with Shift – G.
Turn on Flex Mode with key command Command – F.
You're only going to use one mode for editing your drums.
And it's not Rhythmic!
Using the Flex menu in the Track Header, choose Slicing:
Slicing is your designated Flex Mode for natural sounding drum edits.
Logic will then analyze the rest of your drum tracks and populate your regions with Flex Markers.
Now's your chance to edit!
Conclusion
You can achieve great sounding, natural drum edits with Flex. And it's about 1000 times better than the alternative!
Logic simplifies editing with a great sounding and advanced time-stretching tool kit.
All you need is the proper checklist for making your tracks "Flex ready" 🙂