This video originally appeared as a guest post I contributed to Logic Pro Expert.

Phase is something that's so rarely considered in home recordings. But concerning yourself with phase can be one of the most important things you can do.
Because no amount of EQ will ever sound good if the phase of your instruments are all jacked up.
And we're talking specifically about multimic instruments.
This could be:
2 or more microphones recording a guitar amp or drum kit
A miced bass amp combined with a bass DI
Even several "mics" in a guitar emulator
All these signals combining can do funny things to your instruments. Some frequencies can be boosted, while others can be canceled.
But figuring out phase can be super tough!
Thankfully – there's an easy way to manage all the commotion. And all it takes is:
a Correlation Meter
a Gain Plugin
Hard panning your signals left and right
But first, let's examine all the conditions of phase:
First Off – Phase Matters
Phase is something that doesn't get its due diligence around the studio water cooler.
Everyone's all caught up in EQ and compression. But neither will actually help your tracks sound awesome if your phase is off!
In my world of rock music, there's a lot of multi-mic recording going on:
8 – 10 mics per drum kit
2 – 3 mics per guitar amp
1 – 2 mics on the bass amp, plus DI
1 – 2 mics per acoustic guitar
Rock music can be a bear to for carving out space and clarity in the mix. So it's imperative that the phase relationships of all these mics are dead on.
But What Is Phase??
My best analogy is to use a photo. Take a look at the following:
Imagine that image is your snare track. Everything is looking good, right?
But then imagine you want to introduce your bottom snare mic. And in true bottom snare mic fashion, the signal is opposite of the top snare mic.
When you combine these 2 signals, the sound "looks" like this:
Huh?
When you hit a snare drum, the skin should logically vibrate downwards first. Which means:
Away from the top snare mic, and
Towards the bottom snare mic
So each mic is "hearing" the same sound, but from the opposite direction. And when they combine, they cancel each other out.
Flippin' Phase
To solve this audio mismatch, you'll need the Gain plugin.
If each snare mic is capturing the opposite of the other, the solution is simple:
You need to flip the phase of either the top or bottom snare mic to match the other mic.
The Gain plugin provides an easy way to do this. Throw the plugin on either snare mic, and enable the Phase Invert button.
Done!
But the challenge soon becomes:
Finding the best direction for phase for every mic of your instrument.
Sure, maybe your 2 snare tracks are in-phase. But what about when you add overheads, toms, or your kick track…?
And that's not all…
Phase & Time
There's a 3rd dimension to the phase problem.
And that's time.
Time is what makes phase so flippin' difficult! Because time can smear the clarity of those multimic instruments.
Let's take a look at our 2 images again:
This time the image is an odd, smeared double image.
One of those is the snare mic, while the other is the overhead mics. And since the snare mic "hears" the snare first (because it's closer), it records it first.
The difference in time might be microscopic. But the overheads still "hear" the snare after the snare mic.
So when you hear the two mics together – the phase of the snare is smeared.
That doesn't mean the time smear is always a bad thing!
But it is a thing.
If you're recorded multimic instruments in less-than-ideal conditions (e.g. an untreated room), this can be worth examining.
And the solution?
Playing with the timing of the tracks to find the best relationship possible.
If that sounds like finding Waldo in a sea of Waldo look-alikes, you wouldn't be wrong.
But How Do You Know That Phase Needs Fixing, Anyways?
Ah! Well that's the million dollar question.
How the heck do you know if your multimic instruments needs fixing?
Well, you start flipping phase to find out.
Honestly, it's just good practice to throw up Gain plugins and double-check.
As you listen and flip, you're listening to hear which way your instrument sounds they're fullest or thinnest.
Thin = Bad
Full = Good
And with complex micing setups like a drum kit, you're flipping and listening a lot.
Then when it comes to phase and time, it's pushing tracks back in time while listening. For this you would use Logic's Sample Delay or Voxengo's fantastic Sound Delay.
Or you could try a much easier approach:
The Left – Right Technique to Fixing Phase
Feeling overwhelmed? Don't be.
The Hard Pan Method makes all this commotion easy as can be.
But before I stumbled onto this method, it was the exact opposite. I would spend hours adjusting phase for each instrument.
It was a guessing game of:
Flipping phase, and
Moving the timing of each track incrementally with a plugin
Over and over and over again. While slowly losing my mind.
Now, the procedure goes like this:
1. Place the Correlation Meter on your Stereo Output:
2. Solo and hard pan one mic to the left, and one to the right. In this case we'll use the top and bottom snare mics: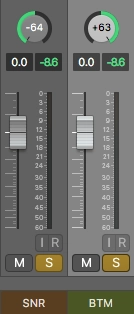 3. Loop a section of the snares, and watch the Correlation Meter: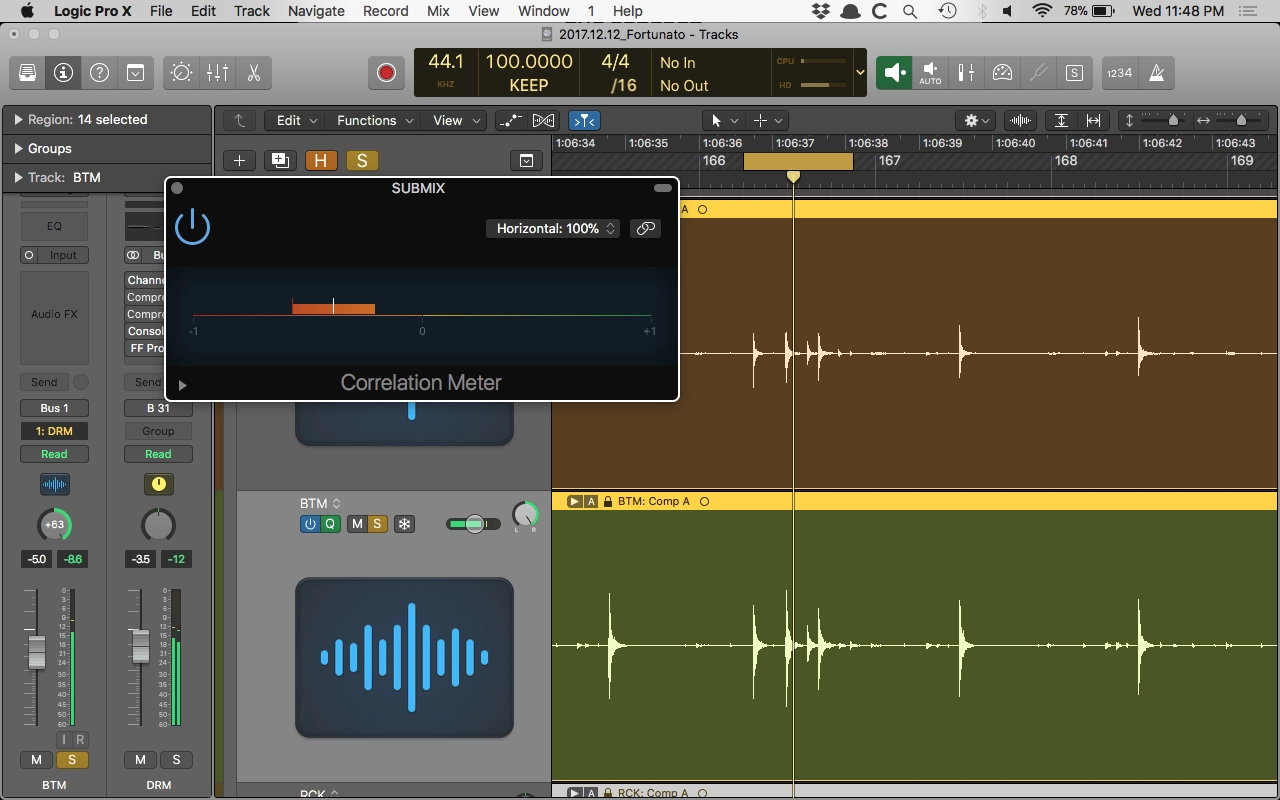 4. If the Meter reads on the Right, or +1 side, you're good to go. If the Meter reads on the Left, or -1 side, use the Gain plugin to flip the phase of one of the tracks:
5. Does it the meter now read on the +1 side? Good!
6. Rinse and repeat for the other mics. Just make sure to:
Set any Stereo tracks to mono so you aren't tricked by Stereo balancing.
Add one new mic signal each round of listening to what you've already fixed.
What matters is how the phase of these 2, 3, or 10 tracks combine together.
What If the Correlation Meter Just Hangs Around the 0 Line?
Then you might need to adjust the timing between the tracks:
Download Voxengo's Sound Delay.
Place Sound Delay on the track that visually occurs first.
Using the Left-Right method,
Slowly adjust the earlier track by Samples.
Your goal is to move the Meter into the right, +1 side. In the case of a bass amp and DI, you may need to push the DI back quite a bit!
Don't get discouraged. It's within your reach 🙂
Conclusion
Phase is confusing, murky, and downright intimidating with multi-micing!
Sorting out all this flipping and shifting, I can see why you'd say "to hell with it."
But if you follow the steps outlined in the video above, you don't have to worry. Instead, fixing phase can be about the easiest thing on your mix list.