Ever needed to import tracks from one project to another in Logic?
Perhaps you've got a vocal chain you love in one mix session that would work great right now?
Or maybe you've downloaded a mix template from a site. And now you'd like to try mixing your project with the new template?
Trying to move tracks, plugins, or just about anything else in Logic used to be a real pain. There was nothing really quick or intuitive about it.
But nowadays, Logic Pro X makes importing a breeze. 
It's honestly so much fun to import session data, that I look forward to the process!
And that's great, since importing tracks and plugins are such a normal part of my work flow.
So when reader Sean B. reached out to ask about importing session data, I was more than happy to chat.
Sean wondered if importing his tracks into a mix template would corrupt his session data?
And you know what the great thing is?
You can save as little or much of your session data as you'd like. The old days of saving channel strips settings, or trying to remember automation you wrote are long gone.
Using the Finder to Find It All
Logic's Finder is by far the best way to move tracks into your new session.
When I work on a mix, I tend to have one project for editing, and then another for mixing. This does two things for me:
Separates the editing stage from the mix stage
Keeps my mix session lean and free of extra tracks
Once I've finished editing my tracks, I open a brand new mix template that I'll need to import tracks into: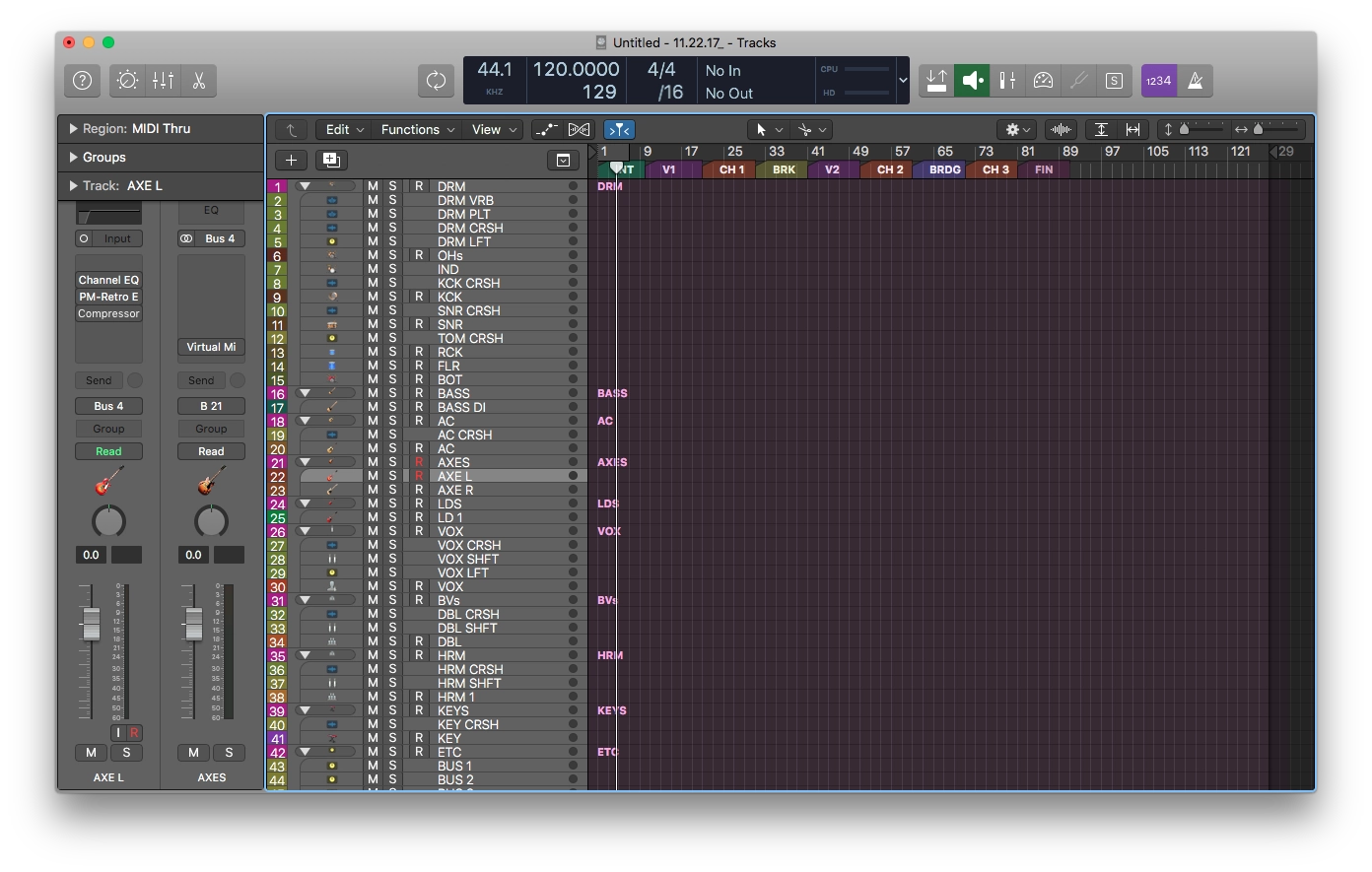 The next step is simple – find the tracks I want to import. You can do this by opening the Finder (Key Command: F):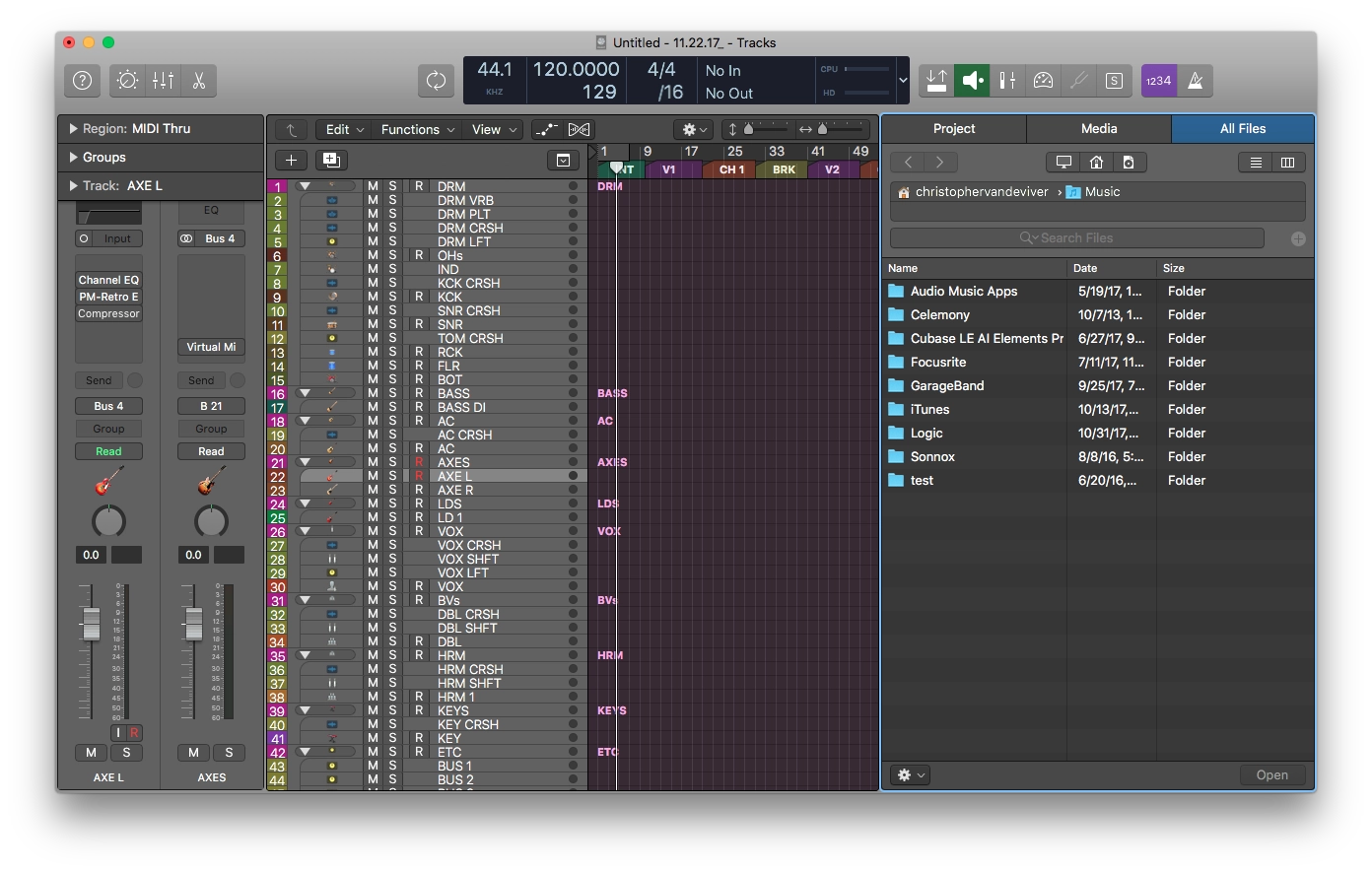 Now you've got 3 ways to find your project data:
Computer (Left): Start from the very top directory of your Mac
Home (Center): Start from your user directory on your Mac
Project (Right): Start from the Logic folder on your computer
Or you can type in your project name into the search bar:

Since I save all my projects onto a separate external hard drive, I use the middle Computer button for my searches.
Once I've located my edit session, I click on the folder, which reveals the following: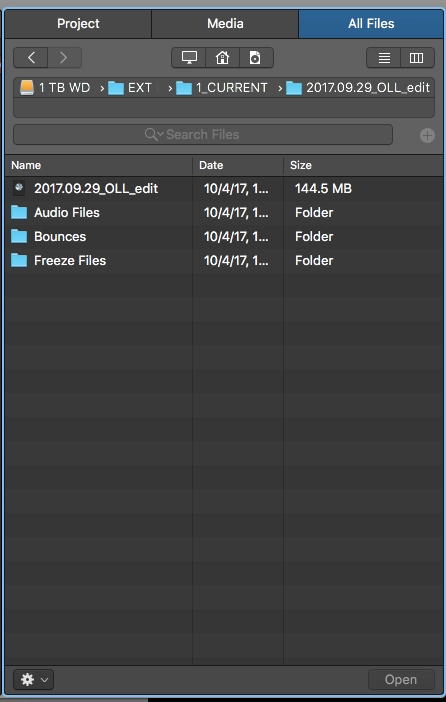 As you can see, I have my choice of opening the project file, or digging into a folder like Audio Files.
Because we want to import some session data, I'll double-click the project file name:
Oh snap! The options available for track import are too good to ignore.
Content, Plugins and Sends – Oh My!
At this point, it's really a cakewalk to import anything you need from your session. It just depends on what you need.
Importing Global Data
The top section of your project file is dedicated to any and all Global project info:
Marker Track: Any markers you've created
Signature Track: the time signature of your project
Tempo Track: the tempo you set for your project
Project Notes: any notes you've written for your project
Need to import your Tempo Track because you plan on syncing delays to it? No prob – click the Content box for the Tempo Track and hit Replace.
Now the tempo of your mix template will update to the correct Tempo!
Importing Track Data
Of course, what we're really after is importing your tracks!
Whether you need to import audio tracks, instrument tracks or auxes – the process is the same.
Let's take a look at your options:

Num.: The actual track number
Name: The name you of each track in your session
Content: The button you press if you want to import the actual audio or midi regions
Plug-ins: The button you press if you want to import a track's plugin chain or software instrument
Sends: The button you press if you want to import a track's delay, reverb, or any other sends
I/O: The button you'll press if you want to import a track's input or output information
Automation: The button you'll press if you want to import any automation you've written for a track
So say you have a vocal track you'd like to import into your mix template.
You love the plugins you used. And you also wrote some automation for an effect on the vocals.
But the reverb you used during the recording session isn't that exciting.
So I would click the following buttons: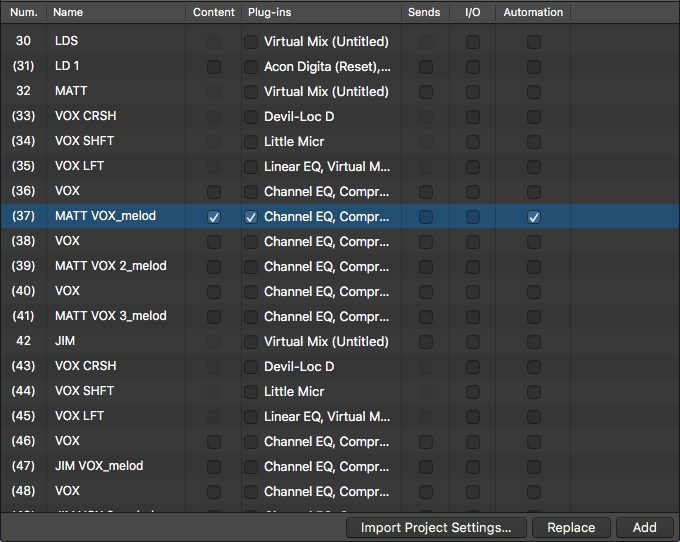 And then hit the Add button.
Lo and behold, your vocal regions, plugin chain, and automation are all imported into your template. Not only that, but Logic makes sure to put the vocal region in the same exact place on the timeline!
But say you goofed and you did like your reverb and delay sends.
That's simple enough. Go to that same vocal track in the Finder, and click on its Sends button: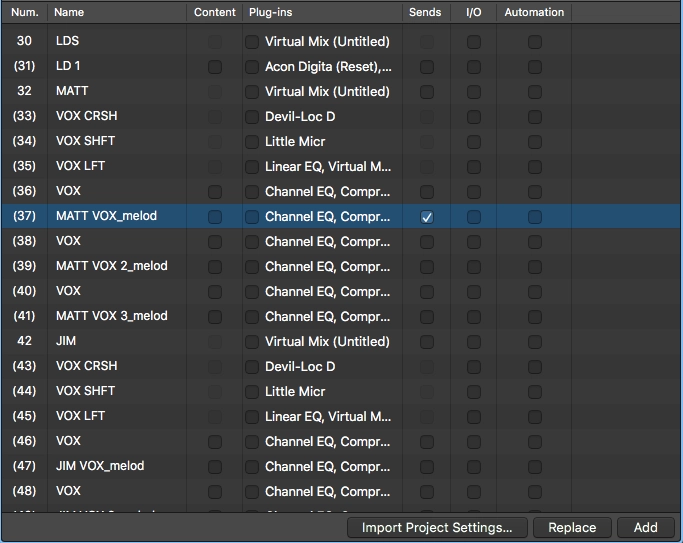 Now make sure that you've highlighted your vocal track in your current mix session:
And simply click Replace.
Logic is gonna ask you a couple of questions at this point. Cause Logic needs to know what you'd like to do about these Sends that you want.
Basically, do you want Logic to:
Create new sends, or
Find sends that already exist in your mix template that are comparable?
Usually I have Logic create new sends. But pretty polite of Logic, isn't it?
Just to be clear, the difference between Add and Replace are:
Add: Add a brand new track for the imported data
Replace: Replace the current track's data with the imported data
This works for track stacks as well! A track stack in the Finder will have one track followed by more tracks with their track numbers in parantheses: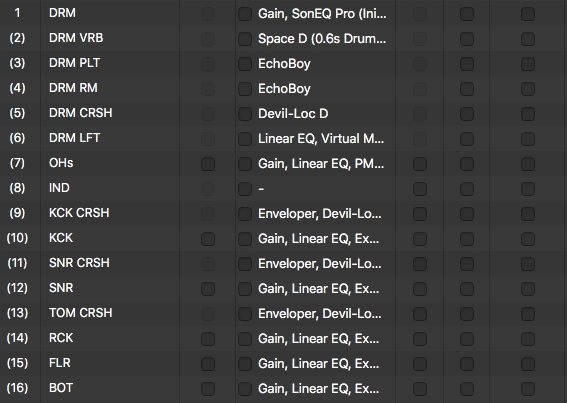 Make sure to import the whole track stack's I/O information so everything still works together!
Conclusion: Importing Session Data – A Love Story
There are more options available to you. But the real meat of the story lies in the intuitive and easy way Logic handles importing your tracks and session data.
From importing just the raw audio, to plugins and automation – Logic's got you covered.
So enjoy and import freely!
Got a question about Logic? Can't find the thing you're looking for? Submit your question in the sidebar and I'll write a post to help you!
Or just subscribe to the blog to never miss a reason Why Logic Pro Rules 🙂