Happy Logic 10.4 to you!
In case you missed it, last week Apple unleashed the latest Logic update – 10.4.
And it is a banging update that once again pushes the DAW envelope.
Apple is notorious for their CIA-level secrecy when it comes to their pro apps. In fact, the only time we know anything is the day the update goes live!
However, in the last couple years our community has been able to pinpoint at least one Apple trend.
Every January audio enthusiasts descend upon Anaheim, CA for the NAMM conference. And for the last few years Apple has made it a point to drop an update right around the first day of NAMM.
Which is pretty freaking sweet to actually know when a very Logic Christmas is coming.
And boy did they deliver the goods 🙂
So today I wanna gush over some of the amazing features Apple has delivered. They're bold and they're unexpected.
And they're too awesome to not be excited.
Caveat: The one catch of 10.4 is you'll need to be on Mac OS Sierra or higher. So you may need to check your Mac's ability to upgrade.
Smart Tempo – Where You're the Metronome
The BIG feature everyone's talking about right now is Smart Tempo.
And for good reason!
But to appreciate it, let's reflect on how tempos have always worked in the past.
Any time you record, you most likely chose a tempo to record to. You set the BPM, fire up the Metronome, and play along.
The Goal: a locked in, tight as nails performance.
Which is great! The advantages of recording to a Metronome are plenty. If you're recording a band, it keeps everyone in time. Using a Metronome makes editing a breeze when you have a grid.
But recording to a set BPM also has its disadvantages. The most obvious is people generally don't play at a constant tempo.
There are minor fluctuations. There's push and pull. Emotions fire us up and pull us back in timing.
What we lose when locking into a tempo is our humanity. The emotional delivery in a performance.
So the Logic team at Apple created Smart Tempo. A system where you become the metronome for Logic.
Smart Tempo works specifically for audio recordings. When you hit record, Logic begins listening and analyzing your performance.
Logic determines your tempo moment-by-moment. And it does a damn good job.
Once you hit Stop, Logic adapts the tempo to match you.
From here you can throw in Drummer tracks, Apple, Loops and anything else. And those tracks will line up to your personal tempo!
How Do You Enable Smart Tempo?
Easy – take a look under the BPM in the LCD in the top Tool Bar:
Under the BPM display is a new option, noted by the word Keep.
Click on Keep, and you're treated to 3 new options:
Keep
This is Logic acting as if nothing had ever changed. You pick a BPM (or you don't!), and you record the same as always.
Adapt
This is where things get interesting. When you choose Adapt, Logic is now listening to you.
Leave the metronome off, and hit record. As you play, Logic will analyze your performance moment by moment. Calculating every fluctuation in your tempo.
Once you hit Stop, the Tempo track changes to match your personal tempo! Start plugging in Loops, Drummer, or anything else.
Auto
Auto is the best of both worlds. Sometimes you want to Keep the project tempo. And other times you want Logic to be smart enough to Adapt the Tempo.
Auto is what makes Smart Tempo brilliant 🙂
Caveat: One thing to remember when it comes to Smart Tempo is that it can only analyze one recorded track at a time.
This means that you can't record 5 tracks simultaneously and use Smart Tempo.
The very first thing I thought when I heard about Smart Tempo was drums.
Sometimes an artist hasn't sorted out a BPM to record to. So instead of tapping out tempos, Smart Tempo sounded like a perfect way to estimate the best BPM.
But no biggie! Just record the overheads and be on your way.
Vintage EQ Collection – Analog Vibe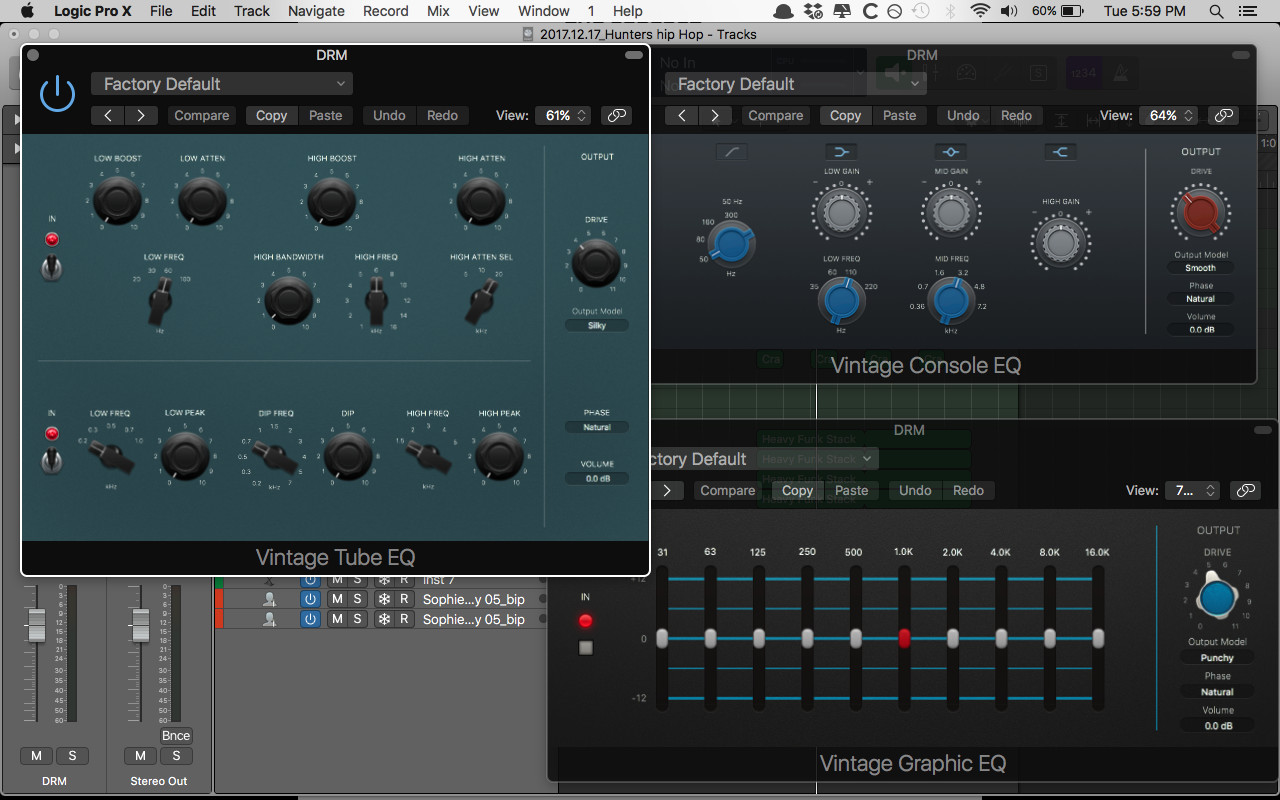 If there was one thing I was convinced of, it was that Logic would never have an analog EQ emulation.
But holy crap – they made them!
Based on nearly every other plugin bundled in Logic, it didn't seem like a possibility. I assumed the Logic team decided to leave the emulations to the 3rd party companies.
But here we are. And aren't they beautiful?
I'm a huge fan of using "analog" style plugins for their staggered controls and lack of visual analyzer. Sometimes less control leads to faster results.
The awesome thing about these EQs is the emulated Drive knob, switchable Output Mode, and switchable Phase.
Drive
What is Drive?
All analog gear has a finite amount of headroom.
In English, that means all gear can only handle so much volume. As you drive the volume louder into the EQ it's gonna hit a wall.
Think of a Limiter. Once the audio hits the Limiter's ceiling, it can't go anywhere else. So the sound gets compressed.
If you drive the volume higher, the sound compresses until it distorts.
This is the beauty of analog gear. Sometimes the sweet spot on a piece of analog kit is when you push it a bit with volume.
With the Vintage Console EQ Collection, you don't have to actually push the volume into the EQs. Instead, you can push the Drive knob up. This causes the signal to saturate in a pleasing way!
Output Mode
The Output Mode is the way the sound saturates as you Drive the signal. And Logic bases each Output Mode off of the EQs they've emulated.
What's sweet is you can actually swap the Output sound between the EQs.
So if you'd like to use the Vintage Console EQ with the Output Mode of the Vintage Tube EQ – you can!
Phase
Sometimes phase matters a great deal.
For example, say you have a multimic drum kit. If you start high-passing the snare with the Channel EQ, the phase relationship will actually change. A snare that sounded full can soon sound empty.
So sometimes it's better to use the Linear Phase EQ to avoid these problems.
Thankfully the Logic team considered this! That's why you have the choice to switch between the Natural phase of the EQs into a Linear phase.
Want the Natural sound of the EQ? Leave it on Natural. Need a more detailed EQ that doesn't mess with phase? Use the Linear phase mode.
ChromaVerb – The Prettiest Verb There Is
I think Logic just put my Vahalla VintageVerb out of business.
ChromaVerb is Logic's new up-to-date algorithmic reverb. It sounds killer, has 14 emulated spaces, and a delightful set of controls.
Let's be real for a second.
Logic's reverbs, although very appreciated, were a bit long in the digital tooth.
EnVerb and SilverVerb each enjoyed a facelift. And Space Designer is an awesome convolution reverb (and also got a facelift!).
But I think it's safe to say we all wanted a reverb that was fast and sounded great.
And what about that visual analyzer?!
So here we are with the fantastic ChromaVerb. It's fast. It's streamlined while offering plenty of control.
I particularly love that you can sync ChromaVerb's Predelay and Decay to the Project Tempo. Finally! A reverb that can lock to tempo and avoid a washy mess.
Or to put another way – ChromaVerb can lock the beginning and end of its reverb to a specific tempo.
And between the "hot" swappable spaces, your reverb needs should be well covered.
Conclusion: What About the Rest?
10.4's list of updates are huuuuge. And I didn't even touch on Phat FX, Step FX, Studio Horns and Strings, or anything else!
I highly suggest acquainting yourself with the list of improvements in Logic 10.4. With each new update Apple provides Release Notes, a comprehensive list of all the good it brings.
I also highly suggest checking out Eli Krantzberg's succinct Logic 10.4 Update Explained on Groove3.com.
Ever since last Thursday I've been watching Eli's fantastic overview. He does a great job of keeping things short and sweet, while giving you all the sweet details.
What's your favorite thing about 10.4? How come? Leave a comment and let's geek on why Logic Pro rules 🙂