Digital audio isn't always blue skies and faithfully recreated emulations.
Who hasn't held their breath for a moment when this thing shows up?:
And then groaned with disdain when Logic:
Crashes unexpectedly, or
Crashes on start-up because of a plugin
These errors can cause even the most Zen of studio cats to start howling.
The least horrible that could happen is you could lose hours of unsaved changes.
But once in a while – dare I say it – projects can even get corrupted.
What then?
Today we'll go over the winning habits and sneaky tips Logic Ninjas use to control and recover their projects from digital dementia.
1. S is for Don't Stop Saving
The first line of defense lies with you my friend.
Your commitment to Saving will prevent much pain when the Beachball comes knocking.
Commit this to muscle memory:
Command – S.
Train your digits to hit those keys every spare moment you have. The goal should be for you to tap them like it's a nervous tick.
Sure, you could go up to File > Save.
But the faster you can get down to saving, the sooner you can recover.
What happens when you're so engrossed in your project that you forgot to save? When your mix flow was strong, but that wicked Beachball came through and smashed your session?
Well, Auto-Save!
2. Autosave For the Win
Autosave is Logic's personal apology when the Project snaps shut. It says,
"hey! I goofed. Sorry about that."
To make up for skipping out on you, Logic takes snapshots in the background as you work. These snapshots are Autosaves. 
In the event Logic closes out unexpectedly, it offers you 2 options when you reopen the session:
Would you like to resume from the last time you personally saved the session? Or,
Would you like to resume from the Logic's last Autosave?
This is tremendous. Because instead of losing hours of work you only risk minutes.
BUT!
Logic only keeps Autosaves around for when it unexpectedly quits.
If you personally quit Logic, all Autosaves disappear.
That's because Logic says to itself, "this person quit, so they must be all set."
This is an important distinction. Which circles back to number 1 – always be saving.
3. Backing On Up
But say you're working right along. Logic's behaving, no crashes or quits.
Instead, you make a major goof.
Perhaps you committed Selection Based Processing just a bit too early. You rendered the file, and a while after you realize you made a mistake. But the chance to Undo is long gone.
Thankfully, Logic provides a system for Reverting to a previous Saved versions. We call these previous versions Backups.
To access these Backups, head up to File > Revert to:
A second menu will pop up containing the last 10 saved versions of your project. These are from all the times you dutifully tapped Command – S to Save.
Though it could hurt a bit to go backwards, Logic is lending you an olive branch for sticky situations. And those you shouldn't be too picky about.
But say 10 versions isn't enough. You save a lot (because you're smart), and want to make sure you've got plenty of versions to refer to.
Then head up to Logic Pro X > Preferences > General:
And in there is the Project Handling tab in the General Preferences is the Auto Backup preference:
This preference is not related to Autosave. Instead, Logic lets you decide how many Saves it holds onto!:
1 version
3 versions
10 versions
30 versions
50 versions
100 versions
Now you can be sure you've got all your bases covered in the event of catastrophe.
4. Laying Breadcrumbs With Project Alternatives
Sometimes you can hit a fork in the road during a project.
You've got a great arrangement going. But you're thinking about making some major changes. Moving parts around, swapping instruments.
If you try what you're thinking, you could end up with an even better song!
Or you could end up with something not as good. Which leaves you stuck trying to retrace your steps before you made all these crazy changes.
Or you could use Project Alternatives.
Project Alternatives lets you save multiple versions of the same Project. But instead of having tons of Projects all over your Mac, Logic saves all the Alternatives in the same Project.
So say you're about to embark on changing your song's arrangement.
Instead of dismantling your current version, go up to File > Project Alternative:
Choose a New Alternative, and give your New Alternative a memorable name:
And start rearranging!
If you do end up deciding your changes were pointless, go back up to File > Project Alternative, and choose your original Alternative:
The best part is you can save as many Project Alternatives as you like 🙂
5. When Logic Crashes at Startup – Option
Up until now we've examined all the measures you and Logic can take to cover your bases.
But what happens when Logic just doesn't want to open?
You double-click your Project, and Logic tries to startup. It starts loading your project – but then quits. Followed by a Crash Report:
You keep trying to open your Project again and again. But Logic keeps crashing again and again.
Now what?
Not well known, but Logic has a couple key commands for getting around these hangups.
Before opening your project, hold Option and then double-click the project.
Logic will begin starting up, but will quickly display a dialogue. This dialogue allows you to choose the Project Alternative and Backup to load from!
If a particular version of your project is messed up, this can help you sneak around to a different version.
6. When Logic Crashes at Startup – Control
But say the last time you worked on the Project you killed it. Everything was exactly the way you wanted it. So you Saved and Quit.
But today Logic won't open. And you don't want to revert to a previous Backup. This was the one, dangit!
Very often the culprit of crashes at startup are 3rd party plugins.
Many of my 3rd party plugins have caused crashes at startup: Waves, Soundtoys, Slate.
What can you do though? The Crash Report tells you a plugin is causing the crash. But you can't get into the session to remove the plugin!
Or can you?
After you double-click to open your session, hold Control.
Logic will then ask you the following:
Core Audio is your Mac's system for managing audio devices and AU plugins. If you choose to disable Core Audio, you effectively pull the plug on all the plugins in your session.
No Core Audio means no active AU plugins.
Disable Core Audio, and Logic will open right up:
Now you have 2 choices:
You can try turning Core Audio back on with Logic Pro X > Preferences > Audio. Or,
You can find the plugin referenced in your Crash Report and remove it from your session.
Option 1 lets you keep your processing, but runs the risk of more crashes at startup. While option 2 lets you remove the pain in the butt plugin.
7. When All Else Fails – Import to New Session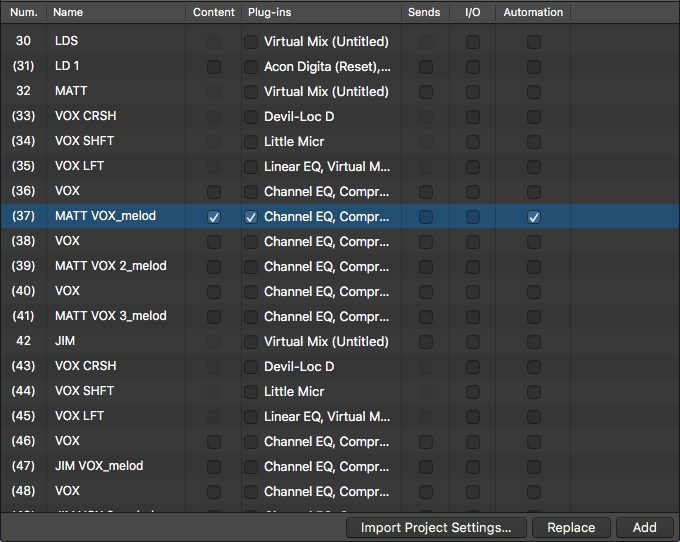 Sometimes Logic projects get corrupted.
I don't know why, and it's totally B.S.
But there's that 1% chance it could happen.
All hope isn't lost though. You don't have to rewrite, rerecord, remix, or anything else.
But you do have to spend a bit of time setting your project up in a New Session, importing all the content, plugins, and routing from the corrupted session. This post will show you how.
This can be a little cumbersome, but it can save you a ton of heartache.
Being able to pull your session data out of a corrupted Project is like like another lease on life! Don't take it for granted.
Conclusion
Recovering your sessions when Logic bugs out may be no fun. But it's far worse to have no options at all!
Remember! You have 7 to choose from:
Save early, and save often with Command – S
Autosave saves your project when Logic unexpectedly quits
Revert to Backup saves you from making a terrible mistake
Project Alternatives let you save different snapshots of your Project
Holding Option at startup lets you choose which Alternative and Backup to start from
Holding Control at startup lets you turn off CoreAudio
Importing Session Data from your corrupted session into a new session saves you from utter doom