Without a shadow of doubt, Key Commands are crucial to your success in Logic.
But what are Key Commands?
A Key Command is when you press a key on your Mac's keyboard, and that key provides you with a function or result.
Of course the Apple mouse and trackpad are brilliant tools. They both give you a tangible way to touch what you see on your screen.
But mousing around for every function in Logic isn't the best way for you to spend your time.
In fact, it's a huge waste of your time.
Mousing through menus is like fumbling your way through a maze again and again. Sure, you can get better and faster each time you walk through the maze. But why not skip the hassle altogether?
Key Commands are your shortcut to a lightning fast workflow. And today, I want to give you my top 10 Logic Pro Key Commands to know by heart.
A Logical System
The great thing about Logic's Key Command system is how logical it actually is!
While other DAWs use weird, disconnected keys, Logic is the opposite. Instead Logic makes it a point to connect it's Key Commands to the word you're thinking of.
For example, say you'd like to record a take. In Pro Tools, you could do one of the following:
Press F12
Press Command – Spacebar
Press 3 on the Numeric Keypad (if you have one)
While in Logic, you can simply press R.
R stands for Record.
That's the first level of learning Key Commands in Logic. And when you think about it – it's brilliant.
It's way easier to memorize Key Commands when they're somehow connected to the idea you have in your head. And when the Key Command matches the word you're thinking of, your workflow speeds up considerably.
Take a look at some of the basic key commands in Logic:
R for Record
X for MiXer
K for ClicK

C for Cycle
O for LOOp Library
Z for Zoom
P: Piano Roll
L: Loop Region
Y for LibrarY
F for Finder
Pretty awesome, right?
While not every key matches the first letter, the system works quite well.
Modifying the System
But of course, there's only 26 letters in the alphabet. And since Logic has 1000+ Key Commands, 26 isn't quite enough.
Luckily, Logic is totally capable of expanding on this logical system. And it does this by way of modifiers.
A modifier includes one of the following keys:
Shift
Control
Option
Command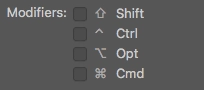 If you've been on a Mac for any length of time, you've most likely have used modifiers. For example:
Command- S for Save
Command- Z for Undo Last Action
Command – Q for Quit
Once you get the hang of this, Key Commands soon become a breeze to learn.
So go ahead – try hitting some keys!
I can wait.
Once you get used to the basics, it's time to move into some advanced territory 😉
10 Logic Pro Key Commands That Will Rock Your Workflow
So now you've been rocking Key Commands for a bit. And you recognize how easy and beautiful life can be.
There are a ton of Key Commands that you can learn and use in Logic. And I invite you to do so as much as you can.
In fact, there's a great intuitive website dedicated to help you learn them.
But when I stop and consider, there are 10 Logic Pro Key Commands I just can't live without. And if you make it a point to learn them, you'll fly through your sessions.
Let's dig in:
1. Control – Option – Click and Drag to Zoom with the Magnifying Tool
What I love so much about Logic is how fluid it is for navigating a session.
For years I've poked around in other DAWs. But every time I try out a new DAW, I just can't get past the zoom functions.
While every other DAW feels mechanical in the way it zooms, Logic feels effortless. The magnifying tool feels like a rubber band instead of a grid.
But you don't want to pull up the mouse Tool menu every time you need to zoom in.
Instead, hold Control – Option, and then Click and Drag around the area you want to zoom in on.
Fast and easy!
And if you need to zoom out, just hold Control – Option, and click without dragging over an area.
2. Command – U to Set Locators By Region
Very often when you're writing or mixing you'll want to listen to one part again and again.
It's a pain though to constantly start playback, stop playback, and then start it up again to hear that same part.
So we have the Cycle strip that lets us play one part over and over without stopping!
But even setting the Cycle strip can be tedious.
Instead of mousing over the Cycle area, what if you could set the Cycle automatically?
Easy peasy! Click on the audio region you want to cycle so it's highlighted. Then hit Command – U, and voila! Your Cycle strip sets itself to the length of that region.
3. Control – Option – C to Set Locators By Marker
This is the next step up in Cycling. Instead of using audio or midi regions to set the Cycle, you can use Markers.
Markers are handy navigational strips in the Global Tracks section. You can create Markers to note which part is which. For example:
Now say an audio region doesn't match the actual part you want to cycle.
Well you've got two options:
Highlight the marker in the Global Commands section, and hit Control – Option – C, or
Place your Playhead in the desired section, and hit Control – Option – C
Your Cycle range will lasso around the part you want to focus on.
4. Command – Shift – D to Create a Track Stack
Track Stacks are so awesome it's hard to not gush over them.
At its most basic, Track Stacks are busses for groups of instruments. It's like as if you highlighted several tracks, and set their Output all to Bus 1.
But the difference is that:
Track Stacks automatically add the bus to the Arrange page, and
Track Stacks also double as folders on both the Arrange page and Mixer.
By clicking the little disclosure triangle on the main bus, you can open and close the Stack. This makes it very helpful for organizing your sessions.
You know what makes Track Stacks even more awesome? By creating a whole new stack with 3 keys:
Highlight the instruments you want in your Stack
Hit Command – Shift – D
Use a Summing Stack (that's my preferred Stack)
And a Track Stack emerges! Logic uses the next available bus for the input on the Stack.
5. Control – B to Bounce in Place
Whether you've Flexed, played some software synths, or chopped up some audio – someday you'll need to bounce.
Bouncing means to create a new audio file from a current one. Often that means creating a whole new audio file with the plugins, edits or instruments you've carefully crafted.
Bouncing tracks can relieve your Mac of processing power and prevent System Overloads.
Plus it's always good practice to commit to edits you've made. Just in case your Mac decides to get fickle the next time you start it up.
By using Key Command Control – B, you have swift and easy access to Bounce in Place. Just make sure to highlight the right Audio Region when you do.
Go ahead, commit to those edits or software instruments.
6. Control – H to Hide Tracks
Logic projects can balloon in size damn quick. Especially if you're bouncing down Flex edits and software instruments!
Over time, some of your tracks will stay muted or get powered down. You don't want to delete those tracks, but you also don't need them.
So why not Hide them instead?
Hiding is a fantastic way of cleaning up your session. As the name implies, Logic removes the hidden tracks from view. Simply select a track and hit Control – H to hide it.
But if you ever need to return to that track, hit H to reveal all the hidden tracks.
7. Shift – R to Capture Midi Recording
Let's get serious for a moment when it comes to Midi.
How often have you been playing along to your project and you land a killer take?
The only problem is Logic wasn't recording when genius flew from your hands.
Face meet palm, right?
Wrong! It turns out that Logic is always listening. So that killer Midi performance isn't lost.
The only caveat with this Key Command is when you use it.
So you're playing along, and you realize Logic's not recording. No biggie, just keep going.
When you hit Stop, that's your chance to recover your performance before it disappears forever!
Hit Shift – R, and watch your Midi performance magically appear.
8. Option – C to Open the Color Palette
Organization is huge when you're mixing and recording. The more organized your session, the easier it is to get down to music making.
So I make liberal use of Logic's color palette to organize tracks and regions by color. There's something so satisfying about being able to tell the bass track from the drums.
Sure, you could go into the Toolbar at the top. But real estate can be precious on your Mac's screen.
Instead, I highlight the regions I want to change and then open the color palette with Option – C.
Select the color you prefer, and use Option – C again to close the palette.
9. Shift – Click to Close All Open Plugin Windows
This is very new Key Command in Logic. And it couldn't have arrived soon enough!
It's easy to accumulate 5 or 10 plugin windows all floating about. We can Hide or Show all plugins by using Key Command V. But what if you don't need those plugins anymore?
Before it was a long and tedious process of closing out each plugin:
But now you can close them all out with one click! Hold Shift when you click the "x" in the top left corner of a plugin.
Lo and behold, every plugin you had open is now gone.
10. Option – K to Open Key Command Menu
Last but not least, have unfettered access to the Logic Key Command menu!
Look – Logic has a ton of Key Commands. Even with the best laid plans you're not gonna remember all of them.
With Option – K, you can easily open the Key Command menu and scout for any command you need.
Conclusion
Logic's Key Command system is both intuitive and thoughtful in it's approach.
By focusing on a logical system of letters and symbols that match your intent, you get a ton out of it. There are many commands to choose from, and here are my top 10:
Control – Option – Click and Drag to Zoom with the Magnifying Tool
Command – U to Set Locators By Region
Control – Option – C to Set Locators By Marker
Command – Shift – D to Create a Track Stack
Control – B to Bounce in Place
Control – H to Hide Tracks
Shift – R to Capture Midi Recording
Option – C to Open the Color Palette
Shift – Click to Close All Open Plugin Windows
Option – K to Open Key Command Menu