The Logic Marquee Tool is versatile and formidable tool in your Logic tool kit. Any time you need to make a specific selection along the timeline, the Marquee Tool has your back.
From cleaning up your tracks to drawing Automation, the Marquee Tool is all about finesse and efficiency.
Personally, I couldn't imagine a life without the Marquee. It's foundational to my Logic workflow for 6 specific reasons:
Cleaning up Audio Regions
Splitting Audio Regions
Listening to specific sections of audio
Copying & pasting Marquee selections
Drawing Automation (quickly)
Processing specific sections of Audio
Sure, some tools like the Pointer or Scissor tools can solve some of this. But the Marquee tool is the best of all worlds.
It's time to speed up your workflow with Logic's most under-utilized mouse tool.
For all 6 reasons, do the following:
Hit Key Command T to open the Tool menu
Hover your mouse over the Marquee Tool in the menu
Hold Command and click on the Marquee Tool
Now you're ready for action. Any time you need the Marquee, simply hold Command to bring it up.
1. Clean Up Audio Regions
Just because an Audio Region starts at Bar 1 and lasts the whole song doesn't mean you need every bit of it. In fact, there are several reasons to clean up those Regions.
Often musicians don't perform for every moment of a song, which leaves moments of empty space.
What happens during those breaks might be:
Practicing
Movement
False starts
Ambient noise
Or just about anything else you don't need in your mixes. These are ripe for removing.
Even beyond unsightly noise, removing dead spaces on your regions organizes your sessions.
By removing the dead space around a guitar solo, it makes it that much easier to know when that solo comes in. You can easily see that solo on the timeline.
Select a section of a region that doesn't have any Audio. To do this, hold Command, click and drag across that empty section.
Once you've made your selection, simply hit Delete to remove the unnecessary bits.
You can also do this for actual bits of Audio you don't need or like as well!
Just make sure to add Fades to your regions afterwards.
2. Split Audio Regions
Splitting up regions into two or more is just as easy as well with the Marquee tool.
Instead of navigating to the Scissor tool every time you need to make a cut, just double-click anywhere on a region with the Marquee.
With that simple double-click, you can break up regions quickly and efficiently.
3. Listen to Specific Sections of Audio
The Marquee is also great for grabbing a specific section to listen to for playback.
It's as simple as clicking and dragging to make a selection. Hit Spacebar to begin playback, and the playhead will immediately jump to your selection. As soon as the playhead hits the end of your selection, playback stops.
Bonus tip: make a selection with the Marquee. Then use key command Command-U to have the Cycle Range loop your chosen selection for continuous playback 🙂
4. Copy & Paste Marquee Selections (without breaking up regions)
A fantastic Marquee trick is copying and pasting selections without ever actually breaking up your regions.
Select a part of an Audio Region you'd like to copy and paste somewhere else along the timeline. Now hold Option, click and drag the selection to another track.
Lo and behold – Logic will copy and paste this selection without ever breaking up the original region!
This is perfect for grabbing that one word or riff in the middle of a region.
5. Select & Draw Automation Quickly
Using the Pointer has never been a fun way to draw Automation in Logic. Double-clicking one node at a time to adjust feels like scratching an itch you can't reach.
Utterly maddening.
Instead:
Enable Automation with key command A
Make a selection with the Marquee, and
Click the selection with the Pointer Tool
Curiously, it looks like the Marquee created 2 Automation points.
But if you click the line inbetween the two points with your Pointer and drag up or down, it turns out the Marquee created four points.
Like a champ, the Marquee brackets your Automation selection with Automation points. Which makes drawing Automation a snap.
6. Processing Specific Sections of Audio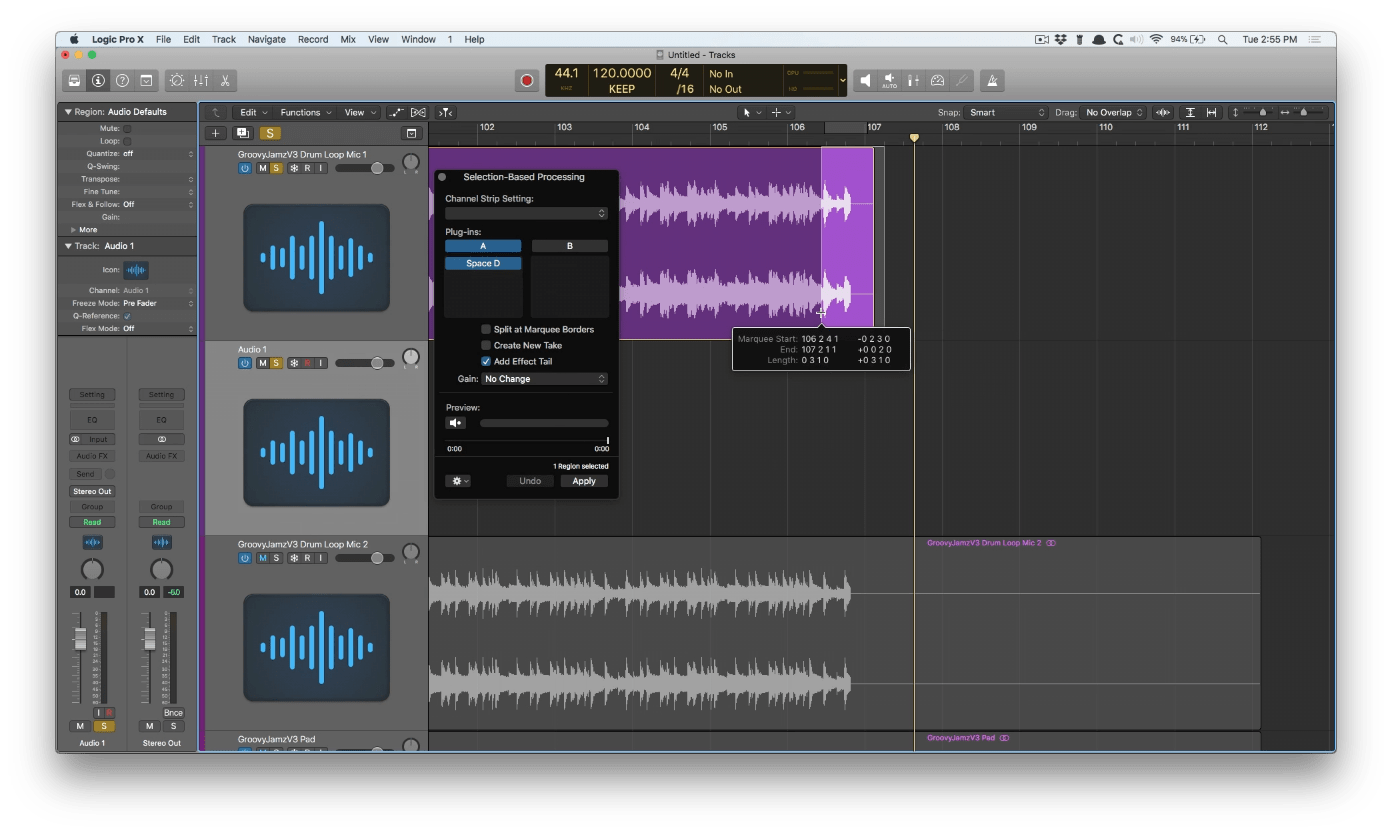 In 10.3, Logic introduced us to Selection-Based Processing. Meaning that we can now process specific bits of our Audio Regions with effects like Reverb and Delay.
What makes Selection-Based Processing even sweeter is using the Marquee.
Select part of a region with your Marquee. Next, head up to the Functions menu at the top of the Arrange page. Then select Selection-Based Processing in the drop-down menu:
The Selection-Based Processing menu will pop-up. In column A, choose Space Designer.
You can preview this effect for your chosen selection by clicking the speaker icon under the Preview heading:
Once you're satisfied with your chosen effect, click Apply. Logic will bounce your specific selection with the effect.
Voila! You can commit effects to specific moments without creating new Tracks in the Arrange page.
Conclusion
The Marquee provides tons of value for editing and processing in your Logic sessions. Try out these 6 Marquee techniques to maximize your Logic Pro workflow.