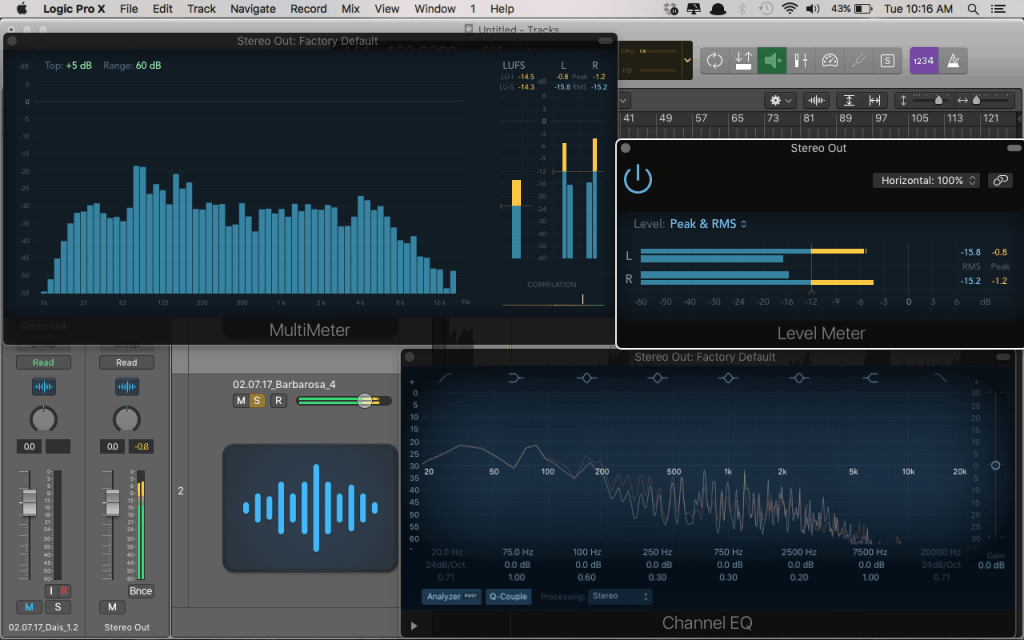 Mastering in Logic Pro X, or any other DAW for that matter, can be super intimidating. Even though mastering engineers use the exact same plugins as you or I, how come mastering always feels like a mystery?
We all know mastering is important.
But it's like meeting the great and terrible Oz. You know something's going on behind the curtain, but just aren't sure what!
And unfortunately, not knowing can do more harm than good when you try to master your own mixes. 
It's all about having the right system in place when you approach mastering. Safety nets that can catch you before you make a mistake.
So today I want to help you dig into mastering in Logic Pro without harming your mixes.
Hiring a Mastering Engineer Vs. Doing It Yourself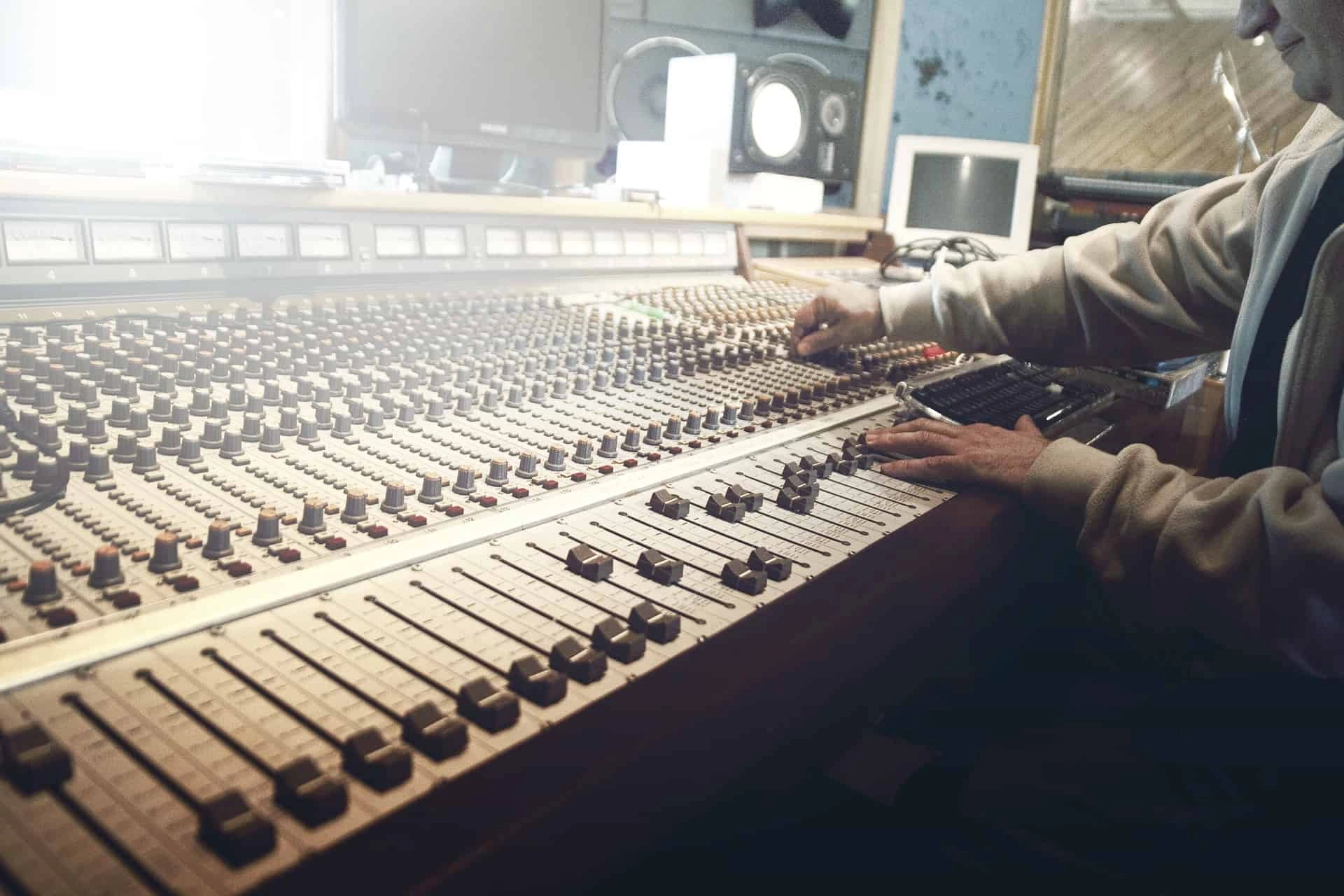 The first option, of course, is to hire a mastering engineer. And in my humble and sincere opinion, hiring out is always a good option.
Why?
Mixing is like a race. Although I bet you've never thought of it like that.
The race is against your biased perspective.
The human ear is a tricky thing. Try listening to a recording you think sucks.
In no time flat, your ears will adjust. And soon enough you won't notice that the mix stinks. In fact, it'll even sound pretty good!
When you're in the 11th hour of a mix, you've lost the ability to be objective decisions hours ago. And the more involved you become, the more biased your ears and mind have become.
When a mastering engineer double-checks your work, that only helps you.
Your mastering engineer hasn't listened to your mix 1000+ times. So it will be obvious to that engineer where your mixes need improvement.
You can also have a conversation with the mastering engineer and learn how to improve your mixes on your own. It's hard to have that conversation when you're both the mix and mastering engineer!
Mastering Your Own Mixes
But of course, why pay someone else to master your mixes when you can do it yourself?
Maybe you're not ready to hire a mastering engineer. Or maybe you're looking to improve your own mastering skills.
That's cool! You just have to be super thoughtful in your approach.
Like I mentioned earlier, mastering engineers use the very same tools that you use for mixing.
However, mastering has several key differences. And it's incredibly important to shift your mindset when you're mastering. I call this shift in mindset The 4 Tenets of Mastering.
The 4 Tenets of Mastering
While the tools are the same, the mindset of a mastering engineer is very different from a mix engineer. It's all in how you think about your tracks:
Tenet #1 – You're processing every single instrument in your mix at the same time.
The biggest difference between mastering and mixing is that you're never processing just one instrument.
In a mix session you have the freedom to adjust individual instruments. Does the kick need some more low end girth? Go ahead and adjust the kick with the Channel EQ.
But when it comes time to master, all you have is one stereo track of the whole mix:
So if you try to boost the low end for the kick drum, you'll boost the low end of all the other tracks in the mix. You can't separate the guitar or synth tracks out. So their low end will be boosted as well.
This first tenet is super important. And it should guide you in every mastering decision you make.
Mastering is all about subtle adjustments.
Tenet #2 – Your masters are only as good as the mixes you receive.
No mastering engineer can turn a bad mix into gold. I don't care how much "analog vibe" you throw at it.
For example, I once had to a client ask me to master their record. But no matter what I did, my mastering efforts wasn't actually improving anything.
Not to knock the client! But their mixes needed some help. And I knew the mixes could be better. So after some convincing they let me remix their record.
When I remixed the record, it was like night and day. Which led to way better masters! But if they had said no, my mastering would've been pretty pointless.
At the end of the day, your masters are the final polish on your tracks. 80% of the work occurs before the mastering stage.
Tenet #3 – You need room to master.
The third tenet of mastering is your tracks need room for processing.
Room = volume.
If the mix output is in the red when you bounce out your mix, you've left yourself with no options. The mix is too loud for your plugins to do their thing.
Which is why you should always bounce out your mixes with at least 3 – 6 dB of headroom. That is, your stereo output never exceeds -3 dB on its peak meter.

I leave about -10 dB on my own mixes for my mastering engineer. That's my personal preference.
But at the end of the day just make sure your tracks aren't peaking at 0 dB on the Stereo Output meters. If your tracks aren't peaking, you're in good shape.
Tenet #4 – File types matter.
When you Bounce your Logic Projects out for mastering the resulting file should be a WAV file. Preferably 24-bit, but nothing smaller than 16-bit.
Mp3s will not work for mastering.
When it comes to Sample Rates, there's a lot of debate over what sounds the best.
The real question is what Sample Rate was your Project set at? Because you'll need to Bounce out the Project at that same Sample Rate.
Personally, I don't fret much about Sample Rates. Two reasons:
Higher Sample Rates are CPU-intense. This means your Mac has to work harder to play them back. Which can result in more System Overloads.
44.1k covers the whole Audio Spectrum (and more). I run all my mix sessions at 44.1k without an issue.
The Tools For Mastering in Logic Pro X
What plugins do mastering engineers use? Here's a few:
EQ
Compression
Multiband Compression
DeEssers
Reverb
Stereo Wideners
Limiters
This isn't a complete list, but it is a list of frequently used plugins.
Not so different from what you might use, right? But some processors, like Stereo Widening, might not be something you use very often.
If you've read any other posts on the WLPR blog, you know I'm always looking for easy solutions.
And though multiband compressors are great, they're rarely easy.
So you're gonna need strategies to keep protect your masters from:
Getting too complex
Saving yourself from your mix biases
Avoiding over-processing
Now that we've covered The 4 Tenets of Mastering, it's time to dig into The 6 Life-Saving Tips For Mastering.
Mastering is both science and art. And though this blog post won't tell you how to exactly master the track you're working on, these tips should help.
Think of the Life-Saving Tips like the bumpers in bowling. If you follow these, you shouldn't have to worry about a master that ends up in the gutter:
1. Import Reference Tracks
Do this – please.
I  know from talking to other home producers that this step often gets skipped. Often because Mix Referencing can be a very humbling experience.
But you need this to help your mixes be best they can be.
Start by loading 3 reference tracks into your Logic mastering session.
These 3 references should match the musical style of your mix. If you're mixing pop, import pop reference tracks. If you're mixing rock, import rock references. Just be sure to pick mixes you love and would love your master to be comparable to.
Next, follow these steps:
Mute the reference tracks and leave your mix unmuted. What's awesome about Logic is that you can quickly Solo each reference to compare. And when you then Unsolo the Reference, the reference will return to a Muted state.
Match the levels of your references to your own mix. Pull down the faders on each reference until each reference matches your mix's volume. You don't want your references to be louder than your mix. Because this will mess with how you perceive the differences.
Pull out a piece of paper and a pen and write down what you hear. Before you do anything else, listen and compare your track against your references.
Write down any differences you notice:
Does your reference have more low end or high end?
Does your mix sound more brittle, or muddy?
Does your reference sound less compressed? More compressed?
Does your mix sound in the ballpark with your references?
Write down your impressions, and then move onto step 2:
2. Reference with Match EQ
Logic's Match EQ is so awesome. Us Logic users have no idea how lucky we are!
Match EQ measures the frequency differences between two audio tracks. This is huge when you'r mastering.
I've written about getting that pro sound with Logic's Match EQ in a previous post. And I would pull up a new Audio Track and load 3 instances of the Match EQ on it. No audio will actually exist on this track:
Now, within the Project Browser (Key Command: F), do the follow:
Drag your mix's wav file onto the Current tab and analyze,
Drag the first reference onto the Reference tab and analyze,
And then hit Match on the EQ Curve tab
What Match EQ will do is spit out an EQ curve that estimates how your mix differs tonally from your reference:
Repeat this process for the other 2 reference tracks.
Your goal is to now compare the 3 reference curves, and try to identify any EQ trends:
For example, if all 3 curves show a sizeable boost of 5 – 10 dB around 100 hz, write that down. There's a pretty good chance your mix could use some boosting around there.
However – these curves are not the Gospel. They're estimates. Since every mix is going to be different no matter what, you don't want to make the mistake of taking Match EQ too literally.
Instead, you'll use them to estimate any potential problems with your mix.
That's why we load 3 references. To not take any 1 reference to heart.
So compare the notes you wrote down earlier with any trends you notice between the Match EQs. If your notes reflect the same thing each Match EQ is telling you, that's an area for improvement.
If all 3 curves show you something crazy, like a 15 – 20 dB cut or boost somewhere – go back to your mix. Something in your mix balance is way off, and needs fixing.
What if none of the Match EQ curves match??
If that's the case, I'd say you're in pretty good shape. Just make sure you picked 3 references that match your mix's musical style!
3. Use a Linear EQ
Linear EQs are more CPU intense versions of the Channel EQ. The beauty of the Linear EQ is that it doesn't cause phase-shift. This is particularly important when you're EQing a whole mix.
The Linear EQ also has a higher resolution than the Channel EQ. You'll notice as you adjust the curves, they move slower. This is a safe-guard to prevent you from using too much EQ.
Based on your written notes and your Match EQ notes, you can now use the Linear EQ to make subtle adjustments.
Try to stick to no more than a 3 dB cut or boost anywhere.
And again, don't treat the Match EQs as the Gospel. Use your ears to estimate if you're making a positive contribution.
If nothing seems to be fixing a problem, I would go back to the mix session.
4. Use the Loudness Meter to Measure Loudness
Part of the mastering process is to bring up the volume of your mix. Your goal is to be competitively loud with your reference tracks.
But this can be a dicey thing. There is such thing as too loud. So much so, that broadcast and streaming companies have actually standardized what is acceptably loud.
What the LUFS Meter does is help you measure the loudness of a track.
To measure loudness, to the following:
Load the LUFS Meter onto your Stereo Output.
Pick the loudest section of each of your references, and
Listen to each of those sections, one-by-one.
As you listen, hit the Start button on your LUFS Meter.
What will happen is the meter begins measuring your reference's loudness over time. Or to put another way, the amount of squash occurring due to compression and limiting.
Pay attention to the Integrated value for each reference. Write down each value.
Once you've measured each reference, you'll have a good idea of how much squash from compression and limiting is acceptable for your style of music.
Which leads us to bringing up volume:
5. Compression, Gain, and Limiting
When we think of mastering, we unfortunately think of loudness. This is a result of modern music production.
Logic's Adaptive Limiter is the final plugin in your chain for setting volume. You'll want the following settings for your Limiter:
The Out Ceiling should be set to -0.1. This ensures your track won't ever exceed 0 dB. When your mix exceeds 0 dB, we call this Overloading.
Overloads are serious business. When you bounce out your masters, it doesn't matter how loud your masters are inside Logic. When they leave Logic, the volume stops at 0 dB.
If you don't have a Limiter to catch those peaks, Logic will simply chop them off when you export your master. This results in Digital Distortion.
It's like a lawnmower riding over a toy in your front yard. The result is never pretty.
The Adaptive Limiter protects your mix from this distortion. But the compromise is how loud you can crank your mix until the limiter starts distorting from being squashed by the Limiter.
Remove DC Offset simply sets a 20 hz filter to make sure you don't have any frequencies hanging around 0 hz.
At 0 hz, your speakers are stuck in limbo. They don't know which direction to move. So it's best to turn Remove DC Offset on.
Gain
Next I'll have the Gain on the Adaptive Limiter set to 0. Instead of setting Gain with the Limiter, we're going to use a Gain plugin before the Limiter to set the level.
Why a Gain plugin?
The problem with using the Limiter's gain, is it makes it impossible to A/B what your Limiter is doing to your mix. Because every time you bypass the Adaptive Limiter, the volume of your track drops by 10 – 15 dB.
By setting the level with the Gain plugin, you can focus better on what the Adaptive Limiter is doing to your mix.
Now you can confidently bypass the Limiter without any sudden drops in volume. This makes for easy comparison.
Go back to the numbers you wrote down when you measured your references with the LUFS Meter. These are the numbers you're shooting for with your own mix's loudness.
Bring the faders of your references back up to 0 dB. And then bring up the volume on the Gain plugin until your track is as loud as your reference tracks.
Compressor
What if you can't make your mix as loud as your references without your mix sounding distorted or squashed?
That means your mix's dynamics need tightening. And to do this, you'll need a Compressor to help.
I suggest using the Vintage VCA model of Logic's Compressor for this purpose. A very famous compressor for gluing together whole mixes is the SSL G bus compressor. Logic's Vintage VCA is a model of that SSL compressor.
Start with the following settings:
Ratio – 3:1
Release: Auto
Distortion – Soft
Next, do the following:
Set the Threshold aggressively, around 10 dB of Gain Reduction on the meter. You want it to be obvious that your track is getting squashed.
Set your Attack knob to 0 ms. Your mix will sound distorted. That's because the Compressor is responding too quickly to the audio.
Slowly increase the Attack time by turning the knob clockwise. As you do, you'll hear how the mix adjusts to the change in response time.
When you think you have the Compressor pumping in rhythm with your mix, bring down the Threshold to a more reasonable level.
Shoot for no more than 3 – 4 dB of Gain Reduction. Your goal is to tighten the dynamics and percussive elements, while still allowing the mix to breath. And this can take some time.
By using a Compressor before the Gain and Limiter, you can tighten your mix dynamics. Which in turn gives your mix more room for loudness.
I don't suggest pushing your mixes to be louder than your references. If your track is louder, you probably aren't noticing the negative side effects of too much compression.
6. File Type and Dither
When you export your master, it's important to export the correct sample rate, bit depth, and file type.
Check out the image below:
Mastered audio files are always set to the following:
File Format: Wave
Resolution: 16 Bit
Sample Rate: 44100
WAV files are the highest quality files you can export without degradation. They're also universal to playback devices. The sample rate and resolution above are the standards for mastered files.
Dither is necessary when you export. But you should only add Dither at the very end.
When you export your master at these values, you're essentially degrading your mix. Reducing sample rate and bit depth reduces the quality of your mastered file. But you can't just reduce the quality without some side effects.
Dither is a way to combat these side effects. It's basically a bed of random noise, very low in volume, to mask these side effects.
There are different shapes and sounds to Dither, which Logic provides us with. Give each a try to see if you prefer one over the other:
It gets pretty science-y when it comes to downsampling and dither. My goal for this post is to give you the tools you need without the science. So just know these are the standards and expectations.
Conclusion
Phew! That was a ton of info. And honestly, it only scratches the surface for mastering. But the 6 life-saving tips can save you from some serious mistakes. To recap:
The 4 Tenets of Mastering
You're processing every single instrument in your mix at the same time. 
Your masters are only as good as the mixes you receive.
You need room to master.
File types matter.
And the 6 Life-Saving Tips for Mastering in Logic Pro X:
Import reference tracks
Reference with Match EQ
Use a Linear EQ
Use the LUFS Meter to measure loudness
Add level with the Gain plugin, tighten with the Compressor
Export a Wave file, 16 bit resolution, 44.1 sample rate, with Dither