Today's post was originally posted in 2018. It has been updated to include a video tutorial to illustrate the procedures below.
I'm gonna bet you haven't looked at Match EQ since the first time you opened Logic.
Which is a terrible shame.
But who can blame you? It took me years to understand how Match EQ would change my Logic mixes forever.
For me, Match EQ sat in the plugin folder collecting digital dust. The software equivalent of a gift you didn't want or ask for.
You rip open the wrapping, and find this… thing. You're not sure why you have it. You wonder to yourself why anyone would think to give it to you.
But since you can't return it, Match EQ just sits there. Waiting for the day you come to appreciate it.
Well today is the day!
It turns out Match EQ is the key to helping you dissect that pro sound. How your mixes stack against the pros, and how to help your mixes shine.
The Drama of Referencing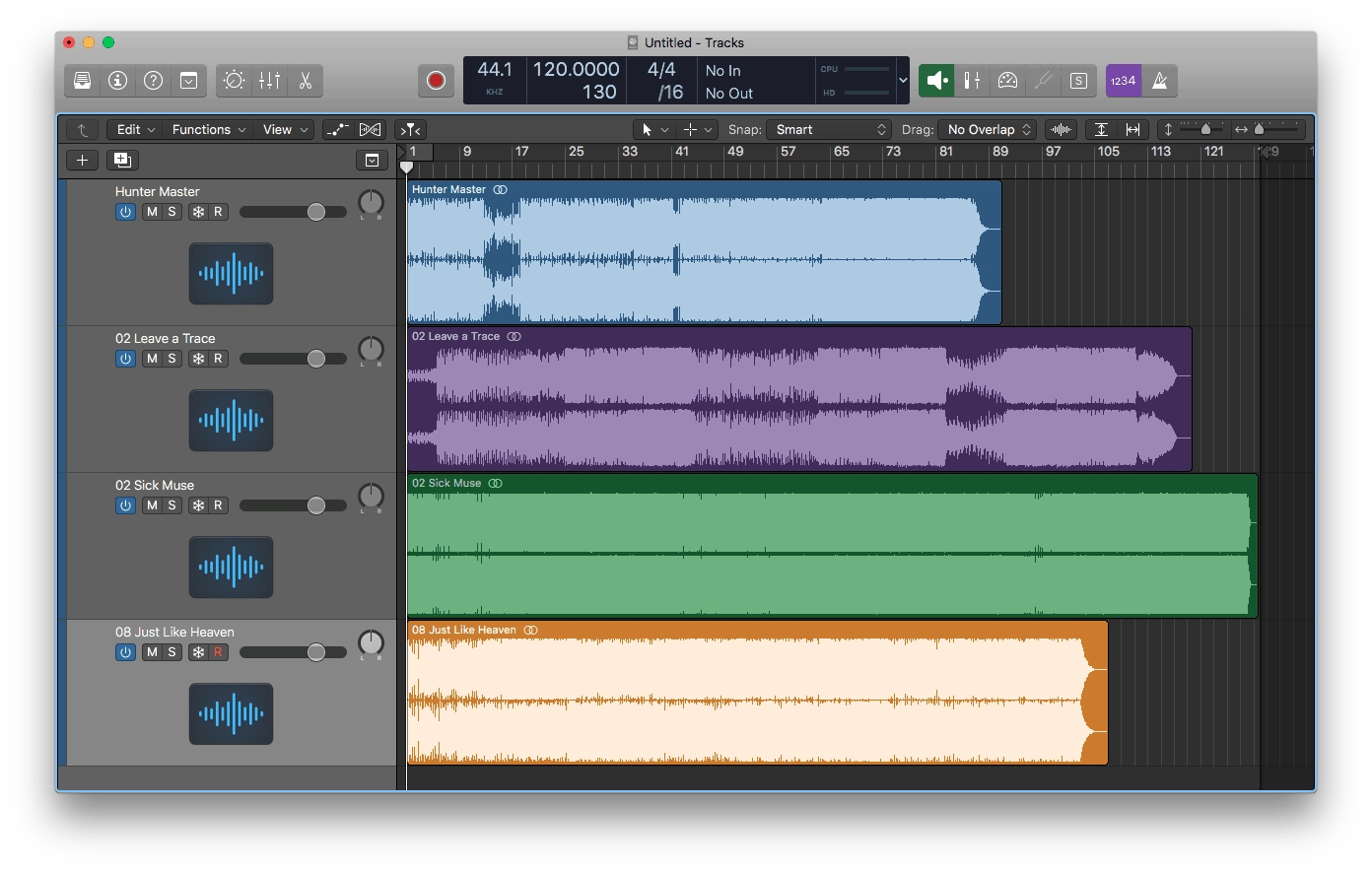 Let's talk about Referencing for a moment.
Referencing is when you compare your mix against other pro mixes. You Reference to hear what you're doing right mix-wise, and where could do better.
You know you're supposed to Reference. Every mixing blog in the world tells you to do it.
But you don't.
How come? Why is it when it comes to comparing our mixes against the pros we get so anxious?
You've spent weeks getting those mixes exactly how you want them. You're listening to the tracks, and all you can think is, "dang this sounds gooood!"
But when you throw in a Reference track to compare your mixes, your heart just sinks…
Because those killer mixes now sound flat. They sound muddy, and lack clarity.
WTF.
The worse part is, it can be tough to figure out what you need to fix. You're soloing between your mix and the reference. Back and forth, back and forth…
You can tell the lows are lacking, that the mix is muddy. And you can hear that the track lacks air and presence.
But where the heck do you start?
Painful, isn't it?
That's where Match EQ comes in.
Match EQ – Your Guiding Light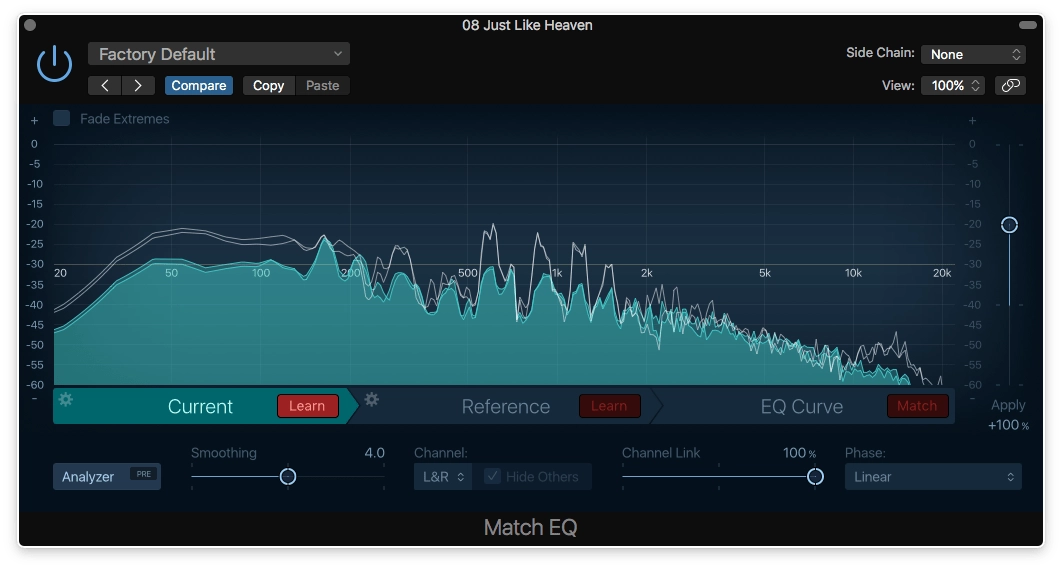 Match EQ does one complicated job really well. It "listens" to different pieces of audio, and figures out how they're different EQ-wise.
Based on those differences, it figures out how to match those two sounds. And it does this by EQing the heck out of one of those sounds to match the other.
So you know how Referencing always feels like a guessing game?
With Match EQ, you're able to see exactly how your mix differs from your References.
Which makes it super easy to figure out if you need to fix anything in your mixes.
Here's what you'll need:
3 Reference Tracks that you want your mixes to be comparable to. Make sure to pick pro tracks that are similar in style and genre.
3 instances of Match EQ on your Stereo Output
What you're going to do is:
Analyze your mix with each instance of Match EQ,
Analyze each Reference track with a Match EQ,
Match each instance of Match EQ, and
Find any similarities between the matched EQ spectrums
Adjust your mix (if needed)
Step One: Analyze Your Mix
If you haven't yet, open up your latest mix project. Go to the Mixer with Key Command X, and navigate to the Stereo Output in your mix.
Load up an instance of Match EQ on your Stereo Output. Then open up that Match EQ and press the red Learn button on the Current tab:
Next, do one of the following:
Play your whole mix from beginning to end, or
Play the busiest section of your song (ex. a Chorus)
Match EQ is now going to analyze your song. I suggest letting your mix play until the Match EQ Spectrum Analyzer stops moving:
Once the Analyzer stops moving, hit Spacebar to stop playback.
Now hit the red Learn button on the Current tab to turn off Match EQ's analyzer.
And then copy and paste 2 more instances of that same Match EQ to your Stereo Output. Do this by holding Option and dragging your Match EQ to the next open plugin slot:
I suggest bypassing all 3 Match EQs for now.
Step Two: Analyze Your Reference Tracks
What you should have now are 3 bypassed Match EQs on your Stereo Output.
Since you copied and pasted the first Match EQ, each one should have your analyzed mix under the Current tab.
Now you'll need to analyze your Reference tracks.
Use the Finder to navigate to your reference tracks by hitting Key Command F.
If you've already loaded them into your project, search for them in the Project tab.
If you need to find them click on the Media tab to look in your iTunes folder. Or click the All Files tab to search your computer.
Once you've found your first Reference track, open the first instance of Match EQ.
Click and drag your Reference track in the Finder to the Reference tab in Match EQ:
And now Match EQ will analyze your Reference in seconds!
Once done, click the Match button on the EQ Curve tab. The result will look something like this:
What Match EQ has done is it's "listened" to your mix. Then it "listened" to your Reference track.
By listening to each track, it figured out how your mix is different from your Reference – EQ-wise.
And then it adjusted the EQ of your mix to match your Reference.
Repeat Step Two with your second and third Match EQs using 2 other Reference Tracks.
Step 4: Analyze and Find Any Major Similarities
Since you already did Step 3 by matching each Reference track, we can move on to Step 4.
What you should have is 3 Match EQs that have analyzed 3 different References. Those 3 References should be similar to your mix in both genre and style.
They should also be tracks you look up to for their mixes!
You've Matched each Reference to your mix. And now you have 3 different EQ curves:
What you want to do now is compare these 3 EQ curves. Don't listen to your mix at all. Just look at the 3 EQ curves.
Do you see any glaring similarities? To put another way –
Do all 3 EQ curves cut or boost around the same frequencies?
This is very important. What you're trying to figure out is if your mix has any frequency imbalances.
But you can't just analyze 1 Reference Track to find that out. The fact is, your mix is going to be different from a Reference no matter what.
That's because of:
Different instruments
Different sounds
Different performers
Different places
Different studio pets
It's just a fact!
But when you analyze 3 Reference tracks, you can now get an average between the 3.
And the average tells you what's off-balance.
Take a look at these 3 curves: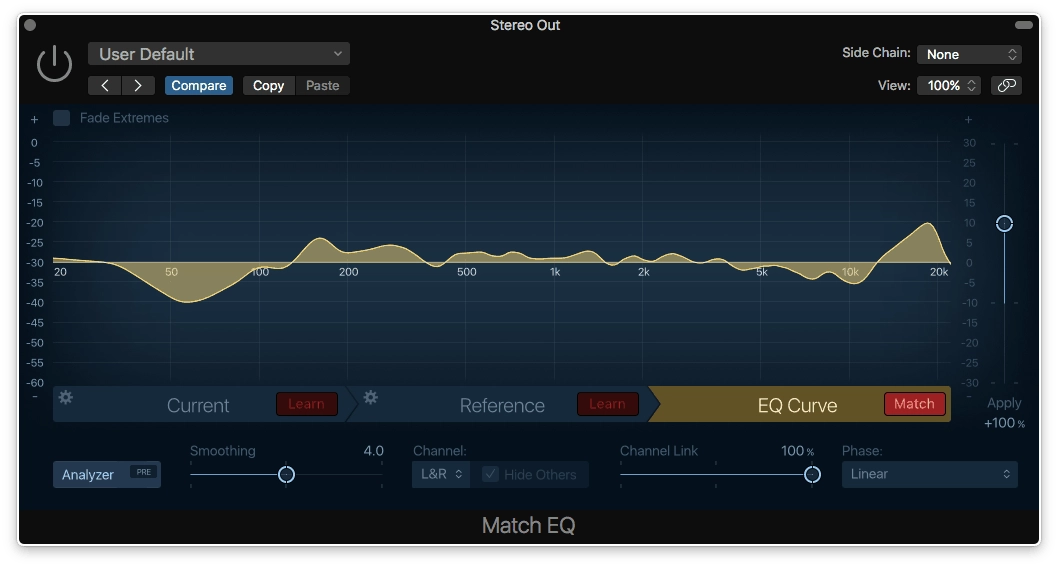 They're different, right? Which tells you that no two mixes are alike.
But let's inspect it a little closer. Do you see any similarities?
Here's what I see:
Around 20 hz sees a boost in each
Around 50 hz sees a cut in each
Around 1 – 2k sees a boost in each
Around 5 – 10k see a -5 dB cut
The good news is, generally none of these boosts and cuts are more than +/- 5 dB. Even the wild EQ adjustments aren't present in all 3 curves. So my mix isn't too far off from my references.
But the fact that each Matched EQ has the same cut and boost suggests my mix could use some sprucing up.
Or I can say all is well, and let the mastering engineer decide if anything needs fixing.
But what you want to watch out for is when all 3 Match EQs have a cut or boost that's +/- 10, 15, or even 20 dB.
If each Match EQ is cutting or boosting the same frequency by such a high value, that means your mix balance is off.
Take a look at this set of curves:
Clearly something is out of whack here with the low end. Because each one of these Match EQs are showing a dramatic boost to 100 hz and below. The boost ranges from 10 – 30 dB.
My first guess would be that the bass or kick is either:
Not loud enough
Doesn't have enough low end girth
Sure, it sucks knowing this mix is out of whack. But thanks to Match EQ it just got 100% easier to fix!
And from here I can boost the fader of bass or kick, or adjust their low end sound.
Careful…
I always suggest adjusting individual instruments before EQing your whole mix.
And it's never wise to use Match EQ as an "easy" EQ fix on your Stereo Output.
Balancing your mix is a complicated thing! By throwing such a wild EQ curve on your Stereo Output, you can do more harm than help.
If I just boosted 100 hz on the Stereo Output, I would boost 100 hz for everything in the mix.
This is seldom a good thing.
Start with individual instruments. Work your way up to instrument busses and then the Stereo Output.
Conclusion
Match EQ is your secret weapon to turning out pro sounding mixes. Most DAWs don't have a Match EQ feature. Companies like Fabfilter charge big bucks for it.
But us Logic users get it for FREE!
By having Match EQ analyze your mix, and then analyze 3 Reference mixes, you have a huge advantage.
And that advantage is seeing exactly what needs fixing.