For years every time I sat down to record or mix, all my Logic Projects started the same way:
First, I'd open with a brand new empty Project.
Then I'd dutifully create a new track for each instrument I needed to record.
One-by-one I'd dig into the plugin menu, and pick out the plugins I needed for my recording session.
Then I'd slowly set up all my sends and routing for any reverbs or delays.
And, of course, I'd reconfigure my Project Settings and Control Bar to how I liked them.
It was kind of like building a house from scratch every time I needed a place to sleep for the night. But before I left the house the next morning, I bulldozed the place so I came back to a clean slate.
Sure, I might get really great at building houses day in and day out. But what a colossal waste of time! Why would I actively choose to rebuild my Projects from scratch each time I wanted to record?
The Beauty of Logic Templates
It took a while, but I finally wised up from the stone ages of my early Logic years. Nowadays, I don't want to set anything up more than once!
Which is why I take great care to create and maintain my Logic Project Templates.
Templates are a fantastic way for you to pre-save your Logic Projects exactly how you like them.
You can create Templates that are for specifically for recording. You can have Templates for mixing and mastering. Tired of loading up an entire orchestra of channel strips every time you open Logic? Templates to the rescue!
Logic Templates offload setup time, and lets you get down to the business of making music.
So today I want to show you 2 key areas you should hone in on when crafting your own Logic Templates:
1. Project Settings
Logic is so great for how amazingly customizable it is. Digging into Logic's Preferences is a testament to just how much we can adapt to our needs.
But it turns out there's even more customization available under File > Project Settings.
The only tiny snag of the Project Settings is that they're saved on a Project-by-Project basis.
And there are some crucial bits in the Project Settings I prefer to always have enabled when I open a Project:
Metronome Tone and Volume 
For me, I find the clicking of the Logic Klopfgeist easy to lose in the mix. And once I get a couple instruments laid down, the click is basically non-existent.
That's why I prefer to crank up the tone and volume of the click to be more audible and unique in the mix.
When you click on the Metronome tab in the Project Settings, you have the option to adapt the sound of Click to your liking.
Simply drag both the Tone  and Volume sliders to what sounds good for you. and you can even adjust the tone of the Click based on Bars, Groups and Beats.
Once set, the click is always exactly how I like it – audible!
Defaults For Flex and Follow Region Setting Set to Off
I love Smart Tempo. In my opinion Smart Tempo is a revolution for music creation.
But as Uncle Ben said to Peter Parker all those years ago:
"With great power comes great responsibility."
And when it comes to Smart Tempo, this powerful feature can easily take on a life of its own.
That's why I make sure Flex and Follow is set to Off for both new recordings and imported audio files. That way none of my regions are changing in tempo unless I say so.
Auto-Colorize Takes
Ever get a little crazy and record 100 takes trying to piece together the ultimate take? Wouldn't it be nice if every one of those 100 takes were each a different color?
That's why I make sure auto-colorize takes is always saved in my Logic Templates. Stop trying to sift through 100 takes of the same color.
Assets
My dear friend – your Assets are what your Logic Projects run on.
Your audio recordings are assets.
Your EXS and Ultrabeat samples are assets.
Your movies are even assets.
And if Logic can't find those assets when you open your Project, you're not gonna be happy.
How might Logic not find your Assets? Well, maybe you're using an Sample you pulled off the internet. And Logic didn't save that Sample to your Project.
Instead, it's referring to your Downloads folder every time you open that Logic Project.
So when you decide to delete that sample from your Downloads in 6 months, Logic can't find the sample anymore.
Result: Missing Audio files.
That's why I make sure all the boxes are ticked in the Assets tab of the Project Settings.
2. Customize Control Bar and Display
The Control Bar is the the very top section of Logic's main window. It contains a wealth of Modes and Functions for you to choose from: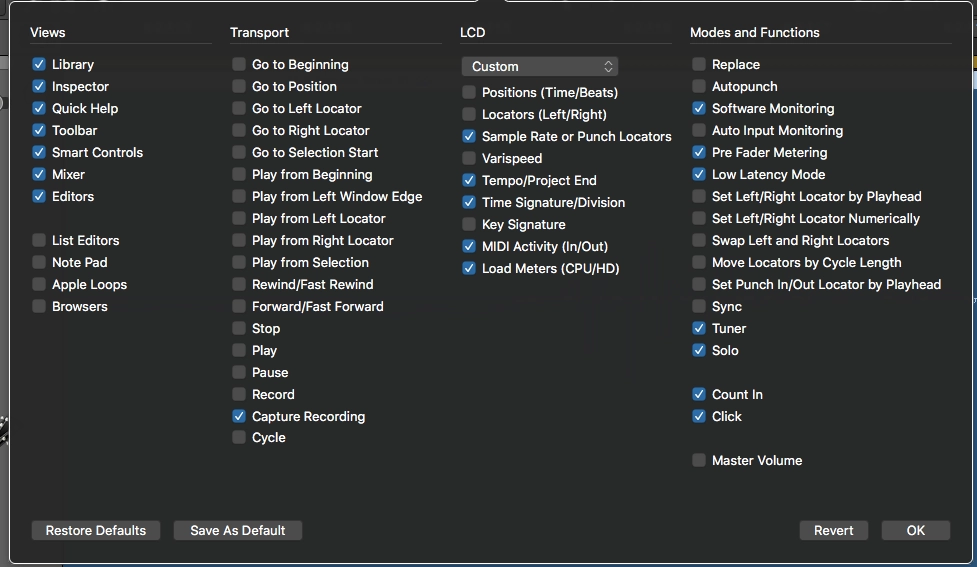 The section in the middle of the Control Bar is the LCD Display. That provides us a ton of valuable information about the state of our Project.
These days I don't use most of the options in the Control Bar and Display. Stuff like Transport Controls and View buttons are kind of wasted space for me. I prefer to use key commands to get around.
But there are a couple of things I always like to have close by in the Control Bar and Display:
Software Monitoring
Ever wanted to hear your vocals through Logic's plugins and routing? You certainly can thanks to Software Monitoring.
If you have a recording interface and Mac that can handle low buffer sizes, you can make use of this awesome feature.
Need a little compression or EQ to tighten up some vocals for recording?
Or need some reverb to give the vocalist some comfortable ambience to work with?
Software Monitoring makes all this possible. Enable your track's Input Monitoring and then turn on Software Monitoring to hear yourself in your headphones.
(Just make sure Software Monitoring is off before you turn up your studio speakers. You don't want to create a feedback loop with your microphone!)
Low Latency Mode
After a while, recording Projects can balloon in complexity. You record tons of tracks, open tons of plugins and instruments, and add all sorts of routing for effects.
And that's about when you decide you absolutely need that tambourine track after all.
So you plug in your mic, hit record, and right when you start shaking that tambo…
The timing of the tambourine in your headphones is way off.
You see, all those plugins, instruments and routing takes time to process. And it can add up to significant amounts of time that Logic needs to compensate for.
We call this delay in time latency.
Logic can handle it, no problem. But now that you need to record something in the midst of all this complexity, it's a little more difficult to manage.
Thankfully, Low Latency Mode is a global switch to turn off everything that is causing latency in your Project.
Flip this Low Latency Mode on, and record to your heart's content. Once you've got what you need, turn Low Latency Mode off. Now all of your plugins, instruments and routing are back in order.
Time Signature/Division
When it comes to editing, it's just so much easier when you have a reliable grid to work with.
That's why I like to keep the Time Signature/Division available in my LCD Display.
Recording in 6/8? Need to edit some 32nd note drum hits?
You can manage the grid resolution very easily by clicking on either the Time Signature or Division displays. Select the value that works for you, and away you go.
(P.S. Can't see those 32nd note grid lines? Zoom in, and they'll reveal themselves).
Tempo
Tempo (or the lack thereof) is absolutely crucial to me. Whether for recording or editing, I want to know where I stand with the grid.
And by enabling Tempo in the Control Bar, I can keep a good eye on either the Project Tempo, or on Smart Tempo.
It's no fun finding out all your tracks have been flexing all over the place because you accidentally left Smart Tempo in Adapt mode.
And if you need to record to a click, it's nice being able to quickly change the tempo from the LCD Display.
Conclusion
Whether you decide to use my preferred Project Settings or not is up to you.
What's more important is that you figure out what YOU need from your Logic Projects. And once you do, save those settings to your own Logic Template:
Enable what you need in the Project Settings by going to File > Project Settings
Enable what you need in the Control Bar by right-clicking on the Control Bar and selecting Customize Control Bar & Display… from the dropdown menu
Save these changes to a new Template by going to File > Save as Template…
Don't forget about instruments, plugins and routing you use all the time as well. Build your Logic Project once, and reap the rewards of time well-spent forever 🙂