So you bought Logic Pro X. You're stoked. And you're digging in and making great sounds.
But someday, something is going to happen.
It might not be today. It might not be tomorrow. But someday the sound is gonna cut out, and an ugly message is gonna threaten your sanity:
There's nothing that will kill your vibe faster than a System Overload.
System overloads can be a pain. And if you're 60 tracks deep, with an average of 5 – 6 plugins a track, you could very well expect it.
WTF?!?!?!
Trust me – I know what you're feeling right now.
You hit play. And the Apple Beachball starts to spin. 5 seconds go by, and Logic starts to play your song.
But two seconds in, Logic just craps out.
System overload.
You hit play again, this time no Beachball of Doom. Just straight to –
System overload.
And now you want to put your fist through your Mac.
But Wait!
Your Mac, let alone Logic, is performing thousands of tasks at every moment. Throw a CPU-intense program like Logic in the mix, and resources are gonna get tight.
The good news is, you can beat this! You can beat the System Overloads and Beachballs that stew your anger and threaten your Mac's life.
Follow these steps, and you'll be on your way to the Logic experience you deserve:
1. Change the Buffer Size and Range
99 times out of 100 a System Overload is due to bad Buffer Settings.
The Buffer is the way your Mac manages the thousands of processes it needs to complete.
Your Mac's Buffer is like a waiting room. Processes check in and sit down. And the functions that need immediate attention receive first priority. While other functions hang out until it's their turn.
If the buffer is too small and there's too many processes arriving, your Mac overloads.
That's why you need to help your Mac out. By setting the buffer size and range, you can help your Mac understand how important Logic is at any time.
To do this, go to Logic Pro X > Preferences > Audio…
This is the Audio Preference menu. Home to all things related to how Logic manages incoming and outgoing audio.
And when a System Overload pops up, you can bet your boots that the I/O Buffer Size is too small.
You've got 6 sizes to choose from:
If you're recording live or software instruments, you'll need the smallest buffer you can get away with. If you're at 64, try 128.
Keep going down until your Mac can handle the session. But make sure you or the musician playing doesn't feel like the recording is lagging.
A buffer that's too slow will introduce Latency. Latency is an audible delay you can hear while trying to record in Logic.
If you're mixing or mastering, you can get away with the slowest size available – 1024. Since you're not recording it doesn't matter if Logic takes a little longer to react.

The Process Buffer Range is another level of managing the Buffer. Medium is the default setting. But you can set this to Large if you're experiencing a bad case of the Overloads.
2. Use a Smaller Sample Rate
Logic is awesome because it handles a huge range of Sample Rates. From 44.1k to 192k, you can get as hi-def as you want with your projects.
The Sample Rate is how fast Logic is grabbing audio as you record it. It's like a camera taking a picture. The faster the shutter speed, the faster the camera is capturing the image.
Samples Rates deal in frequencies over time. So a 44.1k sample rate is capturing 44,100 samples per second.
The good news is that 44.1k, the lowest sample rate, captures the whole audible range and beyond.
There's some debate over sample rates, but one thing you should know:
The higher the sample rate, the bigger the audio files.
And the bigger the audio files? The more resources Logic needs to run your projects.
44.1k is more than enough to run your projects on. Often engineers use 48k.
The higher you go, the more you run the risk of System Overloads. So I would stick with 44.1k or 48k.
IMPORTANT: It's never wise to switch up your Sample Rate mid-project. Doing so can make a mess.
Instead, make sure to set the Sample Rate before you start.
How to Change your Sample Rate
The LCD display in Logic should show your Sample Rate on the left-hand side:
If you don't see the Sample Rate, you'll need to Customize the Control Bar.
Control – Click in the Control Bar area, and click Customize Control Bar and Display…
Under the LCD column, you can enable Sample Rate or Punch Locators, And click OK: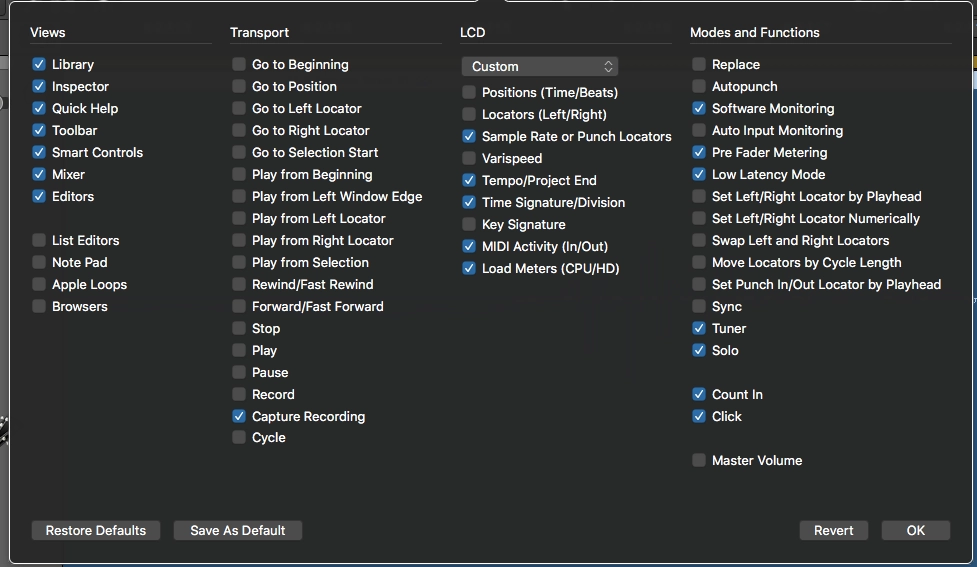 Now you should see the project Sample Rate in the LCD display. By clicking on the number, a menu will pop-up and you can choose a Sample Rate that best fits your Mac.

Set your projects to 44.1k or 48k and enjoy!
3. Close All Other Applications
Often it's very easy to leave applications open and hanging in the background. For example, leaving your web browser open while you work in Logic.
Even though you're not using your web browser, it's still using up your Mac's resources to run. Which will only further irritate your System Overload problems.
It's always best to Quit any other applications while you're working in Logic.
Taking it even a step further, quit any applications that are running in the Task Bar:

As you can see, I have 6 applications running in the background. If I really want a better performance out of my Mac, I should quit out of all them.
4. Remove All Inputs to Audio Tracks
If you're done recording to an Audio Track, it's best to remove any inputs to that track.
When your audio tracks have an input enabled, that means Logic is expecting to record. This takes up valuable resources.
To remove an input, simply click on the input field of an audio track and select No Input:

5. Make Sure Software Instrument Tracks Aren't Selected
Like tip number 4, Software Instrument tracks are also expecting to record at any moment. When you have a software instrument selected, Logic gives more priority to that track.
More priority equals more Mac resources.
So when listening back to your work, always make sure you don't have an Instrument Track selected. This will reduce the load on your Mac.
6. Use Send Effects Whenever Possible
A classic scenario – you've got a reverb that sounds awesome. So you add it to 40 of the 50 tracks in your project.
Now your Mac is limping along like it caught it's leg in a bear trap.
It's always best to send many tracks to one reverb, versus copying and pasting one reverb to many tracks.
That way you can enjoy the awesome reverb across your project without the crushing load.
Need to brush up on how to use Sends and Busses in Logic? Check out this post right here.
7. Bounce Tracks in Place & Power Down
Sometimes it seems like no matter what you do, your project can't shake the System Overload.
Your project has tons of plugins and instruments. And dagnabit, you need it all! You've got that kick exactly how you like it. And that vocal line sounds fresh as hell.
If you're happy and committed to your sounds, then why not bounce those tracks in place?
That way you've got your perfect tracks, and your Mac doesn't have to waste CPU to run plugins and instruments.
Bouncing in Place creates a new audio file with your plugins and processing printed to the region.
Bouncing in Place is easy:
Select the track you want to bounce
Hit key command Control – B to bring up the Bounce in Place window
Make sure Bypass Audio Plugins is unchecked, and
Hit OK
Logic will create a new audio file with your plugins and processing.
Now you can Power Down your old track to save CPU.
If you don't see a Power button on your track, do the following:
Hit key command Option – T to configure the Track Header options
Enable the Power Button at the top of the menu by clicking the box next to Power Button
All that's left is to hit the Power button next to your old track to turn it off 🙂
8. Freeze Tracks
Freezing tracks is the opposite of Bouncing in Place.
When you have tracks you're happy to commit to, you have the Bounce in Place option. But when you're not ready to commit, you can instead Freeze your tracks.
Freezing is actually a form of bouncing in place. Logic bounces the track, and any plugins you may have in use are now unavailable to use.
This allows Logic to reduce the CPU load.
But say you decide later that you do need to tweak a setting. When you Freeze your tracks, you can simply turn Freeze off, and tweak your settings.
When you Bounce in Place, you have to go back to the original track and then bounce again with your new settings.
Freezing is easy. If you don't see the Freeze button in the track header, do the following:
Hit key command Option – T to open the Configure Track Header window again
Enable Freeze by clicking the box next to the Freeze icon
Viola! You should see the Freeze icon in your Track Headers.
Click the snowflake icon and hit play. Logic will do its thing, and you should have more CPU for your project.
9. Save Your Projects to an External Hard Drive
Sometimes you just have to drop a couple bucks to get what you want.
It's highly recommended in audio circles to buy an external hard drive to run your projects from.
Your Mac is running your OS, Logic, and a slew of other functions. Tossing audio and virtual instruments onto the pile is a lot.
By saving your projects to an external hard drive, you reduce the workload for your Mac. Now your external hard drive is handling the load for:
Projects
Audio files
Virtual Instruments
And more.
But all hard drives aren't created equal. Solid State Drives, or SSDs are revered for their speed. But they also come at a great cost.
If you can't afford an SSD, then shoot for a USB 3.0 external hard drive. Just make sure it runs at 7200 RPM.
"RPM" stands for "rotations per minute."
You can check out a great selection from Other World Computing of SSD and spinning hard drives:
10. Upgrade Your Mac's Memory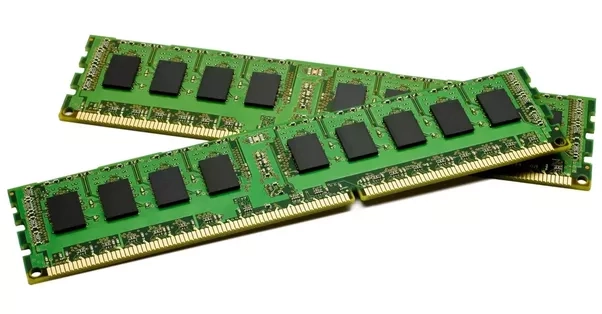 Remember all the talk before about the Buffer?
Your Mac's RAM is where all that stuff lives. RAM, or Random Access Memory, is a physical component related to your Mac's performance.
The memory sticks that sit inside your computer is the temporary waiting room for your Mac's processes. And if your Mac doesn't have much Memory, you can get System Overloads. Precisely because the waiting room doesn't have much room.
Upgrading your memory means physically opening your Mac and changing the memory sticks.
It can be a little tough. And some Macs are limited about how much memory they can use. I would check out Other World Computing for info on changing out your memory.
Conclusion
Logic is fantastic. But all the goodies do come at a price. The price depends on your Mac's processors, memory, and how big your projects are.
To avoid getting a System Overload, use the following strategies:
Change the Buffer Size and Range
Use a Smaller Sample Rate
Close All Other Applications
Remove All Inputs to Audio Tracks
Make Sure Software Instruments Aren't Selected
Use Send Effects Whenever Possible
Bounce Tracks in Place and Power Down
Freeze Tracks
Save Your Projects to an External Hard Drive
Upgrade Your Mac's Memory