Well, we've made it! Another trip around the sun is nearly complete. I hope the last year has been a creative one for you.
Here in the U.S., December marks the season of "shop 'til you drop."
AKA: the Holiday Season.
Right after Halloween (October 31st), businesses rev up for holiday sales. The radio starts playing holiday music 24 hours a day. And our inboxes start to overflow with offers and discounts galore.
The holiday season can be a dizzying time of year! But it also can be a lovely one as well.
For many of us, the holidays are one of the only times we get to catch up with family. And it is a joy to see a smile spring upon a loved one's face as they open that gift you gave 🙂
Whether you celebrate the holiday season or not, we are only a few weeks away from the New Year.
This makes December a great time to:
Reflect on how the last year has been, and
Set new goals for the upcoming year
2019 has been a wonderful ride over here at WLPR. A couple of highlights:
WLPR hit 10,000 YouTube subscribers back in August (and now we're around 16,000 subscribers)
WLPR turned 2 years old back in October!
I recorded, mixed, and produced a full album with my pal Ben (you can listen to the album on Apple Music or Spotify)
My girlfriend and I drove across the United States and back at the tail end of September (New York > California > New York)
And I've had the privilege to meet many of you through emails and comments here on WLPR 🙂
My goals for 2020 are pretty straight-forward:
Write/produce more music
More WLPR posts on producing and writing music using the amazing tools in Logic Pro X
Booyah! So for the last year I've been searching high and low for the best tools around.
Today I'd love to share with you my top 10 gear recommendations going into the New Year.
As always, the goal of WLPR is to help you get the most you can out of Apple's Logic Pro X. 
Logic is amazing! But Logic doesn't exist in a vacuum. I mean, besides owning a Mac and Logic, we also need:
An audio interface
A microphone
A USB keyboard/controller
And there are many more tools out there besides the bare essentials:
Headphones
Monitors
Plugins
Many companies would LOVE for you to believe that your music is suffering without their gear.
I've spent thousands on plugins and hardware over the years. And frankly, most of the stuff I've bought hasn't been the game changers I'd thought they'd be.
So I've whittled down my essential list to 10 items. And I'd like to share that list with you today.
These tools have made a huge difference in my workflow. So if you're looking for some upgrades for the new year, check out the following.
Here we go!
(Please note: some links to suggested products below include affiliate links. This means if you click a link and then purchase the product, WLPR gets a small percentage of that sale.
If that doesn't sit well with you, no problem! I stand by my recommendations below 100%, whether or not you use the links below. Thanks!)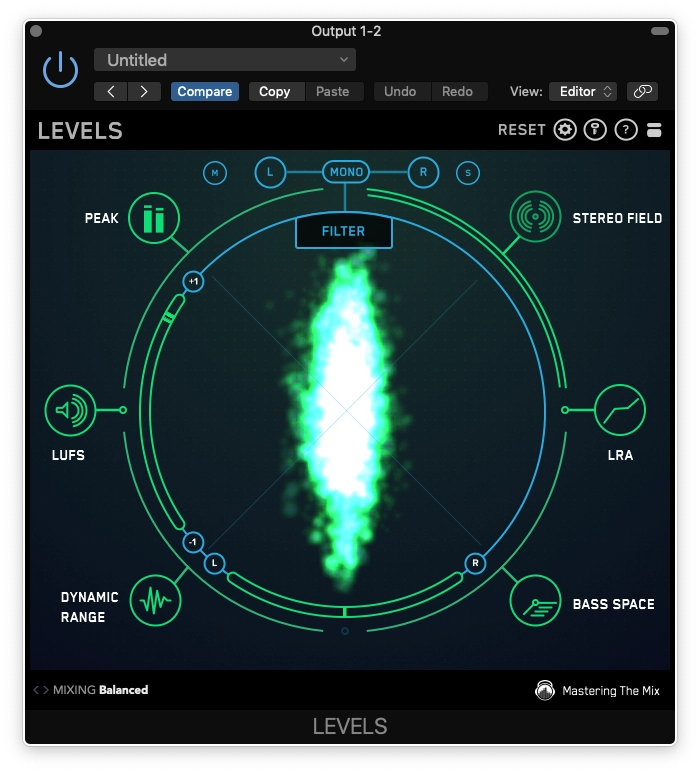 My first 3 recommendations, I truly believe, are mixing essentials. No plugins have made as big a difference to my Logic Projects than these 3 from Mastering the Mix.
Mastering the Mix (MTM) is a relatively young company in the world of plugins. And MTM smashed onto the scene with a brilliant metering tool called Levels.
Levels does everything that the existing Logic metering plugins can already do:
Analyze phase and mono compatibility playback
Analyze loudness
Analyze loudness range
Analyze dynamic range
Analyze the spectrum of the low end
But there's one big difference between Logic's meters and Levels.
With the Logic meters it's up to you to watch and analyze what's going on in your mixes.
For example: maybe your song has some phase/mono compatibility issues. For you to figure that out, you'd need to watch the Correlation Meter for the whole duration of your song.
Or if your track is too loud/compressed as a whole, you'll need to watch the Logic Loudness and Level Meters.
And then you need to figure out if the Loudness Range, Peak and RMS are too much, too little, or just right.
Levels solves these issues by analyzing your mixes for you. If there's a problem with any aspect of your mix, one of the Modules in Levels will turn from green to red to let you know.
It's like having a personal assistant living inside your Logic Projects. 
With Levels you can offload 6 areas of concern for your mixes. And Levels will only tap you on the shoulder if one of those 6 areas are a problem.
And Levels also has a tendency to re-train our mix muscles for more thoughtful mixing:
More focus on dynamics
Better low-end management
More respect for peak levels on the stereo output
I can't imagine a better plugin for metering your Logic Projects.
Learn more about Mastering the Mix LEVELS plugin

Soon after Levels, Mastering the Mix released the amazing Reference plugin.
As any longtime WLPR reader will tell you, I'm a huge fan of Referencing. By importing a couple of professionally mixed and mastered tracks into your projects, you have something to compare your mix decisions against.
Admittedly, Referencing is a humbling process. Because comparing your mix against other pro mixes can reveal a lot. And usually it doesn't leave us feeling good.
But Referencing is so important. It gives us a guiding light to follow as we work to achieve a well-balanced mix.
Importing reference tracks into any DAW can be a little clunky though.
First, it's best to level-match your reference tracks to the mix you're working on. But the levels in your tracks can often change as you mix. And even the smallest level changes between the mixes can mess with your perspective.
Next, you'll want to hone in on some specific sections of both your mix and your references. Usually this is a chorus section. But too often the chorus of your mix and your references won't line up.
And even if everything is perfectly level matched and lined up, it can still be hard to hear how your mix differs from your references.
MTM's Reference solves everything that makes referencing a pain.
Once you drag and drop your references from Logic's Media tab into the Reference plugin:
Reference can level match all your references to your mix with one click of a button
You can loop specific sections of your reference tracks (such as the chorus)
And Reference's Trinity display will show you how your mix stacks up in the lows, mids, and highs against your references
MTM's Reference is amazing and makes mixing so much easier. If I was only allowed one single 3rd party plugin, this would be it!
Learn more about Mastering the Mix REFERENCE plugin
The last of MTM's holy trinity of metering plugins. Bassroom is a metering/EQ tool specifically for the low end of your mixes.
In fact, there's already a full review of Bassroom here on WLPR:
Plugin Review: Finally Lock in the Low End of Your Mixes With BASSROOM 
And even though I saw value in Bassroom, it took me a while to really adopt the plugin into my workflow.
So Bassroom sat in my plugin folder for a few months.
But once I finally decided to commit to Bassroom, it was a game-changer.
Bassroom compares the low end in your mixes to "Target" mixes. And provides 5 EQ filters to fine-tune the low end in your mixes.
Bassroom comes with its own "Target" presets based on musical genres. But I prefer to drag in my own reference tracks to use as Targets for the low end in my mixes.
(Since I'm mixing with Reference anyways, I'd rather stick with the references I've been listening to.)
As you play your mix, the meters along the sides show you how your low end compares to your Target. Then you can drag each filter closer or further to match the meter levels.
The result?
Tight, low-end response that blows your mind with how much clarity you now have in your mixes.
Learn more about Mastering the Mix BASSROOM plugin
For the last 12 months I've been on a search for a USB controller that integrates like a glove with Logic.
And my search has brought me to only one conclusion:
Logic Remote on the iPad seems to be the only seamless controller experience with Logic.
But I really wanted to use a controller with physical keys and knobs, and not just another screen.
My search brought me to Native Instrument's Komplete Kontrol S Series MkII keyboard. It seemed to be the best of all worlds. From transport control to a light guide, screens for navigation to mixer control.
And the S series keyboard IS amazing!
But as time went on, I realized my desk needed a controller with a smaller footprint.
That's right about when Native Instruments released the M32 controller. A small, "throw it in your backpack and go to the coffee shop" keyboard.
One thing that always bugs me about smaller USB keyboards is the 25-key layout. It seems like no matter what, the notes I need for a riff are always outside of the current key range.
But the M Series keyboard comes with 32 keys. Which is like the most brilliant, "I can't believe no one else does this!" sort of feature.
Other features that make the M Series awesome:
Transport controls for recording and playback
Keybed that feels wonderful and right up there with the S Series Fatar keybed
8 sturdy endless rotary encoders for tweaking Smart Controls
MIDI and Mixer modes for on-screen controls, faders, mute and solo functions
Throw in the software instruments from NI that come with the controller, and the value is up there with the best.
Though I much prefer the screens on the S Series to the OLED display on the M32, all isn't lost. The OLED is actually quite helpful for knowing what each knob is controlling onscreen.
Learn more about Native Instruments Komplete Kontrol M32 keyboard
Now there are 2 things to point out here with this recommendation:
If you already have an audio interface you use and love – awesome. Don't let me convince you that your interface isn't good enough.
I was not in the market at all for a new interface when I tried out the Scarlett Solo.
Over here at the WLPR studio, I use a PreSonus Quantum:
And I freaking love it.
But as I mentioned earlier, one of WLPR's goals is to focus more on producing and recording.
So I reckoned that most of us Logic users don't need an 8 channel interface.
I also assumed many of us only really need a single set of outputs for monitors or headphones.
And the Quantum also doesn't have a software mixer.
(You know that separate mixer app that your interface uses on your Mac? The Quantum doesn't have one of those.)
So to be more relatable, I decided to try out the newest generation of Focusrite's Scarlett interfaces. The Solo is a 2 channel interface that costs ~$110 USD.
And honestly, this thing is awesome!
I was so surprised how easy it was to get set up with the Solo. As soon as you plug in the Scarlett, a "Get Started" icon pops up right on the Desktop.
Click the icon, and it takes you to straight to Focusrite's website for everything you'll need for the Scarlett.
Focusrite also hooks their users up with free plugins and software. Though I don't care much for Pro Tools First or Ableton Lite, I am very intrigued by the Softube Time and Tone bundle.
And how about the free A.I. Balancer EQ supplied by Sonible?
My favorite feature about the Scarlett is the gain-staging for the instrument input. Plug in your guitar, load up Amp Designer, and everything sounds awesome.
No more trying to find the sweet spot for recording guitars!
If you're looking for a simple, cost-effective interface that you can throw in your backpack, I highly recommend the Solo.
I just might have to give Focusrite interfaces a closer look…
Learn more about Focusrite Scarlett Solo Gen 3 Audio Interface
I implore you dear WLPR reader…
Get your Logic Projects and Instrument libraries off of your Mac's hard drive.
Tired of System Overloads? Sick of running out of space? Then get yourself an external hard drive to run your Projects off of.
But not just any old external HD at Best Buy.
But a 7200 rpm drive.
RPM stands for "rotations per minute." And spinning hard drives spin at a variety of speeds.
Unfortunately, most stock hard drives aren't well equipped for audio or video.
7200 rpm has been the long-established "minimum" for audio work.
Your Mac already has a ton to manage. From heating and cooling to running web browsers, Logic Pro, and more.
You're not doing your Mac any favors trying to read and write to the same hard drive.
I suggest G-Technology's hard drives, as they've been workhorses for me. And the pricing is quite competitive.
Plus, they're rugged as hell, so getting tossed around in a backpack won't be a huge deal.
With a dedicated external hard drive, you can free up space on your Mac, and have a smoother creative experience in Logic.
Bonus: Looking for further improvements for your Mac? Swap the internal spinning hard drive for a Solid State drive.
The difference is substantial.
Learn more about G Technology 7200 RPM Portable Hard Drive
A coffee maker?!
No, WLPR hasn't struck up a deal with the Home Shopping Network.
Here's the deal – I LOVE coffee.
And anyone who knows me knows I drink coffee like it's water.
Much of my life I've spent hanging out in coffee shops or working in coffee. And for me, coffee is synonymous with comfort, deep thinking, accomplishment, and memories.
And I bet coffee is a regular part of the day for many of us creative types.
I've tried a lot of different methods over the years:
Mr. Coffee-style auto-drip machines
French Press
Espresso
Chemex
Hario
Kyoto Drip
And the Aeropress ticks all the right boxes for me when it comes to brewing coffee:
Beautiful taste
Effortless cleanup
Great for travel
In concept, the Aeropress is kind of like an espresso machine. It requires the pressure of the plunger to push the coffee/water through a filter.
But instead of espresso, you can enjoy a full cup of the best coffee you've ever had.
In a nutshell, using the Aeropress is like having a handmade coffee every day.
My daily recipe:
Inverted method (https://www.moustachecoffeeclub.com/aeropress-inverted-method-how-to-brew)

Plunger sitting halfway between numbers 3 & 4 inside the Aeropress tube

1 full scoop of coffee grounds with the provided scoop
Hot water filling the Aeropress 3/4 full

Agitate grounds with the supplied stirrer

Fill Aeropress to the top with hot water
Screw cap on with filter inside
Flip Aeropress onto the mug, and plunge 🙂
One caveat when it comes to the Aeropress: 
This style of brewing is amazing. But it's also more for "specialty" coffee drinking.
I don't recommend using commodity coffees like Costco or Folgers.
Instead, try a coffee subscription online (I'm happy to recommend a great shop here in Rochester). Or Google "third wave coffee" in your town when looking for coffee to use with the Aeropress.
Learn more about Aeropress Coffee Maker
The SM7b is the most expensive item on this gear list. And once again if you have a microphone you know and love, then stick with it.
But many of us Logic users are recording in spaces like bedrooms and basements. Meaning we're not tracking in the tuned acoustics of a recording studio.
Everyone has their favorite mic for recording. But very often those favorite mics can be quite expensive.
And if you're recording in a bedroom, it can be tough to nail those radio-ready vocals.
The Shure SM7b is a studio classic. I'm sure you've heard the old "they used the SM7b on Michael Jackson's Thriller!"
And it's true! But what makes the SM7b so great is its tight polar pattern and broadcast standard quality. It's great for not picking up all the tone of the room you're recording in. Which means a tighter vocal sound.
In fact, check out this comparison of the SM7b vs the Audio Technica 2020 in an empty room. There's no processing, aside from 3-6 dB of compression to dredge up the room tone:
AT2020
SM7b
What do you notice? For me, the AT2020 has a nice top-end presence. While the SM7b has more of that low-mid authority and broadcast quality.
And even though I hear the room tone in both recordings, there's way less in the SM7b than the tone captured by the AT2020.
While it's easy to brighten up a vocal track with an EQ or Exciter, it's much harder to remove room sound.
Now imagine if you were recording in a room that wasn't empty. I bet your vocals would sound awesome.
The two things to consider before buying the SM7b:
1. It is a pricier microphone. At $400, it's not cheap like the $100 AT2020.
Thankfully, there are ways to manage the cost.
For example, the online retailer Sweetwater offers interest-free payment plans. Meaning you can split the cost of a purchase into 3 equal monthly payments.
I've bought gear for years doing exactly that.
 2. The SM7b requires more gain than your typical condenser mic.
But in my tests with the Scarlett Solo, I had enough gain to record my speaking voice with the SM7b. Meaning I didn't have to shout to hear myself.
I love this microphone.
Seriously.
Learn more about Shure SM7b Microphone
Sound on Sound (SOS), in my humble opinion, is the best audio magazine around.
SOS covers the gamut. From:
Unbiased gear reviews
Tutorials that range from vocal production to live band recording
Interviews and analysis of chart-topping productions
And articles like "Mix Rescue" and "Studio SOS" focus on getting the most you can out of the home studio
I've been an avid reader of Sound on Sound magazine since 2012. And I eagerly await each month for the next issue to arrive in my mailbox.
Admittedly, SOS is like 95% ads. Even the gear reviews, in essence, are ads for the manufacturers.
But the in-depth articles each month FAR outweigh the girth of advertising in SOS.
And I find that the reviewers at SOS do try to be as objective as possible. Reviews point out the good and the bad with the emotional detachment of a Buddhist monk.
If you're interested in upping your production skills in general, SOS is a wonderful investment.
Learn more about Sound on Sound magazine subscriptions
And last in our list of essential gear…
Music is our life's blood, right?
To create great music, it's important to enjoy music not only as a creator but as a listener as well.
Whether you're a musician, producer or engineer. It's important for us creatives to hear what's going on out there in the world of music.
I'm just as guilty as anyone when it comes to not taking time to enjoy music. Since I spend many of my days working on music, I don't always want to turn on the radio.
But music provides inspiration and education for the ears, brain, and soul. Checking out what's new can inspire new ideas for our own songs and productions.
And at this point in the game, I can't think of a more cost-effective way to listen to music than Apple Music.
There's plenty of streaming services out there. But since us Logic users are working on Macs, I just think it makes sense for that tight Apple integration.
But if you prefer Spotify or Tidal – great!
The point is – don't forget to take time to enjoy music 🙂
Learn more about Apple Music subscriptions
Conclusion
Whoa! What a post!
I do hope some of the above suggestions can add huge value to your creative life. I've bought and sold my fair share of gear. And the above are my top picks.
But these are only my suggestions. What piece of gear has been a game-changer for you? Let us know in the comments below.