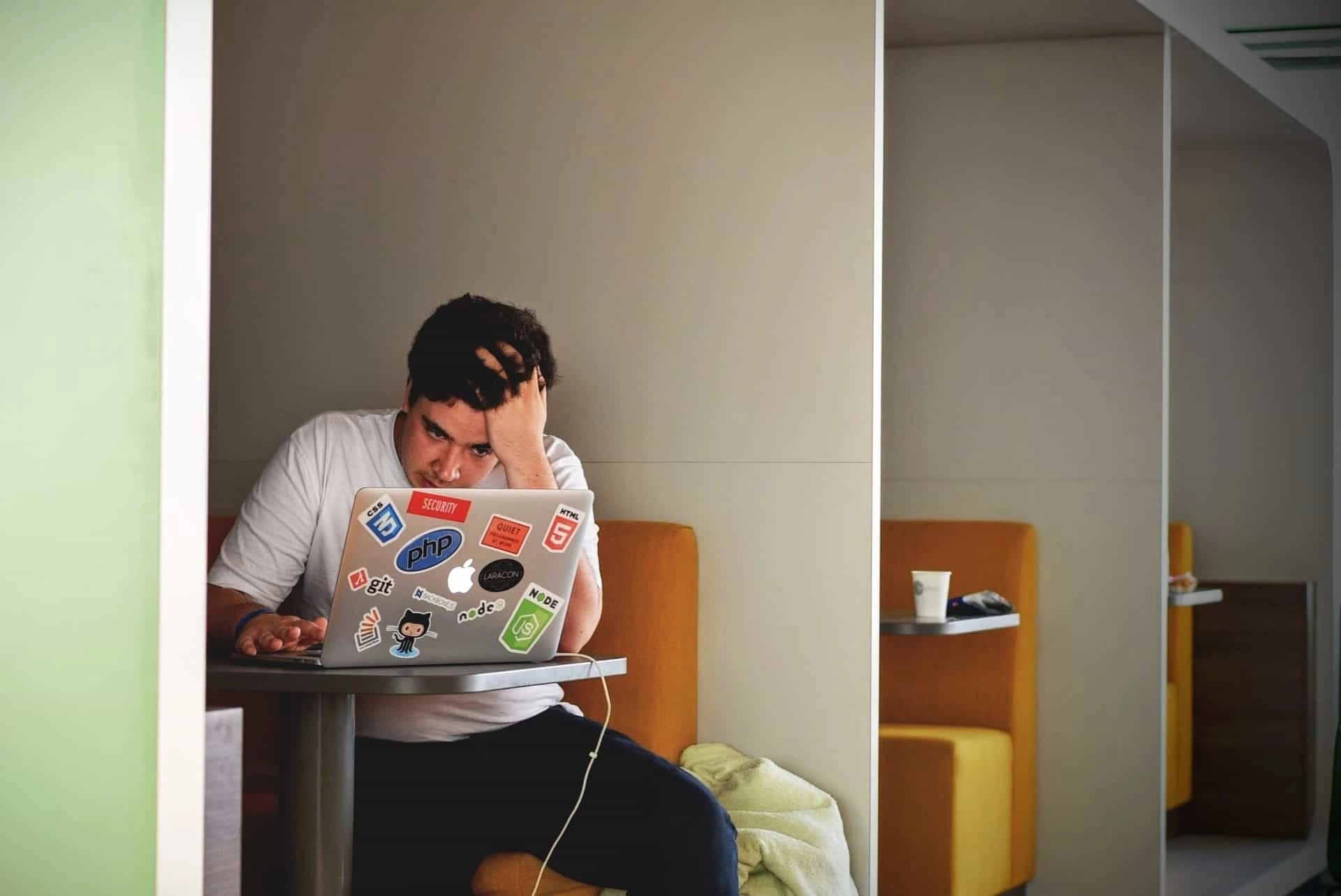 You know, I think for many of us buying plugins is a lot of fun. While plugin companies design plugins to meet our audio needs, it's exciting to have a new toy to play with!
A new synth or delay can inspire and tantalize. A new EQ or compressor is a new approach to our same old mix problems. But with a different interface or features, it might just crack the code.
But sometimes we're caught in a pickle. Maybe an audio track has tons of background noise which makes it impossible to use. Or you're struggling to create separation between 2 tracks.
While I believe the Logic plugins can handle anything you throw at them, sometimes we need an easy and fast solution to a burning problem.
And that's what today's post is all about.
When Logic Can't Help
While I truly believe that Logic and its plugins are fantastic, there are some things Logic can't handle.
Or Logic can handle it, but it requires a lot of time and energy from the user.
So today I'd like to share with you the plugins that will save you when Logic can't.
My criteria for 3rd party plugins has changed a lot over the years. A decade ago I was most concerned with "analog" EQs, Compressors and Tape Emulations.
But now my #1 plugin buying rule is:
"If I buy this plugin, will it make my life insanely easier than it was before?"
Or, conversely:
"If I don't buy this plugin, will my life suffer as a result?"
But how do you determine if a plugin will make your life better or worse?
It all boils down to time and effort.
So if I'm considering buying a plugin, I want to know:
Will this plugin save me hours of time and effort that I couldn't get around otherwise?
The Top 11 3rd Party Plugins I Couldn't Imagine Living Without
The plugins outlined below are not replacements for any of the Logic plugins.
They're not EQs, Compressors, Reverbs or Delays. Nor are they software instruments or samplers.
These are plugins that solve problems that Logic can't. At least not in a quick or intuitive manner.
The following have saved me so much time, energy, and sanity I can't actually calculate how much better my life is thanks to them.
What I can tell you though is I spend less time spinning my wheels and more time finishing Projects. And today I'd like to share these plugins with you.
Full disclaimer: some of the links below are affiliate links. This means if you click one of the links and then buy the plugin, I'll receive a small payment for that sale.
If that's not your thing – no hard feelings. I stand by the plugins listed below 110%. And will continue to recommend them regardless.
My hope is this article will be a resource for years to come for any Logic users who find themselves stuck.
So without further ado, here are my Top 11 3rd Party Plugins That I Couldn't Imagine Living Without:
If there's one thing I really don't like to doing, it's vocal rides.
When I mix vocals, I use:
Multiple compressors to tighten up a vocal performance
Parallel compression to blend a squashed version of the vocals underneath to add stability
Saturation to add vibe and further tighten up the vocals
But despite these efforts, it can still be tough to achieve that rock-solid, radio vocal sound.
You know the sound I'm talking about. That lead vocal that stands right out front. You can hear every single syllable perfectly. And the vocals don't waver in and out of focus.
So the final touch to a great vocal mix requires Vocal Riding.
Vocal riding is where we ride the fader of the vocals as the song plays with Automation enabled.
When the vocals get too quiet, we push the Fader up. And when the vocals get too loud, we push the Fader down.
Once we've written our Automation, the Fader then adjusts in real-time to smooth out the vocal performance.
In my experience, Vocal Riding is rarely easy or intuitive. It takes a lot of tries to get anything decent. And we're always reacting to the sound as we're hearing it. So our timing ends up being a little funky.
There's no denying vocal rides can make all the difference. But I just don't enjoy the process. Which is why I bought Melda Production's mAutoVolume.
mAutoVolume isn't just for vocals. And it's not a compressor. It's a volume-riding plugin for any instrument that's a bit too all-over-the-place when it comes to volume.
But I always use mAutoVolume on my vocal mixes.
The controls are pretty simple:
Set the Sensitivity for how aggressive you want mAutoVolume to adjust the level of your audio
Set the Speed for how quickly you want mAutoVolume to react to the incoming audio
That's it!
There's also a Noise Gate if you don't want mAutoVolume to react to low-level noise on your tracks.
And once in a blue moon the plugin might have a hard time catching a rather punchy syllable. In that case I dial up the Lookahead.
But otherwise that's all I do. Usually a Sensitivity of 80%. Speed at 50%. After that life is gravy.
Before I owned mAutoVolume I had bought Waves Vocal Rider. But I found Vocal Rider to be very finicky, and the results rarely gave me what I wanted.
So I ended up selling my Vocal Rider license and buying mAutoVolume. And I haven't looked back since 🙂
Click here to Check Out Melda Production's mAutoVolume
Recording any instrument with multiple microphones can be tough. Take for example a drum kit. Most drum mic setups at the very least call for:
a pair of overhead mics
a kick drum mic
a snare drum mic
But we could add a ton of other mics as well:
tom mics
high hat mic
room mics
bottom snare mic
inside kick mic
The average drum kit could have 10-12 microphones in position to capture its sound.
Anytime we use more than one microphone to record a sound, we have to concern ourselves with phase.
Phase is how these different mics combine together. Now discussing phase is beyond the scope of this list. But if you'd like to learn more, check out this post:
Fix Phase Issues in Logic Fast With This Secret Technique
The point is, fixing multi-mic phase problems takes time and effort. And it's usually more than just flipping the Invert Polarity button on the Gain plugin.
It requires adjusting the timing of different signals.
Let's assume a kick drum track is out of phase with the overhead track. We'll need to flip the kick's waveform to be in phase with the overheads.
But the kick's waveform might also be slightly ahead of the overheads. Which can cause some kick frequencies to cancel with the overheads.
Even if we invert the polarity of the kick using the Gain plugin, the kick is still slightly out of time with the overheads. Which means the kick is still slightly out of phase.
Pushing the kick Region backward in time can help it go from hollow sounding to full and punchy.
But do you know how hard it is to line up tracks accurately when the differences are measured in milliseconds or samples?
It's freaking hard! And it's not as simple as visually lining up the tracks in Logic.
So another gem from Melda Production is mAutoAlign. A polarity inverting, time-aligning plugin for multi-mic recordings.
mAutoAlign listens to the incoming audio of every track you place it on. And in a matter of seconds it corrects the timing and polarity of the combined signals.
The result? A multi-mic signal that sounds in focus.
You can also set a Group for each instance of mAutoAlign. Which ensures the drum instances are only listening to each other, and not the acoustic guitar instances.
Click here to check out Melda Production's mAutoAlign
Acon Digital's Restoration Suite is a diamond in the rough. It does a fantastic job, and you get 4 plugins for the price of 1!
Let me ask you: have you ever had to deal with trying to work with a track that:
Has lots of background noise?
Has weird clicks and pops?
Has plosives?
Has been clipped beyond belief?
Has hum from bad electrical grounding?
Depending on what types of audio you work on, these problems may or may not be a frequent occurrence for you.
But when they do pop up, it's like pulling teeth to fix them when all you have is an EQ.
There are more high-profile options on the market for restoration. But Acon Digital's Restoration Suite has only ever treated me well.
And honestly, I find I can dial in Acon Digital's plugins much faster and with better results.
The Denoise and DeClick plugins are especially helpful when working in voiceover or podcasting. Something I've learned a lot about in recent years 🙂
If there's one plugin I'd love to see added to this bundle, it would be an algorithm specific for mouth clicks. While DeClick helps a lot in this department, I've found mouth clicks are a special breed of nuisance.
All-in-all, if you're looking for plugins that can clean up your tracks that don't cost a ton, this bundle is for you.
Click here to check out Acon Digital's Restoration 2 Suite
How much fun is it to record vocals?
I find vocals to be a blast. From recording main vocals to brainstorming harmonies and adlibs, vocal tracking is so much fun 🙂
Days after a great vocal session, it's time to get down to editing. When we return to the Project, we may find the backing vocals don't quite line up with the mains like we once thought.
Now we could use Flex Time to line up all our vocal takes.
But that usually requires a bit of time. and a lot of playback to get the timing right.
Or we could use something like Vocalign and let the plugin line up our vocal takes for us in 1 pass.
Synchroarts' VocAlign can line audio signals up to any sidechained signal. And thanks to Logic Pro supporting ARA 2.0, you can:
Place Vocalign in the first plugin slot on the Main Vocal take
Place VocAlign in the first plugin slot of  Backing Vocal take
Select the Main Vocal track
Click "Capture" in the "Guide" portion of either instance of Vocalign
Select the Backing Vocal track
Click "Capture" in the "Dub" portion of either instance of Vocalign
Each time you click "Capture," VocAlign instantly imports the audio of each Main Vocal and Backing Vocal. And once the Backing Vocal/Dub track is imported, Vocalign will automatically adjust the timing of the backing vocal to be identical to the main vocal.
Bounce your backing vocal regions in place, and now have perfectly-timed vocal stacks.
It's kinda spooky how tight VocAlign locks the backing vocals to the main vocals. But it's also magical what Vocalign does.
Click here to check out SynchroArt's VocAlign Project 5
This isn't the first time I've written about Mastering the Mix's suite of plugins. But they truly have become indispensable to me.
If you've read WLPR for any length of time, you know I'm a huge proponent of using Reference tracks.
Reference tracks are professionally mixed and mastered tracks that:
You aspire for your Projects to hang out with, and
Match your Project's musical style
When I begin a mix, one of the first things I do is import 3 Reference tracks to compare my mixing against. And I'll periodically compare with my References while I mix.
The goal isn't to copy those Reference tracks. It's to help tune our ears for what a balanced mix should sound like. Think of Referencing as both a tool for inspiration and a safety net.
Mastering the Mix's Reference 2 makes the Reference process a joy to work with:
You drag and drop audio files right into Reference
Reference can level match your References to match your Project's current volume
You can loop specific sections of your References, such as a chorus
And from there you can switch between your Project and your References with the flip of a button. Click on either Original or Reference to swap between them.
Plus, Reference's Trinity Display shows how your mix balance compares to your References.
If your track is a little too heavy in the lows, mids or highs, the white line for that range will float below the center of the display. And if your track is lacking in the lows, mids or highs, the line will float above the center of the display.
Reference 2 has reduced my mix time significantly. I couldn't imagine mixing without it.
Click here to check out Mastering the Mix's Reference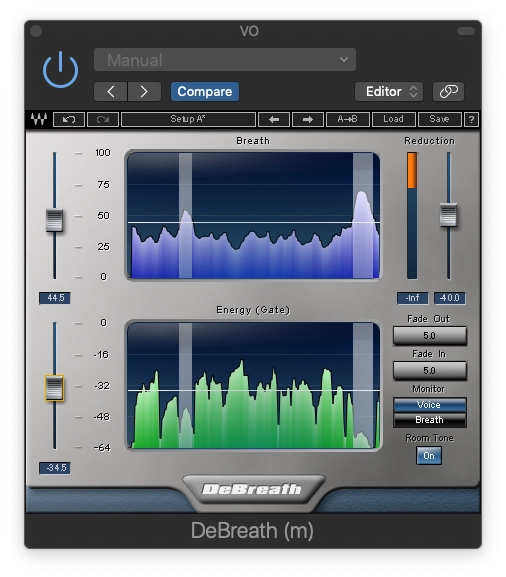 DeBreath from Waves is a god-send for those of us working with dialogue. I've used alternative products from other companies. But I think Waves nailed it with DeBreath.
Cleaning up breath sounds in music isn't that big of a deal. Most vocal takes don't have a ton of breaths. And it's easy enough to separate the breaths in Logic using the Marquee tool.
From there, you can either:
Reduce their Gain levels with the Region Inspector, or
Remove the breaths entirely
But when you have even 5 solid minutes of someone talking, breaths are the worst.
Breaths are much more frequent and insidious in dialogue. And that's because our poor presenter has to breathe.
I'd lose my mind if I had to manually edit breaths out of the WLPR videos. Thank goodness Waves created this plugin!
DeBreath allows us to set 2 thresholds for the incoming material:
The Breath threshold tells DeBreath which parts of the audio are breath sounds
The Energy threshold tells DeBreath which parts of the audio are not breath sounds
It's a balancing act, but DeBreath is quite good at separating the 2 from each other. And then the Reduction slider tells DeBreath how much you want to reduce the breaths by.
Now you might be wondering, "why not use a Noise Gate?"
And that would be a good question.
I've found that breaths can get quite loud relative to spoken word. So you would have to set the Noise Gate's threshold pretty high to remove those breaths. Which can end up cutting out quieter words, and sound choppy overall.
DeBreath can identify and separate breaths from the spoken content without the chatter of a gate. Which is so freaking helpful.
Click here to check out Waves' DeBreath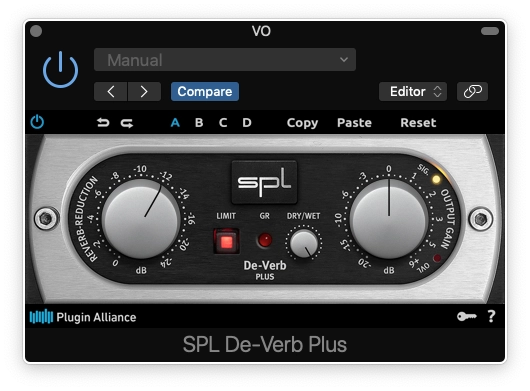 With so many of us recording at home instead of a studio, sometimes we don't get the benefit of a finely-tuned space.
Bedrooms, basements and garages can sound boxy. Or add a weird reverb or flutter to our recordings. Or sound like we were nowhere near our mic when we recorded ourselves (even though we were!).
The spaces around us plays such a huge role in the quality of our tracks.
Seriously. 
Before looking at mic pres or plugins or anything else, we should look at:
The quality of the space we're recording in
The quality of the instrument we're recording
The quality of the musician that's performing
A great drummer in a great room on a great kit with budget mics and preamps will outperform the opposite every single time.
But sometimes we just don't have the luxury, do we? And sometimes the sound of a so-so room can get in the way of a brilliant performance.
SPL's De-Verb Plus is a mind-blowing plugin for removing reverb from tracks. It's one knob to rule them all.
In one Project I mixed, the vocals were brilliant. In-tune, dynamic and emotional delivery.
The only problem was the sound of the room was very evident in the recording. Which made it pretty difficult to mix the vocals.
Adding compression made the room ambiance even more obvious. Which caused the vocals to sound like they were receding into the back of the room.
After desperately trying different reverb-removing plugins, I found SPL's De-Verb Plus. And it works SO much better than everything else out there!
Turn up the Reverb Reduction knob until De-Verb reduces the level of reverb to nothing.
That's it!
When I tried out De-Verb Plus I was expecting tons of garbled artifacts. How could such a simple plugin fix what more complicated plugins seemed to only have a hard time with?
But De-Verb Plus is magic. And man do I love it.
Click here to check out SPL's De-Verb Plus
This plugin snuck up on me. When I was first introduced to Bassroom by Mastering the Mix, my initial reaction was:
"Uh…cool?"
I just didn't get it. At its core Bassroom is an EQ plugin. To be more specific, it's an EQ for the low-end of your mixes.
Bassroom lives on your Stereo Output to tailor your mix's bottom end as whole.
Once I sat down to actually learn what Bassroom does, that's when I realized its full value. Now Bassroom is an essential plugin for my mixes.
Mixing the low-end of any mix can be tough. It's hard to get that rock-solid low-end of a mix just right.
While Bassroom doesn't mix the low-end for us, it's a fantastic tool to sharpen the low-end once we're towards the end of a mix.
Bassroom uses Targets to compare our mix against. And then it offers suggestions for EQing based on the Targets.
Targets are organized by musical style.
If you're working on a Hip Hop song, you can choose a Hip Hop Target. Even better – Mastering the Mix has analyzed thousands of genres for their Targets. So under the Hip Hop category are sub-genres like:
Contemporary
Old Skool
Pop Rap
So you load Bassroom onto your Stereo Output, pick a Target, and hit play.
Bassroom will then analyze your mix, and the lines along the left and right borders will move around. Those lines are the Targets for adjusting each of the 5 bands of low-end of your mix.
Since I mix with References, I prefer to use my References as the Targets for Bassroom. Which you can add by:
Clicking on the Target symbol in the bottom left-hand corner of the plugin
Dragging and dropping a Reference into Bassroom
Selecting the sections of the song you'd like to hone in on for low-end
Clicking Set Targets
It is amazing how quickly the low-end snaps into focus thanks to Bassroom. I LOVE it!
Click here to check out Mastering the Mix's BASSROOM
Sometimes we all have those 2 tracks that won't play well together. And it seems like no amount of EQ or Compression will help separate them.
Let's take main vocals and a group of backing vocals as an example.
You're trying to nail that radio-ready vocal sound. You've got mAutoVolume to ride your vocal volume. And they're sounding great.
And you'd like your gang of backing vocals to hug the main vocals like a blanket. A huge, triumphant group that takes your song to new heights.
Unfortunately, the gang vocals are obscuring the main vocals. EQ only seems to rob your gang vocals of power. So you try some sidechain compression to tuck the group down when the main vocals are singing.
But all the Compressor does is squash the gang's "hugeness."
So what do you do?
Enter the most transparent sidechain "compressor" you've ever heard.
Trackspacer is a dynamic EQ that listens and ducks any frequencies that are masking the sidechain signal.
So in our example we would:
Place Trackspacer on the Track Stack for our entire backing vocal group
Set the Sidechain to our main vocal
Adjust the Amount knob to let Trackspacer know how much you want to duck any backing vocal frequencies that are masking the main vocals
Trackspacer adjusts the EQ balance of a track in real-time with its 32 bands of dynamic EQ.
And if that's not enough, you can use Trackspacer's low and high-cut filters to hone in on the most problematic areas.
In our example, maybe it's the low-mids of the backing vocals that are obscuring the main vocals.
So set the High-Cut filter to around 400 hz. Trackspacer will leave the high-end of our backing vocals alone, and focus on the low-mids.
I find I rarely need to exceed 5%-10% with the Amount knob on Trackspacer to nail that much-needed separation.
And the result is tracks that invisibly slip in and out of each other's way at just the right times 🙂
Click here to check out Wavesfactory's Trackspacer
I bet you've probably heard this in plenty of tutorials and blog posts:
For a proper listening environment, your room needs to be treated with acoustic panels and bass traps to tame the reflections of your space.
And after that you might have moved onto another YouTube video 😉
Acoustic treatment is one of those things that's really hard to appreciate.
Because we've only ever heard our speakers in our room as they are. There's no easy and direct comparison. We can't just turn on a plugin to populate our room with acoustic panels so we can A/B the results.
Room acoustics are also complicated and unpredictable. Even when you start investing in treatment it can be difficult to appreciate.
But when you use something like Sonarwork's SoundID Reference, it's like someone flipped on the lights. The differences are so startling you wonder to yourself:
"How the heck did I get anything done before now?"
Reference by Sonarworks is a speaker calibration system. It measures the response of your speakers in your room, and then creates a custom EQ curve for each speaker.
The goal is to mitigate your room's influence on what you're hearing. In essence, Reference is helping you hear your mixes how they actually sound.
You then place the Reference plugin on your Stereo Output in Logic and listen to your work through the plugin.
Unfortunately Reference does not replace the need for acoustic treatment. But it can be a huge help for even less-than-ideal room setups.
Simply put – I don't trust myself to mix or master without Sonarworks' SoundID Reference.
I know that sounds very non-negotiable. But sometimes you just can't argue with physics.
For those of us mixing on headphones, it turns out headphones are often colored as well. So SoundID Reference also has a Headphone edition.
Sonarworks has gone ahead and analyzed hundreds of the most popular headphones out there. All you need to do is pick your make and model from their list of headphone profiles.
I suggest giving their demo a try. I bet you'll be surprised.
Click here to check out Sonarworks' SoundID Reference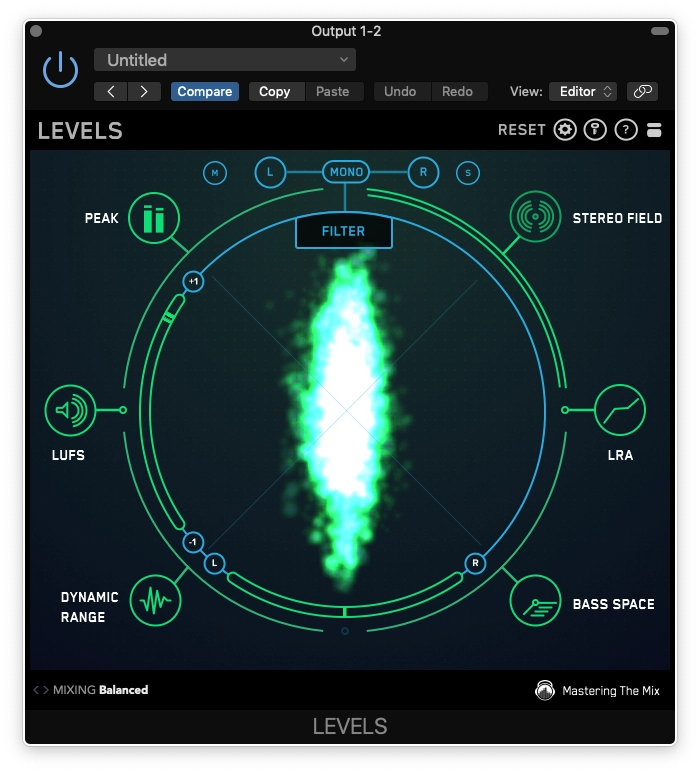 When we're in the depths of a mix, it's very easy to lose the forest for the trees. As we focus on details like:
Sculpting the kick and bass
DeEssing the vocals
Adjusting reverb and delay
Our attention is bouncing around from small detail to small detail. And it can be easy to forget about the major technical details of our mixes.
For example:
Mixing so hot that we're clipping our Stereo Output
Squashing our mixes with too much compression, and thus losing dynamics
Overusing widening effects, or uneven panning which causes mono-compatibility problems
Failing to remove low-end mud from our non-bass tracks, which robs our kick and bass of room in the mix
These technical details matter a lot. And Logic's meters can be very helpful to catch any goofs in our mixes.
The only problem is that the Logic meters require our undivided attention. To identify major mix issues, we have to watch our meters constantly.
That's a lot of work!
Which is why I use Levels from Mastering the Mix. Levels doesn't need us to interpret what it's saying at every given moment. Instead, Levels will tell you when there's a problem with your mix.
Levels identifies 6 critical areas to watch out for in our mixes. Place Levels on your Stereo Output and the plugin will watch out for:
True Peak levels for any clipping, even with a Limiter on the Stereo Output
Stereo Field for mono-compatibility of both phase and panning
Loudness Range and Loudness Units for perceived volume
Bass Space to measure your mix's bass levels when your kick and bass are muted
Dynamic Range for over-compression or over-limiting
If Levels perceives a problem in any of these key areas, the corresponding module will turn red.
It's kind of like having a personal assistant living inside your Projects. Levels only taps you on the shoulder when your mix is in trouble. You can also use Levels to double-check your masters.
For my own Projects, a combination of Logic's Multimeter and Levels ensures I don't make any critical mistakes.
Click here to check out Mastering the Mix's LEVELS
Conclusion
I hope this list of plugins can be a resource to you whenever you're stuck.
The plugins above aren't a list of "nice-to-have" EQs and Reverbs. These are plugins that can alleviate hours of struggle and frustration.
If the Logic team at Apple ever updates Logic with similar functionality I would be thrilled!
But until then – give these plugins a try if you're ever caught in a sticky situation 🙂