If there's one word the audio world can't seem to get enough of, it's warmth.
Everyone everywhere seems to want more warmth and depth for their tracks. And so we Google far and wide in search of ideas for the missing warmth in our tracks.
Go ahead, take a trip down the Google hole. What do you find?
Ah! Analog warmth I bet. Of course! The secret ingredient everyone on Gearslutz will tell you:
Analog EQs
Analog Compressors
Analog Tape Machines
Analog Consoles
If you're like the rest of us mere mortals, an "analog" anything is outside of your budget. Since the price tag on analog gear can be a bit startling, we need an alternative.
That's about when we start searching for plugins that might fill the gap for our warmth needs.
Waves, Slate, Universal Audio and many other companies have all sorts of plugins emulating analog gear. In fact, they have plugins in for all the categories listed above. And there's no denying there's some great stuff out there.
But before you decide to break your budget in search of warmth, depth or vibe, take a step back. You might just be able to find what you're looking for right inside Logic.
The Analog Touch
There's plenty of plugins in Logic that can add that touch of vibe you're looking for. At the end of the day, the warmth and vibe of analog gear boils down to the non-linearities of analog gear.
Or to put another way – distortion.
That is subtle degrees of distortion. A more sexy and soothing name for this style of distortion we call saturation.
If you take a peek into Logic's distortion plugins, there's plenty of vibe to choose from! The Overdrive plugin is a great place to start for gentle warmth and vibe.
And your options go far beyond basic distortion. In fact, I have a whole post about adding vibe and saturation with the Logic plugins.
But since I receive a lot of emails about adding warmth to mixes, I'm dedicating today's post to warming up your mixes.
So today, let's examine 2 of Logic's often overlooked tools for adding warmth and depth.
The Vintage EQ Collection – Your Swiss Army Knife of Analog Vibe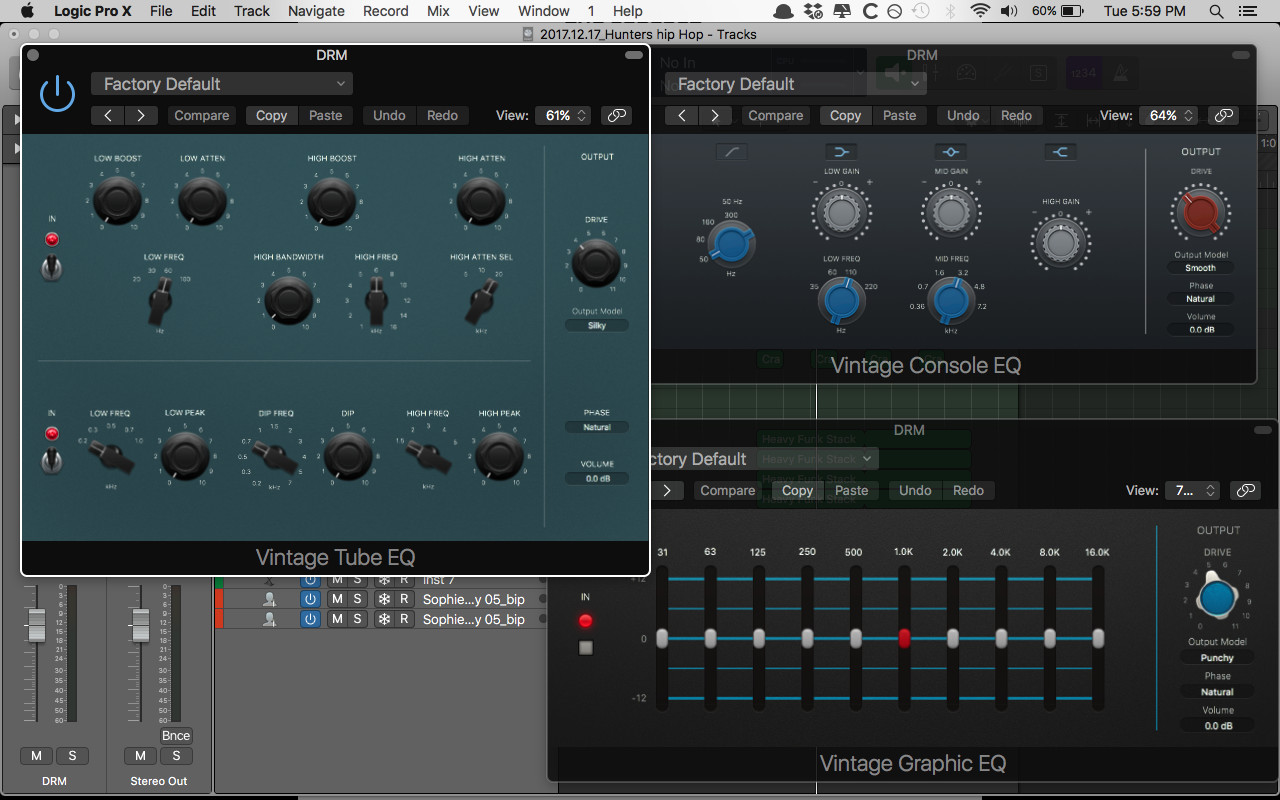 Very often I receive emails from readers asking for help with their Logic Projects. And sometimes they send along their Projects for me to poke through.
And I'm always so surprised to see that almost no one turns to Logic's Vintage EQ Collection when mixing.
Working with "analog" style EQs can be a great educational experience. Unlike the Channel EQ, the Vintage EQ Collection doesn't have any sort of visual graphs. Thus, we're forced to listen with our ears and not with our eyes.
But what I love most about the Vintage EQs is the Drive section:
Each one of the Vintage EQs emulates a heralded piece of hardware:
The Console EQ is an emulation of a Neve 1073
The Graphic EQ is an emulation of an API 560
The Tube EQ is an emulation of both a Pultec EQP-1 and MEQ-5
And besides emulating the specific EQ curves of each unit, the team at Apple took it a step further. Each of the Vintage EQs also emulate the inherent sonic characteristics of each device.
What does this mean?
Well, if you don't EQ with a Pultec, there's still a tone to running tracks through the device. And that tone was often very desirable.
In fact, try loading up one of the Vintage EQs onto every single track in your current Project. Go ahead! Every single audio, instrument, and auxiliary channel strip in your Project.
And then hit Play and listen.
As you listen, I would select all the Channel Strips in the Mixer and then bypass all the Vintage EQs you loaded. Hear the difference? It's subtle, but it's there.
Try bypassing and reenabling all your Vintage EQ instances periodically. What I've found there's a noticeable difference in depth and vibe when the Vintage EQs are enabled. Like someone turned on the lights in a dark room.
That distinct improvement in depth and vibe comes down to the Output section of the Vintage EQs.
There are 3 different models to choose from (based on the 3 different Vintage EQs). And the Drive knob allows us to choose how hard we want our tracks to hit the "hardware."
In a nutshell, you can impart a more "analog" vibe to your tracks by pushing the Drive knob up. And you can even swap Output Models.
Want to EQ with the Console EQ, but add the tone of the Graphic EQ? No prob, just swap the Output Model.
Tape Delay – The Warm Sound of Tape Saturation
Now it should be no surprise we use Logic's Tape Delay to add a delay effect to our tracks.
It should also be of no surprise as well that the Tape Delay is an effect based on using a tape machine. I mean, it's right there in the name – Tape Delay.
But what might not be obvious is that we can also use the Tape Delay not as a delay effect, but a tonal effect.
Everyone loves the sound of analog tape right? Well, then load an instance of the Tape Delay onto a track in your Logic Project. And then try this on for size:
Dry Slider set to 0%
Wet Slider set to 80%
Feedback set to 0%
Tempo Sync turned Off
Delay Time set to 0.0 ms
And then listen to your track. 
Your track probably sounds quite a bit different now, huh? Warm perhaps?
Logic's Tape Delay adds the warmth of tape saturation to any tracks it's applied to. By turning off everything related to the Dry signal and delay effect, we can impart some serious warmth to our tracks.
Of course, your track might sound a bit too warm. That's because the Tape Delay can shave quite a bit off of the top end of your tracks.
So I recommend using one of the Vintage EQs or Channel EQ to boost a high shelf around 5000 Hz.
But that's not all when it comes to the Tape Delay. If you turn your attention to the Character section, we have a control for the Clip Threshold:
The Clip Threshold acts much like a Compressor or Distortion plugin. If the track our Tape Delay is effecting exceeds that Threshold, our track will begin to saturate more aggressively.
The result: adding more vibe and tape crunch to our tracks.
Boosting the Clip Threshold results in no effect. So try driving it down to the left. As you drive the Clip Threshold down, you should hear your track become more squashed and crunchy.
And you can fine-tune the Tape tone further still by adjusting the Feedback knob.
Feedback is usually associated with the decay time of a Delay. The higher the Feedback, the longer a Delay repeats. And if we push the Feedback past 100%, the delays don't dissipate, but instead start increasing in volume. That's because the repeats are now feeding off of the other echoes like a feedback loop.
With the Tape Delay though, the Feedback knob also affects the character of the Tape Delay's tone.
So by boosting the Feedback knob, we can adjust the tonal color and warmth the Tape Delay adds to our tracks.
Conclusion
Logic has plenty of colors and shades to add to your tracks and mixes. And two in particular – the  Vintage EQs and Tape Delay –  can be game-changers.
My strategy is pretty simple:
Vintage EQs for depth and vibe
Tape Delay for warmth
Personally, I would slap the Vintage EQs on just about everything in a mix, if only for their Output Modeling. While I would be more sparing with the Tape Delay, as its effect is not subtle.
Used together, these plugins can provide that missing link for your Logic Projects.