Vocals – the final frontier.
By far the most important aspect of any song.
It's weird, but we identify with vocals more than anything else. A killer chorus can just wedge its way into your brain and won't let go. Even when you want it to!
And if you throw on a modern pro mix, the vocals are huge. They command your attention.
How the heck do they do it? How is it that vocals can sound so monstrous and wide in the mix?
Turning Vocals Up to 11
From fluctuating tonality to huge dynamic shifts – vocals can be the proverbial white whale to get right.
And even when you've carefully tweaked the EQ and compression for the last 4 hours… they still sound puny.
You're not alone in this! It turns out that EQ and compression aren't quite enough by modern standards these days.
But there are are plenty of tools in your Logic tool kit to help widen those vocals. You just need to use a healthy dose of bussing.
In fact, my vocal mixes almost always use 3 widening techniques in particular:
Stereo Pitch-Shifting
Stereo 8th Note Delays
Stereo Chorus Effects
Of course there are many ways to add girth to your vocals. So today I want to show you my 3 tips for nailing wide vocals.
1. Stereo Pitch-Shifting
Pitch shifting is like a secret weapon to wider vocals. It's sooo not obvious a trick, yet it makes a huge difference!
For each of these tips, you'll need to create a Send for your vocal track. Click on an empty Send and choose an unused Bus:
Make sure the bus is in Stereo. Let's name this bus "Shift," and load the Pitch Shifter plugin onto it.
Next you'll want to set Pitch Shifter to Dual Mono. You can do this by clicking on the Pitch Shifter label on the Bus channel. then choose Dual Mono from the drop down menu:
What is Dual Mono?
Introduced in Logic 10.3, Dual Mono is freaking awesome.
Dual Mono let's you take a track and split it into two mono signals. But without you having to create two mono tracks!
So now we have this Dual Mono Pitch Shifter. When you open up the plugin, you'll some added controls: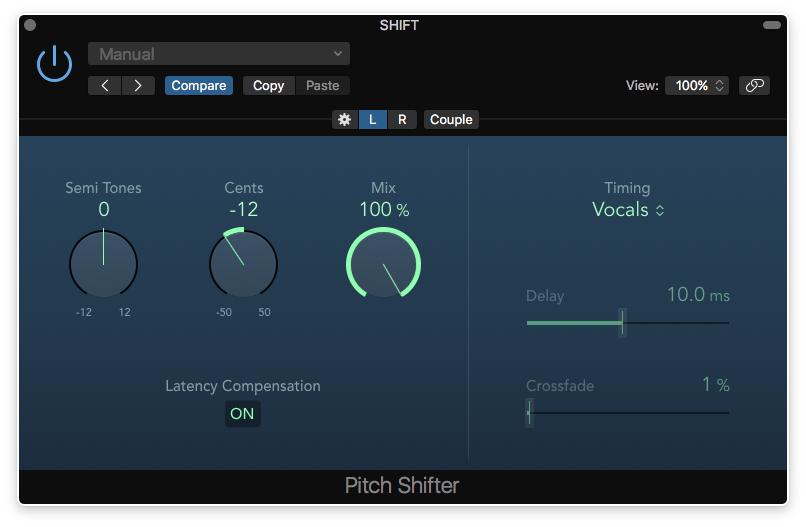 Take note of the L for Left, and R for Right.
Set the Mix for each Left and Right side to 100%. This will ensure we're only hearing the effected sound.
Also Enable Latency Compensation. This compensates for any sort of delay the plugin introduces.
Now for the Left side of the plugin, set:
Semi Tones to 0, and
Cents to -12
For the right side, set:
Semi Tones to 0, and
Cents to +12
Semi Tones are half steps in an octave. While Cents are tiny tonal steps – 100 Cents for every Semi Tone.
So what we've done here is Set the Pitch Shifter to be just a tiny bit off from the vocal pitch in both directions. The result is a widening effect.
From here just adjust your Send volume until the vocals widen up nicely in the mix!
2. Stereo 8th Note Delays
Delays are awesome for a lot of reasons. And in this case, they work great for widening vocals (or any other instrument).
I tend to use the same delay times again and again. And I always lump them in the same categories:
16th Note Delay = Room Sound
8th Note Delay = Widening Effect
Quarter Note Delay = Special Effect
So when I pull up an 8th Note Delay, my brain immediately thinks "widening."
16th Note Delays are so quick, that it almost sounds like a room reverb. While Quarter Note Delays aren't as fast, so they feel good when you're looking for a spacey effect.
Click another empty Send on your vocal track. Now choose the next available Bus.
Let's name this Bus "8TH" and load up the Stereo Delay plugin on it.
I always like my delays to Sync to the tempo of my project. That way the delay is always right on beat, and isn't mucking up the feel of your mix.
Then go ahead and choose 8th under the Note drop-down menu for each Left and Right side.
Much like our Pitch Shifter plugin, we're going to adjust each side's Deviation a tiny bit.
Try setting the Left side's Deviation to -8%, and the Right side to +8%.
With the Send level at 0 dB, the effect is going to be startling. The delay seems to drag in an ugly way. But as you reduce the Send level, the Delay will seem to lock into place.
Once again, adjust to taste 🙂
3. Stereo Chorus Effect
You have a couple options to choose from when it comes to Stereo Chorus Effects:
the Chorus plugin, or
the Ensemble plugin
While the Chorus plugin is straight-forward modulation, Ensemble can add serious depth.
Select another empty Send field, and select another empty Bus. We'll name this Bus 'CHORUS.'
Load up the Chorus plugin. Now you could do something fancy like Dual Mono. But let's keep it simple. Instead, go to the presets and select the Vocal Backups preset.
The Chorus plugin will now be set to:
Rate: 0.733 hz
Intensity: 37%
Mix: 100%
Take note of how small the Rate is. You don't need to go crazy with Rate! In fact, the smaller the number, the less distracting the effect will be. But it'll blend nicely.
The Intensity is also set to a conservative 37%.
When it comes to Intensity, Think of the letter 'V':
V or v
A big 'V' has a deeper dip in it than a small 'v'.
So the Intensity is how deep of a modulation you want the Chorus effect to have. While Rate is how fast or slow you want the Chorus to modulate.
And Mix is how much of the effect we're hearing:
0% means no effect, while
100% means we only hear the effect
100% is what we often want to set Bus effects to. Since the effect isn't on the vocal track itself, we already have a completely dry signal. So the Bus has a Mix of 100% so we can blend the effect underneath.
Conclusion
Huge vocals are the norm in modern music. Vocals that are up front and wide command our attention and don't let go!
You've got great tools ready for you in your Logic tool belt right now:
Stereo Pitch Shifting
Stereo 8th Note Delays
Stereo Chorus
So go ahead and grab your listener where it counts 😉